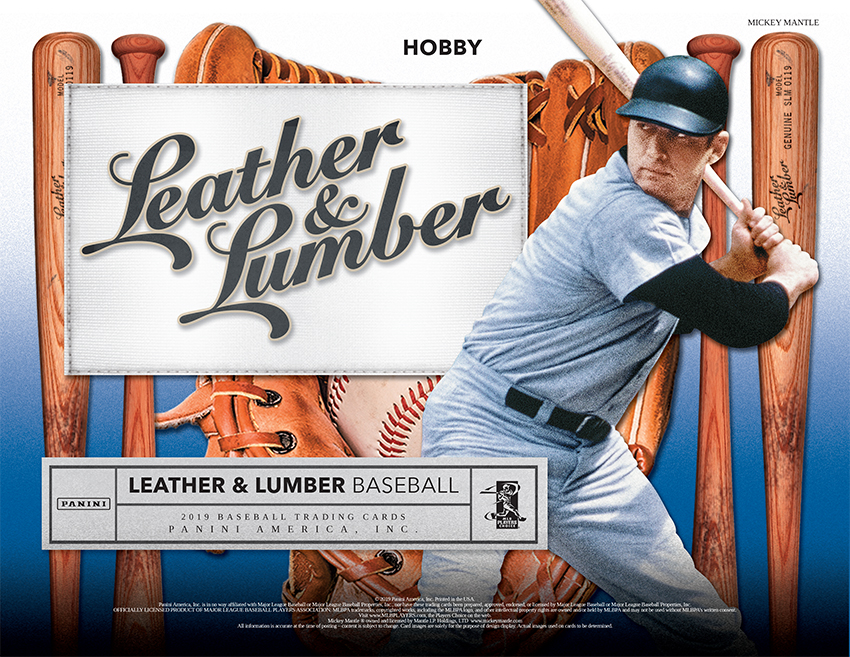 Full disclosure: In the interest of time (and playing catch-up), we're dedicating today here at The Knight's Lance to previewing a few of the newest products that have been solicited by the Panini America sales team in recent weeks. We're focusing today on two products in particular: 2019 Leather & Lumber Baseball and 2019 Luminance Football. For both products, we're going to highlight key product information taken directly from the PIS document for each of the products, one post at a time. (We're also including the actual PIS document for each.)
We'll begin with 2019 Leather & Lumber Baseball. Enjoy the sneak peek and stay tuned for additional details as the release date draws closer.
Release Date: May 29, 2019
Product Configuration: 10 cards per pack, 4 packs per box, 10 boxes per case.
Box Break:  Four autographs, four memorabilia cards, two numbered parallels, 15 base cards and 15 inserts.
Brand new for 2019, Leather & Lumber Baseball features autographs from star rookies and veterans on unique materials like baseballs, leather and wood.
Find a wide variety of player memorabilia in sets like Leather and Lumber Duals, Sweet Feet and Flashing the Leather.
Leather & Lumber features numerous hobby-exclusive insert sets like Naturals, Benchmarks, Knot Hole Gang and more.
Find classic player rivalries like Roger Clemens vs. Mike Piazza paired with memorabilia in Rivals Materials.
All information is accurate at the time of posting – content is subject to change and approval. Card images are solely for the purpose of design display. Actual images used on cards to be determined.