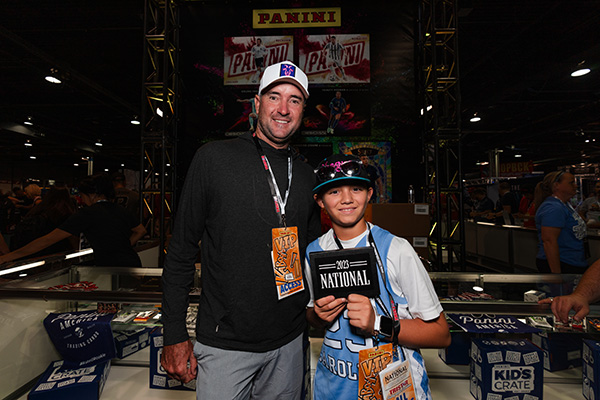 To say the 2023 National Sports Collectors Convention wasn't a success would be saying that the sky isn't blue. The convention in the "Windy City" of Chicago was the HIGHEST attended card show in industry history.
Panini once again had a huge presence, its 50 x 50-foot booth boosted four towers of our logo, panels full of the FIFA Women's World Cup, WWE, UFC, NFL and NBA trading cards with display cases and locations for Box Wars, Kids Case Breaks, Silver Packs Wrapper Redemption, Customer Service and of course, the staple of "create your own digital trading card." Panini's team arrived early in the week with a break of the North Texas 100-plus degree heat to setup, have industry meetings and prep for Saturday night's Panini VIP Party.
The doors opened on Wednesday to collectors from across the world and each day the crowds grew larger.
Located in the center of the exhibitors' floor of the Douglas E Stephens Convention Center, the booth was bright and luminous which shined throughout the floor. To say the week was successful is an understatement. The Panini Product Development team, Sales, Marketing and Customer Service hit the ground running, mingling with collectors, answering questions, hosting box wars each day, working on redemptions for those who were qualified for an appointment and more.
Below is a recap:
Box Wars
Box Wars is a collector's favorite with the opportunity to bring boxes bought anywhere on the show's floor but still sealed to participate. Starting on Wednesday, Box Wars filled the booth each day with collectors and those who had a chance could win different prizes including the coveted 2023 Panini Black Box. Collectors passing by stopped and watched the breaks while engaging with the crowds. Panini conducted 22 Box Wars throughout the week that encompassed seven of Panini's licenses.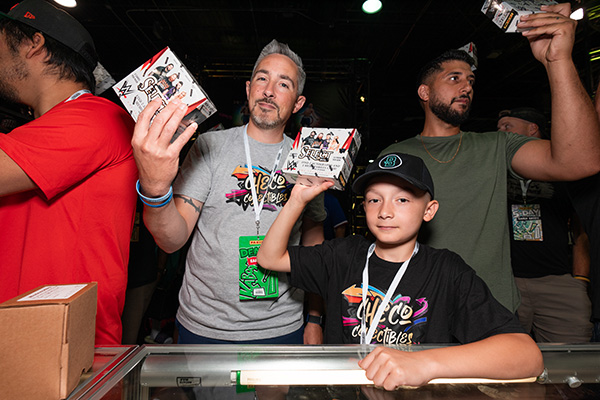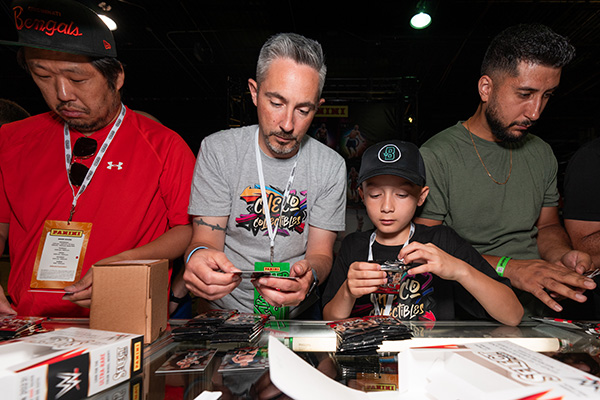 Kids' Breaks
The 2023 Kids' Break (which is always FREE), run by Ultimate Card Breaks, brought kid collectors of all ages to the Panini booth each day to participate with multiple products including: 2022 Limited NFL, 2022-23 Donruss Optic NBA, 2022 Prizm NFL, 2022-23 Crown Royale NBA, 2022 Playbook NFL and 2023 Panini Three and Two Baseball. The Saturday 1:00PM CT Kids Case Breaks of Three and Two Baseball took place on the Mike Berkus Main Stage.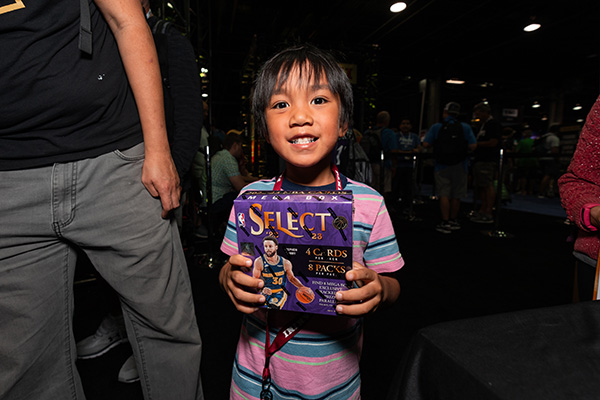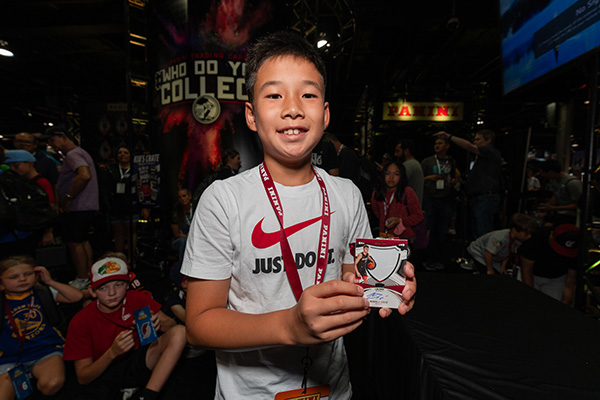 Detroit Lions Legendary HOF Barry Sanders' Box Breaks
Collectors had a chance to enter this special box break with Barry Sanders by following via his Twitter post and registering via https://schwartzsportsmemorabilia.com/ .
Barry broke  2022 Limited NFL with Ultimate Box Breaks' Bryan Gavin and brought collectors and kids up to the breaking area to open packs and give collectors who were registered a meet-and-greet and photo opportunity. Follow Barry Sanders' Official Twitter here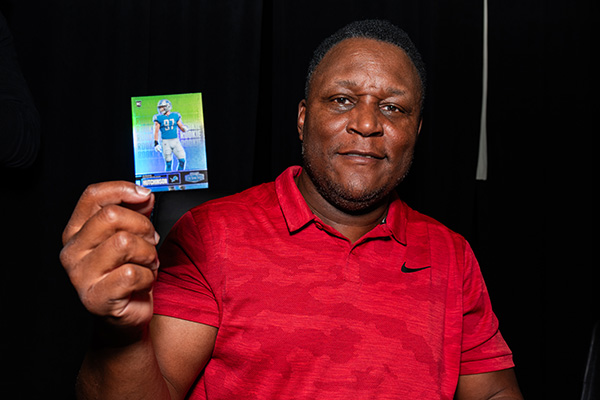 Panini Wrapper Redemption and Silver Packs
The popular Wrapper Redemption and Silver packs also made a colossal return. With collectors purchasing Panini products from authorized dealers (Dave and Adams, Steel City Collectibles and Blowout Cards), they waited in lines that wrapped around the Panini booth to provide their unsealed boxes to redeem silver packs. This year's silver packs include the No. 1 overall draft pick Victor Wembanyama in his San Antonio Spurs uniform.
Panini Customer Service
Each year, Panini's Customer Service is present to help collectors with non-expired redemptions and tickets that have been open for a minimum 120 days. Collectors had an early chance to set an appointment to avoid standing in the long lines. Collectors were sent email notifications (if collectors met the requirements) to reserve a spot.
During the 2023 National, Panini closed over 2,400 redemptions with a value over $700,000.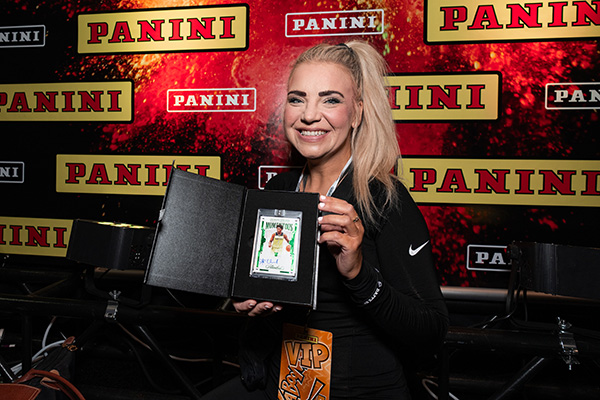 Ed Reed Surprise Appearance
Pro Football HOF Ed Reed came by the Panini booth on Friday and surprised the crowd prior to the 3 p.m. Box Wars. Ed opened two NFL products, talked with collectors and asked several children to come up and open packs with him.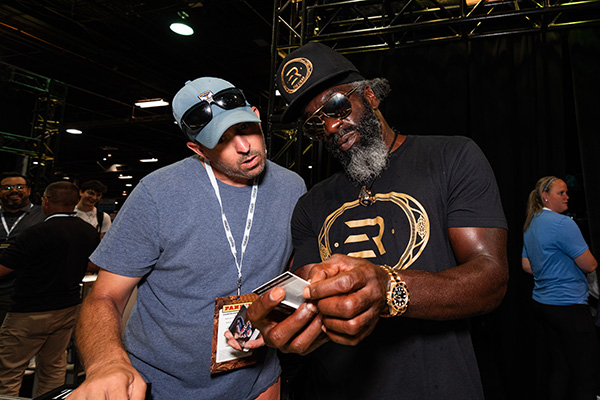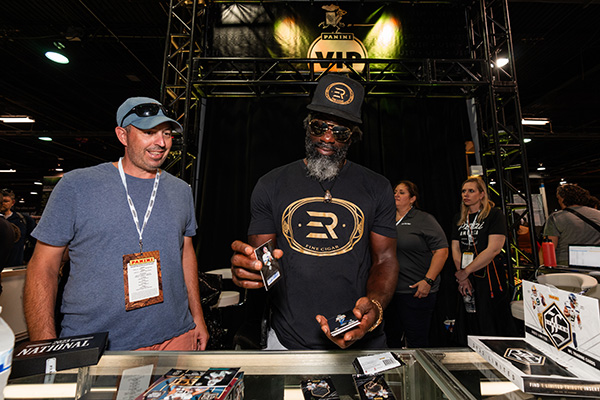 Saturday's Panini America Live on the Mike Berkus Main Stage
Two of Panini's experts were part of a live panel discussing and hosting breakers such as Rich Layton, Bryan Gavin, Chris Keller and more regarding the growth of case breaking. Vice President of Sales Kevin Haake and Senior Product Development Manager, Tracy Hackler were on the panel representing Panini.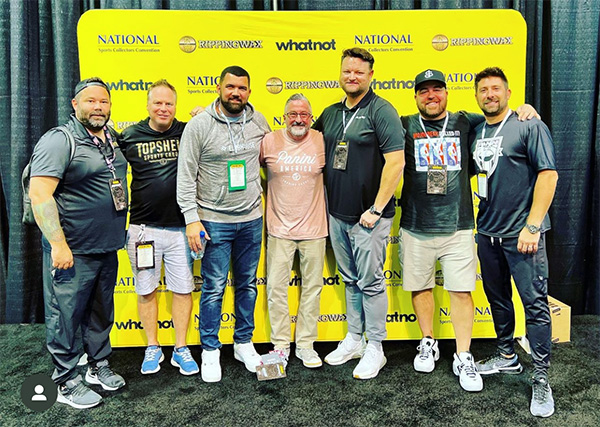 Panini Saturday Night VIP Party
For the closing of the 2023 National, Panini held its annual Saturday Night VIP Party. Collectors could purchase tickets from authorized dealers (based on amount spent at their booth).
This year's party was held at The Geraghty near downtown Chicago. Walking in, two Panini VIP branded banners and a red carpet welcomed VIP's and celebrities into the event. The space held thousands of modern lounges, Super VIP area, athlete area, several buffets, cocktail and entertainment stage. A beautiful "Panini logo" ice sculpture was the center piece.
Athletes that were in attendance and took photos and talked with guests were:
Ed Reed, NFL HOF, Super Bowl Champion and 9x Pro-Bowler
Keyshawn Johnson, Super Bowl Champion and 3x Pro-Bowler
Ty Law, 3x Super Bowl Champion, 5x Pro Bowler
Carlos Boozer, 2x NBA All-Star
Tyler Scott, Chicago Bears Wide Receiver
NIL Basketball Athletes

Ja'Kobe Walter, Baylor
Jared McCain, Duke
Matas Buzelis, G-League Ignite
Omaha Biliew, Iowa State
Musical Entertainment started at 8 p.m. with Rap legend Big Boi (of Outkast) performing for two hours, who had the crowd and Ed Reed dancing, singing and recording his performance of many top hits including "Ms. Jackson," "B.O.B.," "Rosa Parks" and many more!
After Big Boi's incredible performance, international D.J. Diplo came on with his house music, spinning while the VIPs danced until 11 p.m.
Panini's famous Gold Packs have been shipped and collectors who attended the VIP party will receive their packs Friday, August 4th.
­­­Convention Center Gallery
VIP Party Gallery