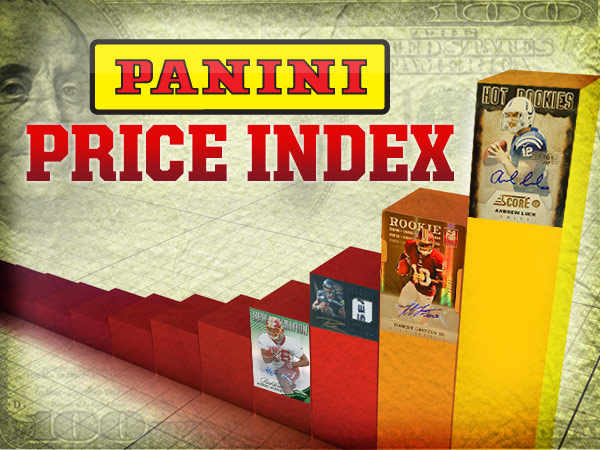 There's no question the 2012 NFL Season has been one of the more memorable seasons from a rookie perspective. Many in the media have coined 2012 as "The Year of the Rookie Quarterback." At Panini America, we think a little differently. On the heels of kickoff to the NFL Playoffs this weekend, we present to you a very special edition of the Panini Price Index — think of it as "The Year of the Panini NFL Rookie Card" edition of the PPI.
In this edition, we not only take a look at the top-selling rookie cards of superstar rookie signal-callers like Robert Griffin III, Russell Wilson and Panini Authentic Exclusive Andrew Luck, but we'll also look at some of the other high value rookie cards from this year's amazing crop of NFL rookie talent, including finalists for the 2012 Pepsi Max Rookie of the Year award.  As these talented, young players continue their ascent into superstardom, so will the value of their coveted rookie cards.
Three rookie quarterbacks will start playoff games this weekend – the first time in NFL history that has happened. Of that group, Andrew Luck, the superstar Indianapolis quarterback and hand-picked successor to Peyton Manning, has enjoyed arguably the greatest season ever by a rookie signal-caller. He's set a bevy of NFL rookie records, including single-game passing yards (433), single-season passing yards (4,374) and most fourth-quarter comeback victories (seven), while also breaking the pocket book of many a trading card collector.
Continuing the absolutely staggering trend of high dollar non-autographed Panini America trading card sales, Luck's 2012 Certified Football Mirror Black (#'d 1/1) recently sold for $899.99. Or if autographs are your thing, a BGS 10 graded version of his 2012 Elite Football New Breed Autographed Memorabilia (#'d/25) took home $800. Another "Lucky" collector snagged a gem, taking home Luck's 2012 Elite Football Rookie Status Autograph SP (#'d 3/24) for $687. Or take a look at his 2012 Absolute NFL Equipment Laundry Tag (#'d 1/1) which took home the bacon with a sale of $659.95. And finally, how about six sensational rookie quarterback autos featured on one card. That's exactly what one collector got when a 2012 Pen Pals (#'d 1/1) featuring six of this year's best rookie quarterback in Andrew Luck, Robert Griffin III, Ryan Tannehill, Brandon Weeden, Brock Osweiler and Russell Wilson sold for $805.
Another notable rookie starlet who needs no introduction (unless you live on another planet), Robert Griffin III, has caught the attention of the PPI. RGIII as he's affectionately known has risen to almost pseudo-Presidential status while playing in the nation's Capitol. Fiscal cliff concerns aside, the value of his rookie trading cards continue to rise in value. His Panini America Sketch Card (#'d 1/1) recently sold for an astonishing $3,200 while his 2012 Certified Football Freshman Fabric NFL Logo Patch (#'d 1/1) sold for $650. And his 2012 Elite Status Gold Autograph (#'d 10/24) numbered to his jersey number also sold for $650.
Seattle quarterback Russell Wilson is the third record-breaking quarterback making his NFL playoff debut this weekend. The Seahawks' field general has also broken his share of records this season. In Week 17, he tied Peyton Manning's record for most touchdowns in a season by a rookie quarterback with 26 TD passes. He's also shattered the PPI with some impressive sales, including his 2012 Momentum Football Rookie Autograph NFL Logo Patch (#'d 1/1) which sold for $400.55. His 2012 Elite Gold Status Autograph RC also brought nice coin with a sale of $350.
And next up on our rookie countdown of ridiculous rookie trading card values is the elusive running back from Washington, Alfred Morris. He too topped the record charts with several rookie and franchise marks, including the Redskins mark for most rushing yards in a season (1,613) which also happened to be the third-largest total ever by an NFL rookie running back. First up on the list of impressive Morris rookie cards is his rare 2012 Certified New Generation Emerald Autograph (#'d 2/5) which brought $350. His 2012 Prominence Football RC Autograph card (#'d 1/1) sold for $300 while three more of his autograph rookie cards checked in at over $200 apiece.
Although Tampa Bay did not make the playoffs, the Bucs rookie running back, Doug Martin, made defenses and card collectors alike take notice of his hard-nosed running style. He broke franchise rookie marks for rushing yards and all-purpose yards while also watching the value of his trading cards explode. Take for instance his 2012 Momentum Black NFL Shield Autograph (#'d 1/1)  which caught a winning bid of $500, or  his 2012 Certified Rookie Black NFL Logo Ball/ Jersey Autograph card (#'d 1/1) which sold for $460. He also showed his artistic talents on the Panini Sketch Cards, offering his rendition of the Buccaneers famous Jolly Roger which sold for $350.
As always, we have put together a fine-looking gallery from some of the most recent top-selling cards of the 2012 Panini NFL Rookie Card Class.  And leave your comments below for the chance to win a box of 2012 Panini NFL trading cards. Enjoy!