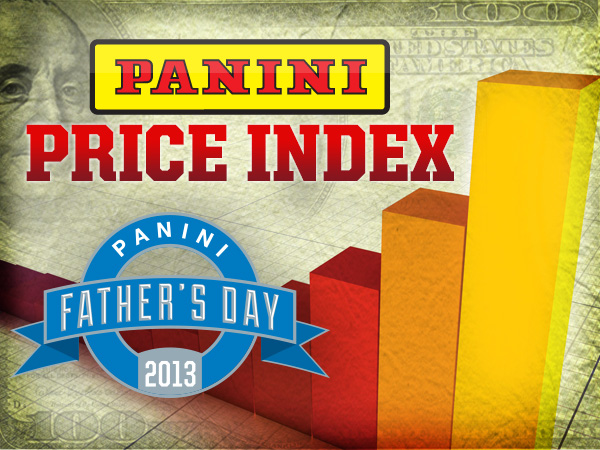 For the second year in a row, Marketing Manager Scott Prusha has created what can only be described as an industry showstopper in the way of the Panini America Father's Day Promotion. Born out of the idea to bring sports, trading cards, fathers, sons, daughters and families all together for what can only be described as a truly monumental pack-busting experience. In this special edition of the Panini Price Index (PPI), we take a closer look at what has basically become a North American holiday among collectors and their families.
In a checklist that can only be described as loaded with superstars, big hits and supremely-crafted designs, the Panini America Father's Day promotional packs offer a unique experience for all collectors. Some of the most coveted cards in this year's collection include the new Lava Flow technology and the continued popularity of the tantalizing Cracked Ice phenomenon. Several of these cards have already hit the secondary market and have risen exponentially in value.
In a meticulous and painstaking process of selecting and creating true scarcity, Prusha created several subsets worthy of high-praise and high-value. A perfect case-in-point is the Panini Progression cards. Take for example the Alex Ovechkin Father's Day Progression Magenta Plate which sold for $61.05.  Though not numbered, the Panini Progression cards represent a total run of five cards per color:  Cyan, Yellow, Black and Magenta. So for example, only five of the Ovechkin Progression Magenta cards are in circulation and 20 of his progression cards in total.
Making a triumphant return for the 2013 Father's Day Promotion are the Super Bowl and Pro Bowl Memorabilia cards. A non-autographed Clay Matthews Pro Bowl Lava Flow Material card sold for $75 while an autographed version of his Super Bowl XLV Materials card brought a sale of $83.07. Matthews' teammate Aaron Rodgers has also been hot, with non-autographed versions of his Super Bowl XLV Materials cards netting $129.99 and $99.99 each.
Quickly becoming one of the most popular inserts across any product release are the Cracked Ice Inserts. The shimmer and allure of these cards are tantalizing to be sure, and they continue to bring huge sales for collectors. The non-autographed version of Kyrie Irving's Cracked Ice Parallel #'d 25/less had a Best Offer Sale of $175 while fellow dual rookie class superstar and 2012-13 NBA Rookie of the Year Damian Lillard's Cracked Ice Parallel sold for $57.50.
Other notable sales for the Cracked Ice Parallels include autographed versions of Rookie of the Year Mike Trout with two huge sales of $172.55 and another Best Offer Sale of $266. A couple of rookies from the 2013 NFL Draft also jumped in on the action, as Eddie Lacey and EJ Manuel Cracked Ice Autograph cards sold for $96 and $110, respectively. Minnesota Vikings' superstar and 2012 NFL MVP Adrian Peterson showed up with a nice sale of $128.77 with his Cracked Ice Autograph card as well.
New to this year's Father's Day lineup but not necessarily new to collectors are the Museum Collection inserts. Prusha added a twist to the popular insert by creating a HD+ Technology Parallel. "I wanted to utilize today's technology on a throwback design with the retired superstars from the past," Prusha said. It turns out collectors agree with Prusha's assessment. George Brett's Museum Collection Cracked Ice Autograph card brought a Best Offer Sale of $275 while an autographed version of base stealing legend Rickey Henderson's sold for $99.99. Cincinnati Reds legend Johnny Bench also sold for a respectable $70.89.
Also new for the 2013 Panini Father's Day lineup are throwback versions of the Team Pinnacle and Studio inserts. "These two designs were personal for me," Prusha said. "I can remember busting packs with my dad and these being some of the most popular designs back then." There are currently several pending sales on eBay for both the Team Pinnacle and Studio inserts – one early sale of a non-autographed Andrew Luck Team Pinnacle Lava Flow Parallel sold for $75.
Another unique inclusion for this year's set is the 2012 Pepsi Rookie of the Week autographed cards. Several versions of these have already hit the hands of collectors. Take for example Robert Griffin III, his autographed Week 11 Pepsi Rookie of the Week winner card sold for a whopping $279.99 while his autographed Week 4  winner card brought $270. Andrew Luck also chimed in with a sale of $156.50 with his autographed Week 5 Pepsi Rookie of the Week winner card.
Making use of draft materials and materials from important events has become Prusha's forte. This year, Prusha acquired hats worn by draftees at the 2013 NFL Draft and signatures acquired from the NFLPA Rookie Debut, an exclusive event at the NFL Draft, to beef up the Father's Day program. Two notable sales from the new Draft Day Materials inserts include Giants' rookie Ryan Nassib with a sale of $86.50 with his Draft Day Landry Tag Autographed card and Tyrann Mathieu with "Honey Badger" netting $61.05 with his Draft Day Landry Tag Autographed card.
In another clever move by Prusha, he also included event-used team towels which many of the top draft picks used to towel off in the Los Angeles heat at the recent 2013 NFLPA Rookie Premiere. A couple of the Father's Day Tools of the Trade Towel Cards have already hit the market with Geno Smith's card selling for $61.99 and former teammate at West Virginia, Tavon Austin's card selling for $66.99.
We've put together another stellar gallery of the 2013 Father's Day top shakers and movers. There are still many cards which have yet to hit the market. Keep your eyes opened for any big sales and send us links. In the meantime, enjoy the fantastic images below and leave your comments for a chance to win a box of 2013 Panini Prestige FB – we'll pick two winners!