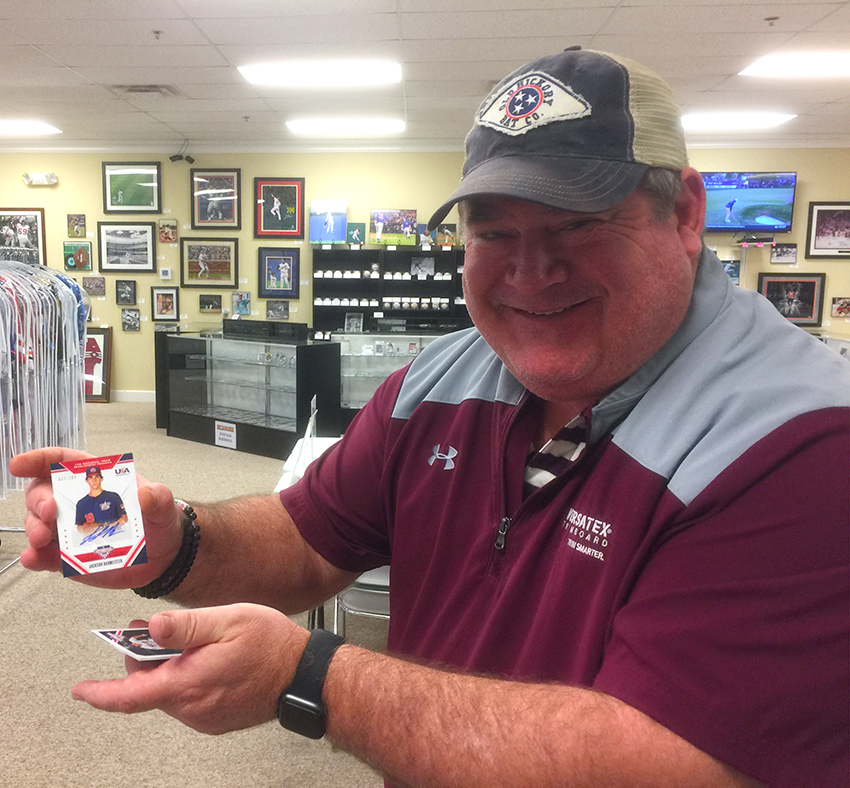 Jacksonville, Fla., resident Matt Baumeister was in the hospital the day his son, Jackson, came into the world more than 17 years ago. He was there again Wednesday night when Jackson's baseball card career was born. There, in the latter case, was inside Showtime Sports Cards & Collectibles, Baumeister's local hobby shop. He'd just bought four boxes of the new 2020 Stars & Stripes USA Baseball looking for one player and one player only – his son, Jackson Baumeister.
Jackson, a member of the USA Baseball 17U National Development Team, is featured in Panini America's newest USA Baseball release on both autograph cards and autograph memorabilia cards. The elder Baumeister bought four boxes on release day and promptly struck out in box one. But three packs into his second box, Matt experienced the pull of a lifetime.
"I always roll them slow so when I opened up the pack it was face first, face first and the third card was backward," Matt recalled. "When I saw the card I was like, 'OH MY GOSH! I got one!'
"It was a neat experience. You hope to pull one but because he played on the 17U team, it wasn't like a common card. I bought four boxes but I probably would've bought 10. I was going to pull my son. This is his first-ever trading card. That's why I was so excited to get it."
The monumental nature of the moment certainly wasn't lost on Showtime Sports Cards & Collectibles co-owner Richard Miller.
"We were all kind of hovering over him and he sees his name on the back of the card and he's like, 'I think I got Jackson!' And sure enough, he did," Miller said. "It's definitely an all-time moment for the shop."
Matt's single-minded pursuit of Jackson on Wednesday overshadowed the fact that Matt was pulling some bona fide monsters from his four-box purchase, including two cards limited to just six copies and a Silhouettes Gold Signature of Pete Crow-Armstrong.
"I was pulling gems, some crazy-nice cards, that I would've been over the moon for if I hadn't been looking for my kid's card," he said. "I texted Jackson a picture of the card as soon as I pulled it. He was pretty excited. I said, 'Got one!' He was like, 'Get a lot more!' "
In addition to being a devoted baseball dad, Matt is an avid baseball collector with a soft spot for USA Baseball products. But the last few years have been just a bit more . . . personal.
"I've collected this set for years," he said. "I just love it because it's the first look at a lot of kids who are going to end up in the big leagues. These last few years have been a little different because I know a lot of these kids and their families. I've known some of them since they first picked up a baseball."
But it's the one he's known longer than that, the one he helped raise, who now appears on Matt's Holy Grail baseball card.