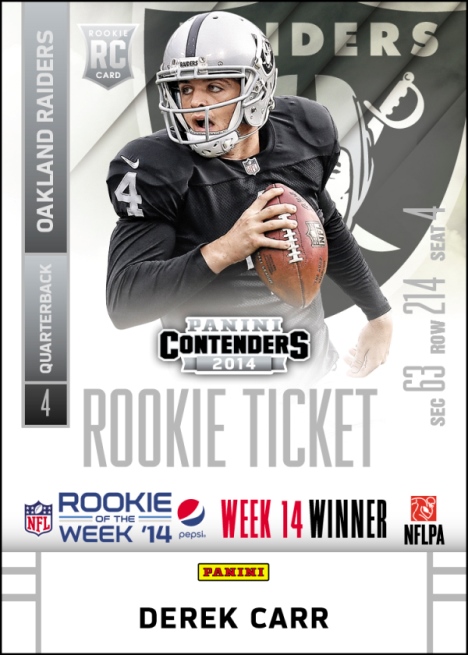 Voters on NFL.com have made their choice. Quarterback Derek Carr of the Oakland Raiders is the Week 14 2014 Pepsi NFL Rookie of the Week, the NFL announced today. Carr passed for 254 yards and three touchdowns for a 140.2 passer rating in the Raiders' 24-13 win against the San Francisco 49ers.
Carr was selected from five finalists through fan votes on NFL.com. The other Week 14 finalists included Minnesota Vikings QB Teddy Bridgewater, New York Giants RB Andre Williams,  Carolina Panthers CB Bene Benwikere and Pittsburgh Steelers WR Martavis Bryant.
After the regular season, five players will be nominated for 2014 Pepsi NFL Rookie of the Year honors. In conjunction with the 2014 Pepsi NFL Rookie of the Week promotion, Panini America produces virtual trading cards of each week's five nominees and a virtual card for each week's winner. At the end of the regular season, Panini America will produce an actual trading card set of all weekly winners. Stay tuned to The Knight's Lance for additional details.
2014 Pepsi NFL Rookie of the Week Winners
Week 1: Kelvin Benjamin, WR, Carolina Panthers
Week 2: Sammy Watkins, WR, Buffalo Bills
Week 3: Kyle Fuller, CB, Chicago Bears
Week 4: Teddy Bridgewater, QB, Minnesota Vikings
Week 5: Branden Oliver, RB, San Diego Chargers
Week 6: Branden Oliver, RB, San Diego Chargers
Week 7: Sammy Watkins, WR, Buffalo Bills
Week 8: Sammy Watkins, WR, Buffalo Bills
Week 9: Jeremy Hill, RB, Cincinnati Bengals
Week 10: Chris Borland, LB, San Francisco 49ers
Week 11: Chris Borland, LB, San Francisco 49ers
Week 12: Odell Beckham, Jr., WR, New York Giants
Week 13: Teddy Bridgewater, QB, Minnesota Vikings
Week 14: Derek Carr, QB, Oakland Raiders