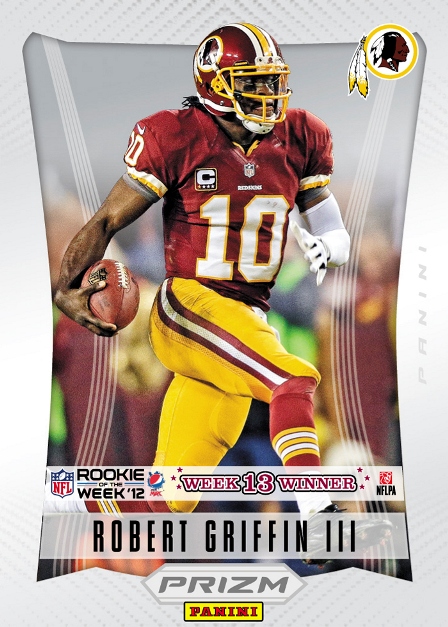 Voters on NFL.com have made their choice.  Quarterback Robert Griffin III of the Washington Redskins is the Pepsi Max NFL Rookie of the Week for games played November 29-December 3, the NFL announced today. Griffin completed 13-of-21 passes for 163 yards and a touchdown, and added another 73 yards rushing, to lead the Redskins to a 17-16 victory over the New York Giants.
Griffin III was selected from among five finalists through fan votes on NFL.com. The other finalists were running back Bryce Brown of the Philadelphia Eagles, wide receiver Josh Gordon of the Cleveland Browns, quarterback and Panini Authentic exclusive Andrew Luck of the Indianapolis Colts and quarterback Russell Wilson of the Seattle Seahawks.

After the regular season, five players will be nominated for Pepsi MAX NFL Rookie of the Year honors. Fans can vote for the winner on NFL.com throughout the month of January. The Pepsi MAX NFL Rookie of the Year will be announced at the second annual "NFL Honors" awards show in New Orleans on Saturday, February 2, the night before Super Bowl XLVII.
In conjunction with the 2012 Pepsi Max NFL Rookie of the Week promotion, Panini America produces virtual trading cards of each week's five nominees and a virtual card for each week's winner.
2012 Pepsi Max NFL Rookie of the Week Winners
Week 1: Robert Griffin III, QB, Washington Redskins
Week 2: Trent Richardson, RB, Cleveland Browns
Week 3: Andrew Luck, QB, Indianapolis Colts
Week 4: Robert Griffin III, QB, Washington Redskins
Week 5: Andrew Luck, QB, Indianapolis
Week 6: Robert Griffin III, QB, Washington Redskins
Week 7: Alfred Morris, RB, Washington Redskins
Week 8: Andrew Luck, QB, Indianapolis Colts
Week 9: Doug Martin, RB, Tampa Bay Buccaneers
Week 10: Russell Wilson, QB, Seattle Seahawks
Week 11: Robert Griffin III, QB, Washington Redskins
Week 12: Robert Griffin III, QB, Washington Redskins
Week 13: Robert Griffin III, QB, Washington Redskins