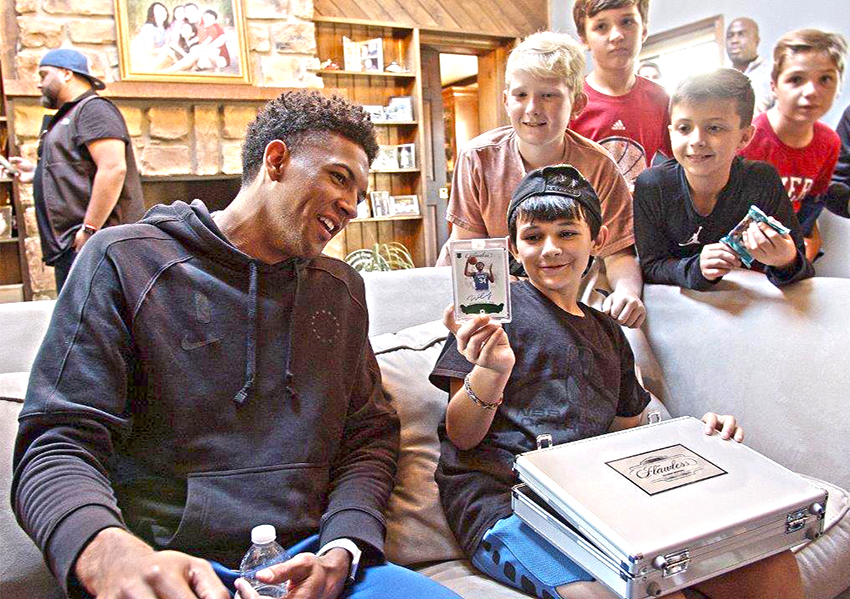 Furlong, Pa. — Both literally and figuratively, Philadelphia 76ers rookie Matisse Thybulle seemed larger than life last week to 11-year-old Quinn Slack and his buddies. After all, it's not every day that you have a 6-5, 200-pound NBA player in your living room . . . on your driveway basketball hoop . . . sitting next to you opening a briefcase of Flawless . . . or hanging out with you at your favorite card shop.
But those were just some of the memorable scenes last Friday when Thybulle spent the evening with Slack and his father, Chris, who were the grand prize winners in Panini America's 2019 NBA Player of the Day hobby shop promotion. An unforgettable experience that began with a private party at the Slack family home transitioned to the Slack's favorite hobby shop — Sportscard Playground in Hatboro, Pa. — where the event was shared with fellow collectors and members of the community.
We've got a complete recap of the spectacular event in the video and gallery that follow. Enjoy the visuals and be sure to visit the new Panini Player of the Day website for additional information on all of Panini America's Player of the Day programs.
October 4, 2019 – Matisse Thybulle at the 2019 Panini NBA Player of the Day Grand Prize event in Furlong, Pennsylvania.