My first week with Panini America was very educational; I learned so much. Last week I spent most of my time with the Production, Photo and Product Development departments. For most of this week I was with Acquisitions and Marketing. Plus I got to travel to the NFL Scouting Combine on Wednesday, which I was very excited about.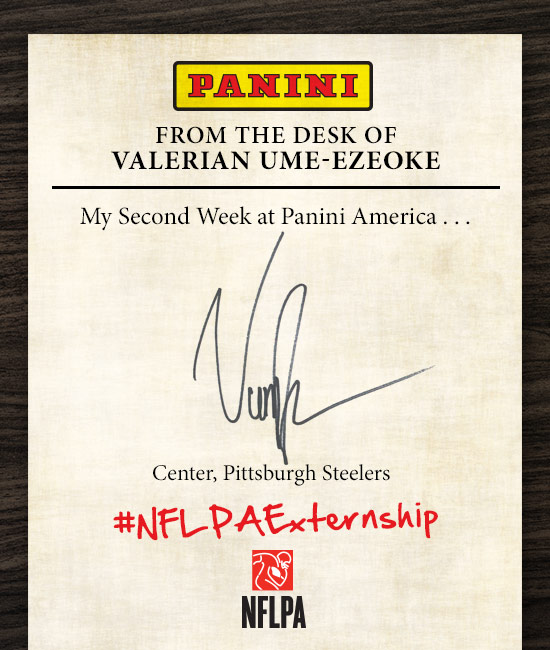 Editor's Note: As part of the NFLPA Externship program, Pittsburgh Steelers center Valerian Ume-Ezeoke is spending three weeks at Panini America working in the Production, Prepress, Product Development, Acquisitions and Marketing departments. Each week during his externship, Ume-Ezeoke will document his time inside Panini America HQ. This is his second dispatch.
My first week with Panini America was very educational; I learned so much. Last week I spent most of my time with the Production, Photo and Product Development departments. For most of this week I was with Acquisitions and Marketing. Plus I got to travel to the NFL Scouting Combine on Wednesday, which I was very excited about.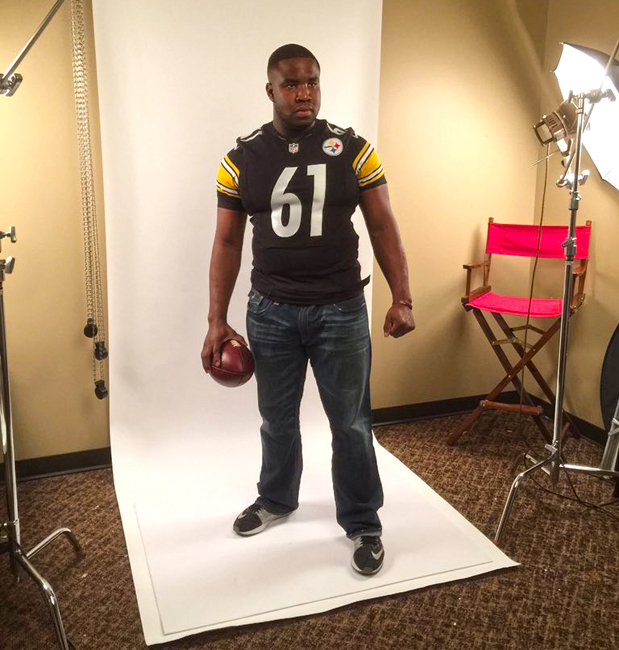 Day 5
Monday, February 27
Today I started with the Product Development team. I got to work on the 2017 NFL Sticker Collection that's coming out soon. I got to select the initial list of players to be included in the collection, otherwise known as the checklist. That was very cool for me. So the 2017 NFL Sticker Collection that comes out in a few short months will include some of my handiwork. When I first started the assignment, I thought choosing the players for each from would be a fast process . . . but I was quickly proven wrong. It took me several hours just to insert different names for each of the teams and subsets. I would have never imagined it would take that long. This was just the beginning. I had to send my initial list to Nick Matijevich, Panini America's Director of Football Product Development. He went over it with a fine-toothed comb and then sent it on down the line to make sure his edits and corrections to my initial list were made. It literally was a whole-day process. I'm glad I got to experience first hand what it takes to get a product started up. I also got to participate in a quick photo shoot to take some shots in my Pittsburgh Steelers jersey for an upcoming card set. Panini America photographer Carlos De Souza was awesome to work with. I can't wait to see how the images turn out.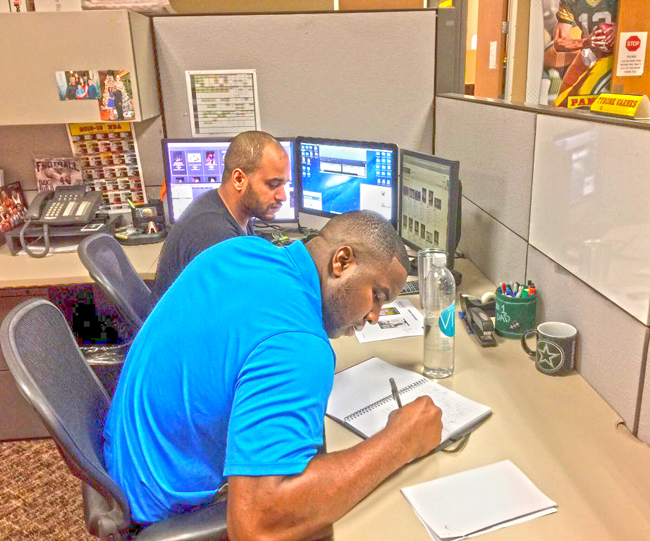 Day 6
Tuesday, February 28
Today I started off with the photography department. I got to shadow Tyrone Varnes, one of the company's Photo Managers who focuses on the NBA side of the business. They call Varnes "The Professor" around here because he's such a good teacher. He went over the process that goes into obtaining pictures and getting them approved to use for production. His speciality is the NBA so he ran through all of the ins and outs of picking the perfect picture for each set. Varnes gets the vast majority of Panini America's NBA photography from Getty Images. On the NFL side, Panini America uses Associated Press. We went through different athletes' pictures — including LeBron James, Dwayne Wade and Wilt Chamberlain. James gets thousands of picture taken of him every season but only a selected few make it to Getty Images. I then got to shadow Matt Strasen, one of the company's Photo Editors. He gave me a quick lesson on how pictures are chosen for trading cards. Certain things are looked at when choosing a picture, like the detail of a player's jersey number or the structure of a player's muscles popping out. A lot goes into choosing photography and Panini America is a consumer-friendly company so they want to make sure every product they put out is top-of-the-line quality.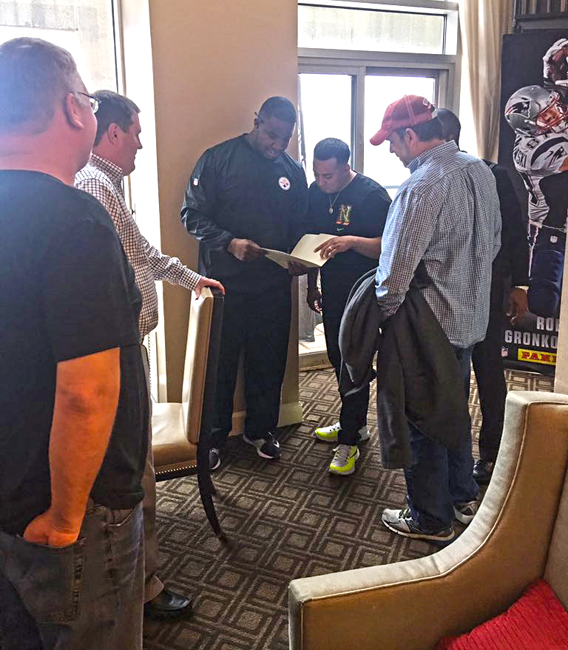 Day 7
Wednesday, February 29
Today I flew from Dallas to Indianapolis for the 2017 NFL Scouting Combine. I won't lie: I was very excited about getting to experience the NFL Combine. I flew in early Wednesday morning with Matijevich. When we got there, we met up with Brand Manager Ben Ecklar, Acquisitions Director Brian Bayne and Licenses Acquisitions Manager Elizabeth Galaviz. When we all got together we talked about the schedule for the next couple of days and which NFL Draft prospects we were expected to see. We had a Panini America suite set up at the Omni hotel, which is right across the street from Lucas Oil Stadium where the Indianapolis Colts play. I got a chance to meet a lot of different people that do business with Panini America. A lot of players stopped by the suite, either to finish up signatures they had to sign or drop off signatures that had been completed. It's crazy how much Bayne, Matijevich, Galaviz and Ecklar know about the products. They are so familiar with everything that they can remember almost every deal that's been made in the last three years — and I thought I had a good memory. My first day here at the Combine has been great so far and I'm ready to see what tomorrow brings.

Day 8
Thursday, March 1
Today started off fast. A lot of agents and players were stopping by the suite. Negotiations were taking place and deals were getting done. It was cool to see the marketing strategies the crew was using. They had an answer for every question, just another testament to why Panini America has stayed so strong in the sports collectibles industry for so long. I was very observant today. I watched and soaked in the grind of the crew. Watching them break down each product to the players while negotiating deals was a sight to see. Later, we all went out to an NFL dinner and met up with three members of the Panini America Marketing department: Vice President of Marketing Jason Howarth and Marketing Managers Tracy Hackler and Scott Prusha. We all talked about some of the things that had occurred throughout the day, the deals that were finalized and the signatures that were signed, sealed and delivered to the Panini America suite. Overall today was great. I got to witness the intricate details of trading card negotiation.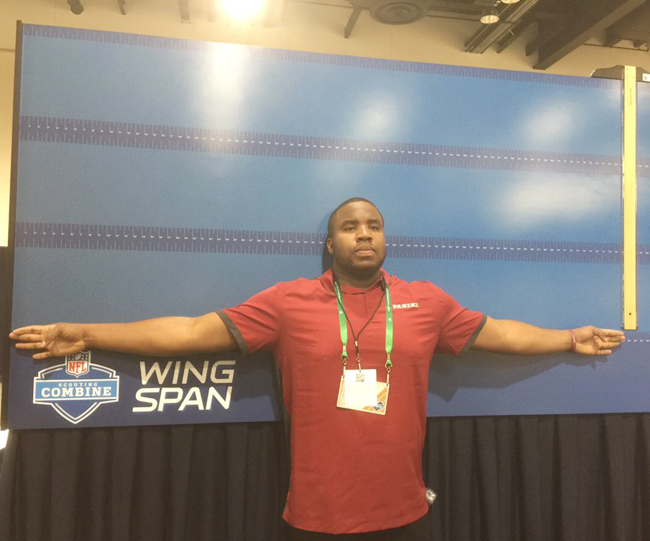 Day 9
Friday, March 2
I got up early again today to witness a deal that was being made between a client and Panini America. It took almost two hours for the deal to get done. A lot was discussed overall but a deal was made after both parties agreed on the same thing. One thing I liked that I saw was that both parties agreed on a common ground. No one was trying to get over on each other; everything was talked out and discussed. I enjoyed seeing how Bayne, Matijevich, Galaviz and Ecklar worked together to get the deal done. It's true about the saying "Teamwork makes the dream work." Teamwork certainly gets the deal done. After that, I got the chance to meet up again with the marketing group. Today we were treated to an exclusive tour behind the scenes at the NFL combine. We got to learn about what goes into running the combine annually. When I got a chance to see the medical center and the hotel in which the players stay (which are all connected  by tunnel to Lucas Oil Stadium), it blew me away. Literally everything is centralized. We got to watch some of the on-field work by the players. Watching the players made me want to be back on the field. It was energizing to see young players chase after their dreams. My time at the Combine has been nothing short of spectacular. I am glad I got this experience, especially with a company like Panini America.