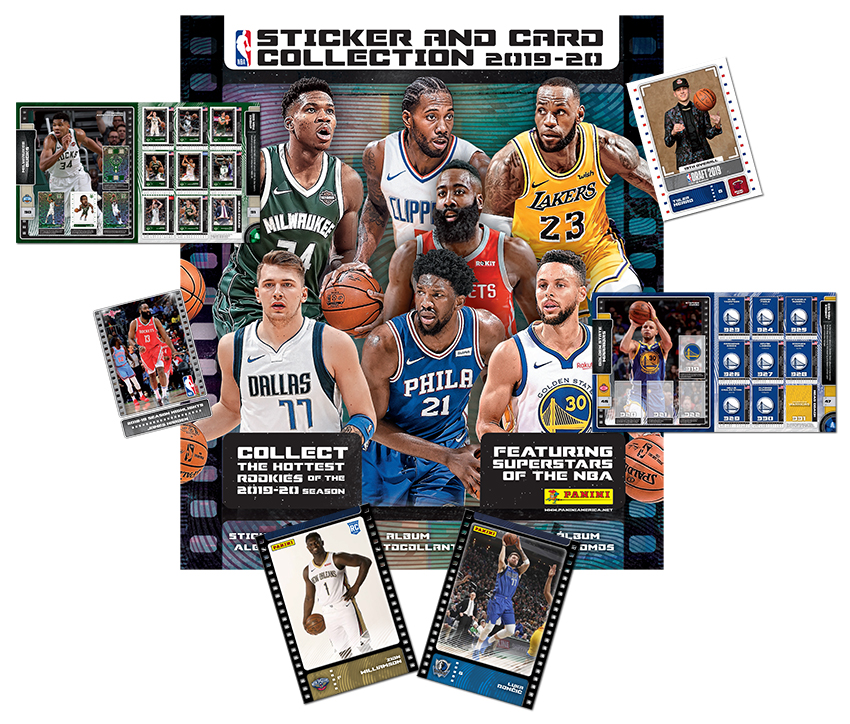 In what has quickly become an NBA season quite unlike any other, it seems fitting now that Panini America officials delivered for the 2019-20 season an Official NBA Sticker Collection literally quite unlike any other. This season, for the first time, Panini America introduced a traditional trading card element to the annually popular NBA Sticker Collection, following in the successful footsteps of the company's 2019 football edition.
The captivating result, of course, is the Official 2019-20 NBA Sticker & Card Collection, a product that continues to shine following several solid months of sales performance in mass retail outlets spearheaded by Walmart. Adding legitimate Rookie Cards — especially for a class that includes the likes of Zion Williamson, Ja Morant and so many more — has exposed this year's collection to a new audience of traditional trading card collectors while also reinvigorating the Sticker Collection loyalists who see the release as must-have stuff every season. So if you've yet to immerse yourself in the brilliant stickiness of the product, well, get ready. You're about to.
Here's what you need to know about this year's edition:
First things first: The Official 2019-20 NBA Sticker & Card Collection features 493 stickers and, for the first time, 100 traditional trading cards (we've included a complete checklist for both the sticker collection and card collection at the end of this post). Look for 100 special foil stickers, as well as seven different parallels (Silver, Blue, Red, Gold, Green, Purple and Black) on foil cardstock. 
Each of the NBA's 30 teams is featured on its own two-page, full-color spread in the Sticker Album, where collectors can place the stickers of the team's main players.
Additional album highlights include one page celebrating the NBA's 2018-19 season award-winners, three pages dedicated to the 2019 NBA All-Star Game, and pages highlighting the 2019 NBA Playoffs and the 2019 NBA Finals. 
Key Rookie Cards and Rookie Stickers featuring the most impactful newcomers selected in the 2019 NBA Draft. Speaking of impact, here are some staggering secondary-market sales from key Rookie Cards of Williamson, Morant, Coby White and Rui Hachimura.
Back for 2019-20 are the fun Player Illustration stickers (one per team) highlighting the stars of the NBA as you've rarely seen them.
The Official 2019-20 NBA Sticker & Card Collection is available now at Target, Walmart and at the official online store of Panini America.
Enjoy the gallery of images that follows and stay tuned for additional information. As mentioned above, you can access the complete checklist here.