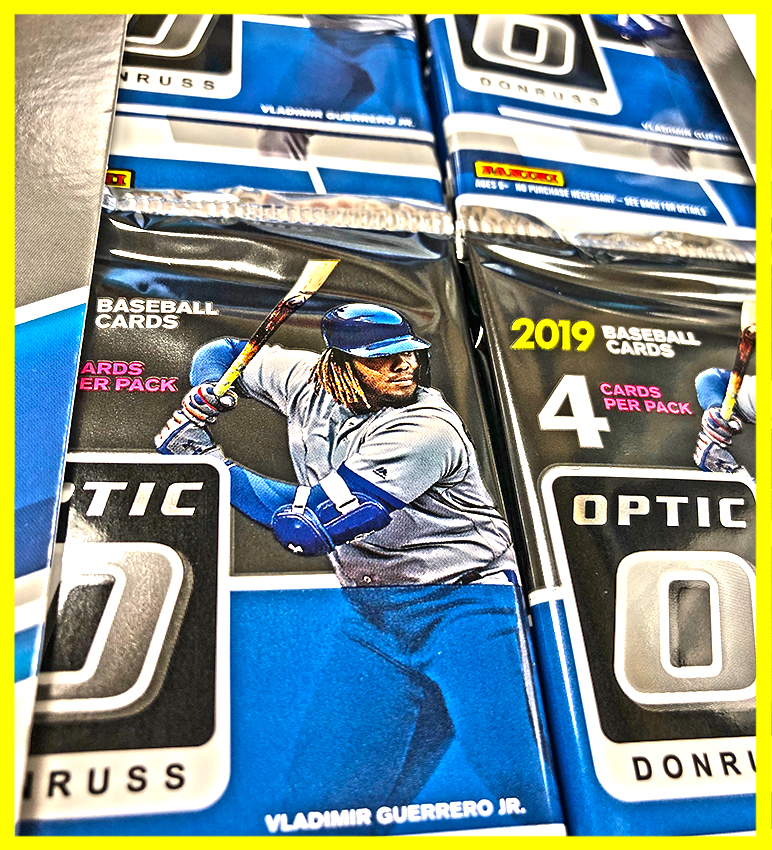 Panini America's 2019 Donruss Optic Baseball arrives in hobby shops across North America tomorrow featuring a chase-worthy mix of Prizm parallels and a robust roster of autographs from the game's brightest young stars, biggest veterans and greatest legends. Of course, the product also packs an Optic-ized assortment of 2019 Donruss Baseball's top inserts and subsets.
On average, each hobby box of 2019 Donruss Optic Baseball (four cards per pack, 20 packs per box, 12 boxes per case) delivers two autographs and three numbered Prizms. There are four Hot Boxes per case, on average. Two of those Hot Boxes will deliver five autographs instead of two and two will deliver one numbered Prizm per pack.
In the Teaser Gallery that follows, we take you pack by pack through two early boxes. Enjoy the break and stay tuned to The Knight's Lance for additional coverage.
Box 1

Pack 1

Pack 2

Pack 3

Pack 4

Pack 5

Pack 6

Pack 7

Pack 8

Pack 9

Pack 10

Pack 11

Pack 12

Pack 13

Pack 14

Pack 15

Pack 16

Pack 17

Pack 18

Pack 19

Pack 20

Box 1 Autographs

Box 1 Prizms

Box 1 Numbered Prizms

Box 2

Pack 1

Pack 2

Pack 3

Pack 4

Pack 5

Pack 6

Pack 7

Pack 8

Pack 9

Pack 10

Pack 11

Pack 12

Pack 13

Pack 14

Pack 15

Pack 16

Pack 17

Pack 18

Pack 19

Pack 20

Box 2 Autographs

Box 2 Prizms

Box 2 Numbered Prizms