For those who may have missed the post on The Knight's Lance last weekend, Panini America Baseball Acquisitions specialist Tone Stakes is making the rounds at spring training right now securing autographs for Panini America's upcoming MLBPA-licensed products, primarily 2012 Limited and 2012 Prime Cuts.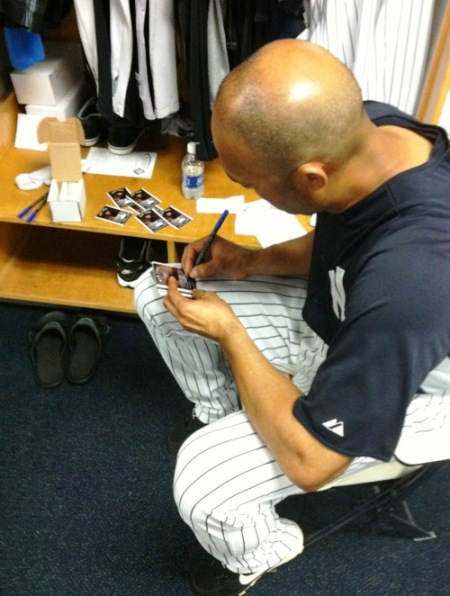 For those who may have missed the post on The Knight's Lance last weekend, Panini America Baseball Acquisitions specialist Tone Stakes is making the rounds at spring training right now securing autographs for Panini America's upcoming MLBPA-licensed products, primarily 2011 Limited and 2011 Prime Cuts.
To help bring collectors as close as possible to the action, Stakes has been documenting his high-profile sit-down sessions, including the following new dispatch documenting his third and fourth days on the road and quality visits with the likes of legendary closer Mariano Rivera and Toronto slugger Jose Bautista.

We hope you enjoy his behind-the-scenes insight as much as we do. Stay tuned to The Knight's Lance this weekend for an expansive gallery showcasing just some of the cards Stakes has had signed so far.
Jose Bautista
Day 3, Signing 1
Obviously, there are a lot of differences between spring training games and regular season games. In spring training, players will stretch in the outfield while the game is going on and players will sign autographs for fans in between innings down the baselines. One benefit for Panini America is that we're able to sit down with players for a signing while the game is going on. Jose said he would have two or three at-bats and then we could meet him in the clubhouse to sign the cards. We showed up at 3 p.m. to meet Jose. He had just gotten off the field and we could still hear the crowd noise from the game going on. We asked him how his game went and he humbly said, "I had a pretty good game." We investigated a little further to discover that he hit two home runs in this particular game. I can't imagine what Bautista thinks is a great game. He finished the game 2-for-3 with a pair of dingers and three RBI.  Yeah, that sounds like a pretty good game. Look for Jose's Notable Nicknames cards in 2012 Prime Cuts Baseball with a "Joey Bats"  inscription.
Alex Presley
Day 3, Signing 2
Remember the name "Alex Presley" this season. He is a top prospect in the Pittsburgh organization and is ready to be an everyday contributor. We sat down with Presley at Pittsburgh's minor league complex. You should have seen the young players walking by in awe of Alex. Not long ago he was one of them, but now he is one of the rare few that has made it to play in the bigs. Alex signed the cards for Limited and talked about his love of playing 1990s grunge rock on guitar, especially Nirvana and Alice in Chains. He said a few of the players on the team play guitar so there are occasional jam sessions throughout the season. Perhaps we can talk them into doing a special performance for Panini America collectors. We discussed doing a special inscription card for the fans and we asked him for one of the baseball sayings he enjoys. He mentioned, "Let it Eat." I liked it instantly. He explained that you have to let your bat eat when its hungry, a reference to being a consistent hitter. I am sure Alex's bats will be "eating" for a long time to come.
Jake Hager
Day 3, Signing 3
Jake Hager's 1-of-1 inscription says it all, "Always Working." The first-round pick for Tampa Bay has not stopped working since realizing that the opportunity to be a professional baseball player was very real for him in the middle of his junior year in high school. Due to some of the local talent in the area (including Bryce Harper) and on his high school team, Jake was able to catch the eye of a few scouts on a regular basis. Jake gave up his love for basketball and dreams to play at Duke one day to focus full-time on baseball. Since then he has played everywhere he can, including a trip to the Dominican Republic where he saw first-hand what some of the Dominican players go through on their journey to the big leagues. He said it was an eye-opening experience that he will remember forever and one that helped him come up with "Always Working." He said if you're not, someone else is and they might be the next to take your roster spot. With his attitude, it's not a matter of if we'll ever see his name on a big-league roster — it's a matter of when.
We've got one more day in Florida and then we're off to see the players in Arizona.
Day 4
Day four started off early in the morning in Dunedin meeting with Toronto outfielder Colby Rasmus before he played Atlanta, then we moved to the New York clubhouse to sit down with Mariano Rivera before finishing the day with Detroit youngster Tyler Collins.
Colby Rasmus
Day 4, Signing 1
We met Colby at the Toronto facility early in the morning for a quick signing of Limited. Colby is a player who is dedicated to improving and nothing proved that more than seeing him ready to get some work in early in the morning prior to other players arriving. Colby signed with Toronto late last season after a few years in the St. Louis organization. I first met Colby a few years earlier down in his hometown of Columbus, Ga., right after he was drafted and I could see in that short time how his passion and knowledge of the game has evolved.  He looked focused and determined and mentioned how he wanted to get better each and every day. He comes in early and stays late to get in as much training as possible. Toronto should have a nice lineup this year with the full-time addition of Rasmus.
Mariano Rivera
Day 4, Signing 2
One of the highlights of our Florida Spring Training trip was sitting in the clubhouse next to Alex Rodriguez, Derek Jeter, Robinson Cano, Mark Teixeira, Russell Martin, CC Sabathia and the other New York stars while watching Rivera sign our Limited cards with Salsa music playing loudly. Truly a surreal feeling. I can only imagine what it must feel like for some of the young players who walk into this for the first time. Making Mariano laugh was a personal highlight of mine. After about 10 minutes of signing the cards, he picked one up, smelled it and said, "These cards smell like gasoline." I quickly realized it was not the cards, but my shoes. About 30 minutes earlier, we were filling up the rental van but the fuel pump didn't have an automatic shut off valve and gasoline was running down the side of our van and all over my shoes. He laughed and said he would make sure no one lit a cigar while I was around. Ha ha, thanks Mariano for the laugh and for having one of the best-looking autographs in the business.
Tyler Collins
Day 4, Signing 3
Detroit's spring training facility is a must-see destination for baseball fans. The complex was completed in 1966 and has housed the stars of Detroit for more than 50 years. Tyler is a prospect in the Detroit organization and a native from Panini America's backyard in Fort Worth, Texas. Tyler talked about his relationship with Panini America's Baseball Product Development guru Mike Payne and how he played baseball with Mike's sons for many years. Tyler, like most in the Dallas/Fort Worth area, is a huge Dallas Cowboys and Texas Rangers fan. He has enjoyed the success the Rangers' have experienced over the past few years and had a truly tough time watching last season's Tigers/Rangers playoff playoff series as he was torn on who to root for. But as a player, he realized he can always be a Rangers fan at heart but when it comes to the field, he gives his loyalty to the Detroit organization and doing what it takes to help the team win. Tyler's 1 of 1 inscription was his favorite verse from the bible, John 14:6.
Goodbye to Florida and the rain. Off to Arizona for a few more days of sun and signings.