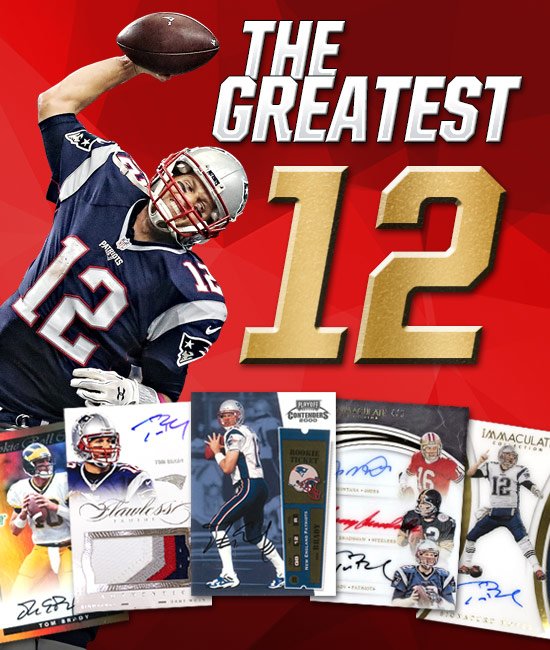 New England Patriots superstar Tom Brady engineered one of the most improbable comebacks in Super Bowl history last Sunday night, helping the Pats overcome a 25-point third-quarter deficit that seemed to defy all reason. He was masterful and magnificent, throwing for two touchdowns and a Super Bowl-record 466 yards as the Patriots reeled off 31 unanswered points to win Super Bowl LI in overtime.
The Atlanta Falcons, along with the more than 111 million Americans watching at home, were shocked. Fans and collectors in possession of Brady's best trading cards were stoked. To be sure, the performance from Brady, a bona fide national treasure, was by any definition immaculate. Flawless, even. With yet another epic Super Bowl victory, Brady became the only quarterback in NFL history with five Super Bowl rings and four Super Bowl MVP Awards.
Just like that, Brady graduated from the four-ring QB club, leaving behind legends Joe Montana and Terry Bradshaw to form a fraternity of one. In the eyes of many, Super Bowl LI officially transformed one of the greatest quarterbacks of all time into the greatest quarterback of all time. As a result, Brady's best trading cards have ascended to all-time value highs in the days since.
Brady's landmark 2000 Contenders Rookie Ticket Autograph #144, valued by Beckett Media before Super Bowl LI at $1,200, is valued at $4,000 today. The numbered-to-100 Championship Ticket version of that card boasted a pre-LI value of $3,000. Today? Try $10,000! So, where do those two gems rank on the list of Brady's 12 greatest trading cards in the Panini America portfolio? Great question . . . and we're about to answer it.
We created an expert panel of eight Panini America staffers (including members of the Football Product Development, Customer Service and Marketing teams) — more than 115 years of combined trading card industry experience — to rank, in order, Brady's 12 greatest cards from the Panini America family of brands. We scored each panelist's ballot by awarding 12 points for each No. 1-ranked card, 11 points for each No. 2-ranked card, 10 points for each No. 3-ranked card and so on, all the way down to one point for every No. 12-ranked card.
We then tabulated the points to come up with the definitive list of No. 12's 12 Greatest Panini America Trading Cards. Without further ado, here it is . . .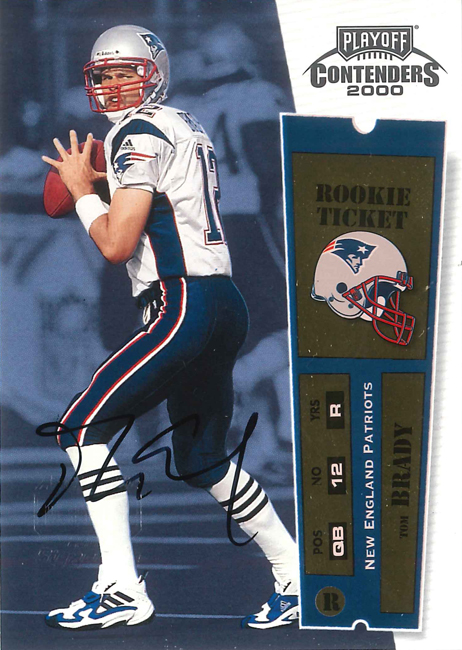 1. 2000 Contenders Football Rookie Ticket Autograph #144 RC
Pretty much a no-brainer as Brady's only autographed Rookie Card, this one received 95 of a possible 96 total points, which means seven of the eight panelists ranked this landmark RC as No. 1. And to think, when it first debuted in Beckett Football, it was valued at just $20.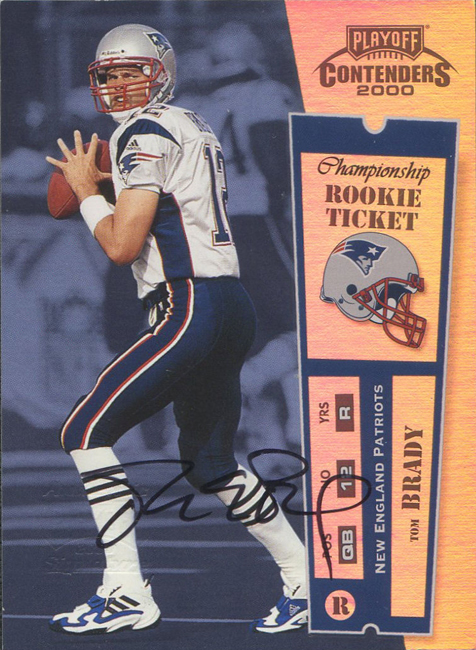 2. 2000 Contenders Football Rookie Championship Ticket #144
The staggeringly priced parallel of the No. 1 card on this list, this beauty is limited to just 100 copies and carries the added allure of rainbow holofoil. Earlier this week, Beckett Media raised the value to a whopping $10,000. (Received 63 of a possible 96 points.)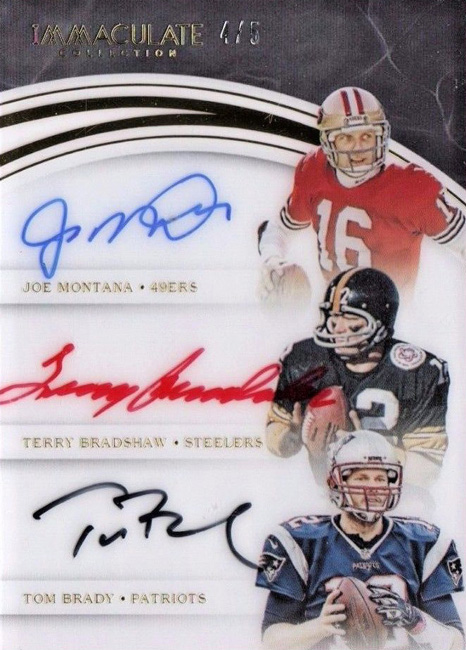 3. 2016 Immaculate Football Trios Autographs #1
Prior to Sunday, one of the most sought-after single cards in the entire 2016 Immaculate Football product featured on-card autographs of Joe Montana, Terry Bradshaw and Brady, the only three QBs with four Super Bowl rings. Now, the guy on the bottom of the card is at the top, by himself with five. (Received 44 of a possible 96 points.)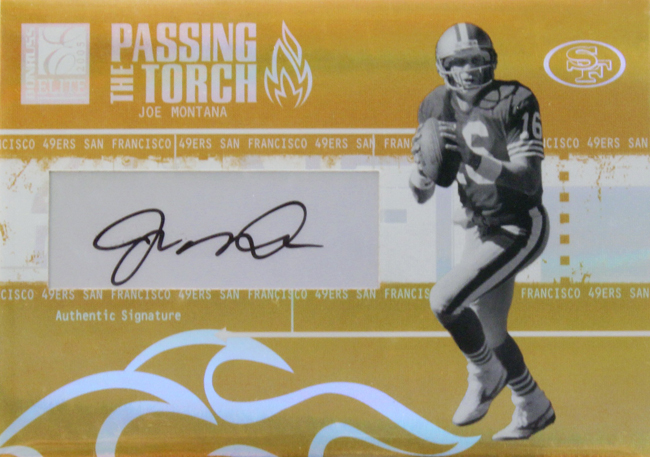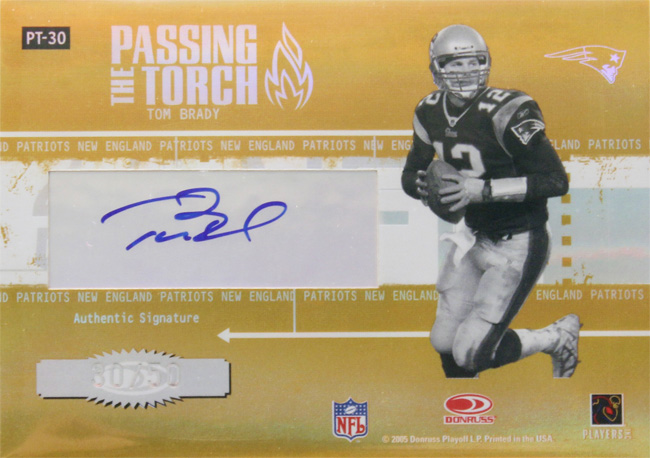 4. 2005 Elite Football Passing the Torch Autographs #PT30
Iconic insert. Two iconic players (Montana on the front, Brady on the back). Autographs from each. Enough said . . . and a relative steal at its current $400 Beckett value. (Received 39 of a possible 96 points.)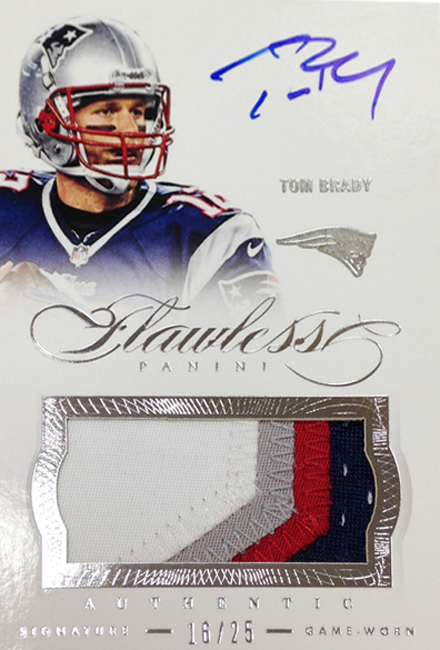 5. 2014 Flawless Football Patches Autographs #92
A cornerstone inclusion in Panini America's pioneering debut edition of Flawless Football, this Brady beast features an on-card signature, a prime piece of game-worn jersey and current Beckett value of $1,000. (Received 38 of a possible 96 points.)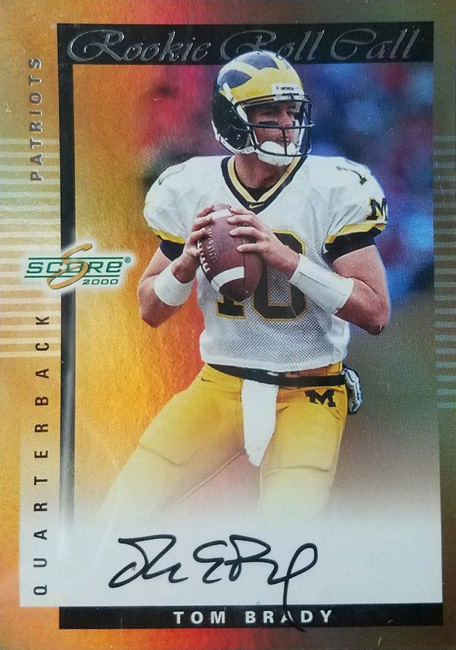 6. 2000 Score Rookie Preview Autographs Roll Call #SR41
The only card on the list featuring Brady during his college days at the University of Michigan, this hard-signed legend has appreciated as well as Brady himself has over the years, as evidenced by its $3,000 Beckett value. (Received 33 of a possible 96 points.)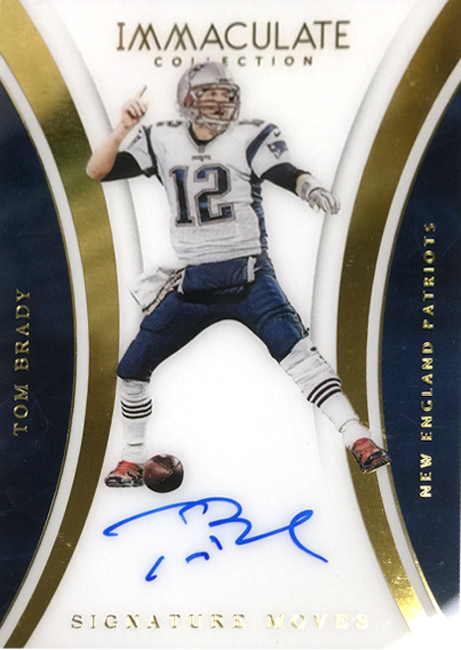 7. 2016 Immaculate Football Signature Moves #5
Yet another juggernaut card from the powerful 2016 Immaculate Football release, this one benefits from an on-card signature, a great design, a compelling photo and scarcity (limited to just 15 copies). Hailing from the wildly popular Signature Moves insert helps, too. It currently carries an $800 Beckett value. (Received 25 of a possible 96 points.)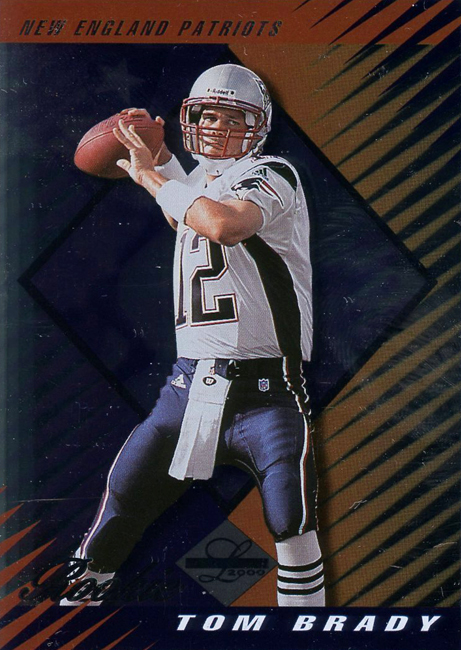 8. 2000 Limited Football #378 RC
No autograph. No memorabilia. Just a great design, a strong brand and a card limited to 350 copies. It currently carries a $600 Beckett value, although a PSA 9 copy of this card sold for $1,025 two days before Super Bowl LI. (Received 23 of a possible 96 points.)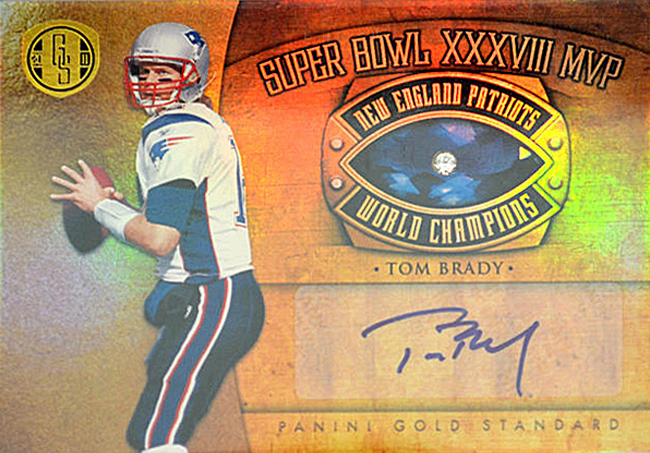 9. 2011 Gold Standard Football Super Bowl Rings #2
Hailing from perhaps the most well-received insert in the debut edition of Gold Standard Football, this diamond-embedded gem, limited to just five copies, was initially inserted as a redemption card. Back then, Brady owned just three Super Bowl rings. He's got five now, which helps explain this $5,000 asking price. (Received 23 of a possible 96 points.)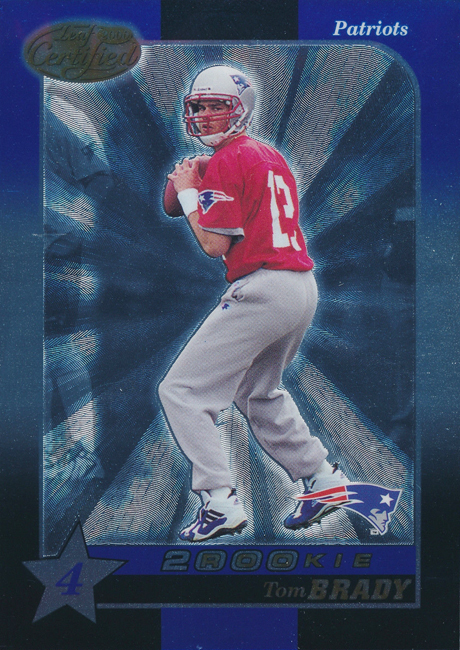 10. 2000 Certified Football #207 RC
Another throwback titan that needs neither an autograph nor a piece of memorabilia to be spectacular. In fact, despite a relatively plentiful 1,500 copies, this RC almost doubled in Beckett value in late December, vaulting from $200 to $350. This card also boasts early usage of the microetching technology that permeates the Certified brand to this day. (Received 19 of a possible 96 points.)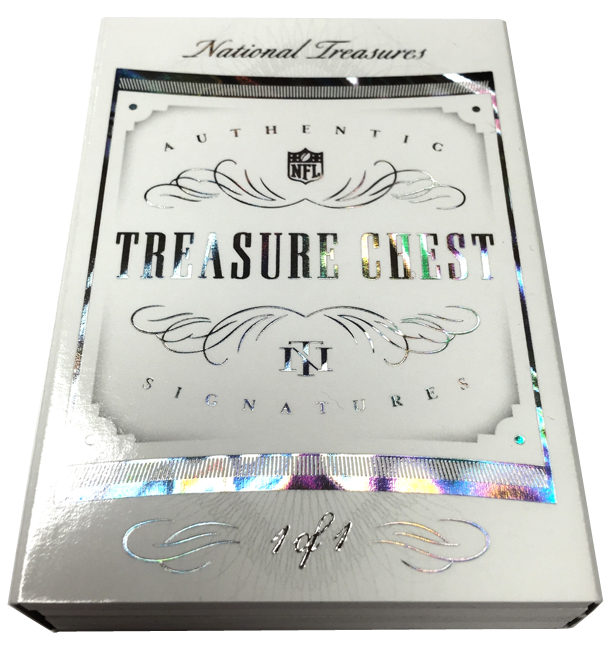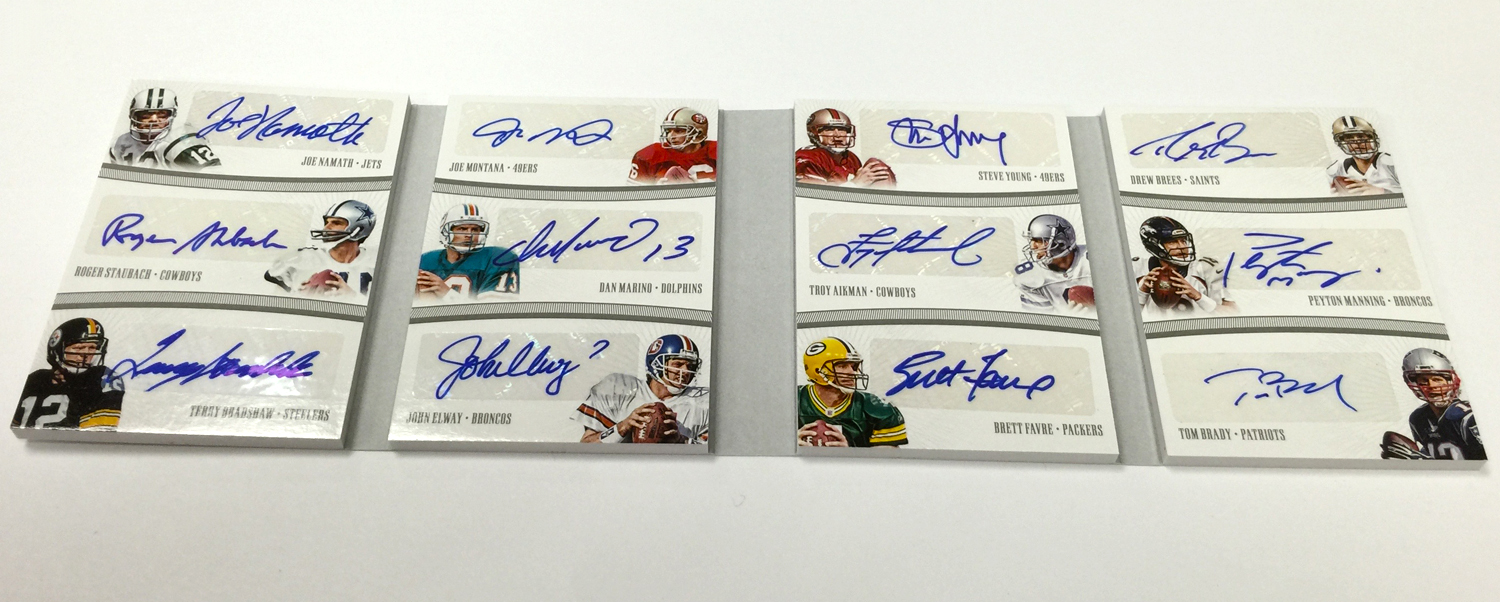 11. 2015 National Treasures Football Treasure Chest Signatures #TCS-QB
A quick look at the mind-boggling math looks something like this: One card. 12 autographs. 17 NFL MVP awards. 26 Super Bowl rings. 3,896 combined touchdown passes. 569,276 career passing yards. It's a card deserving of more than just a place here. We're thinking more like a permanent place in Canton. (Received 18 of a possible 96 points.)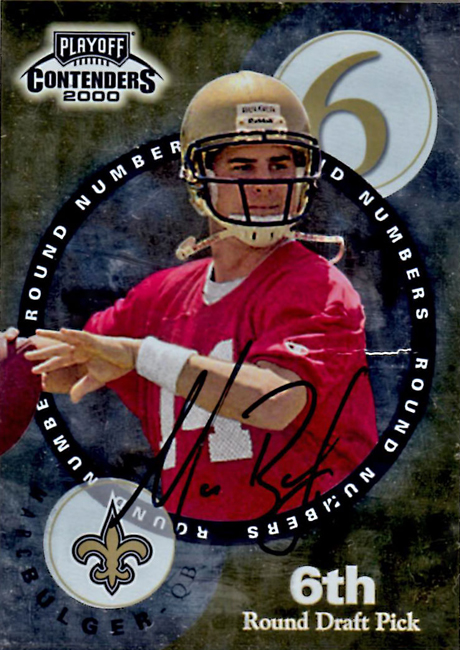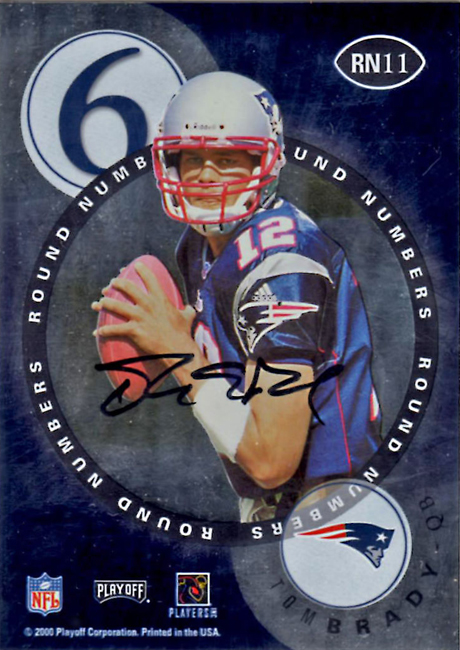 12. 2000 Contenders Football Round Numbers Autographs #11
Former St. Louis Rams quarterback Marc Bulger was the fifth of sixth QBs selected ahead of Brady in the 2000 NFL Draft, which is the only reason he's sharing this card with Brady. The fact that he was taken just 31 spots ahead of Brady means he also got front-side honors, relegating a future four-time Super Bowl MVP to the back. (Received 16 of a possible 96 points.)