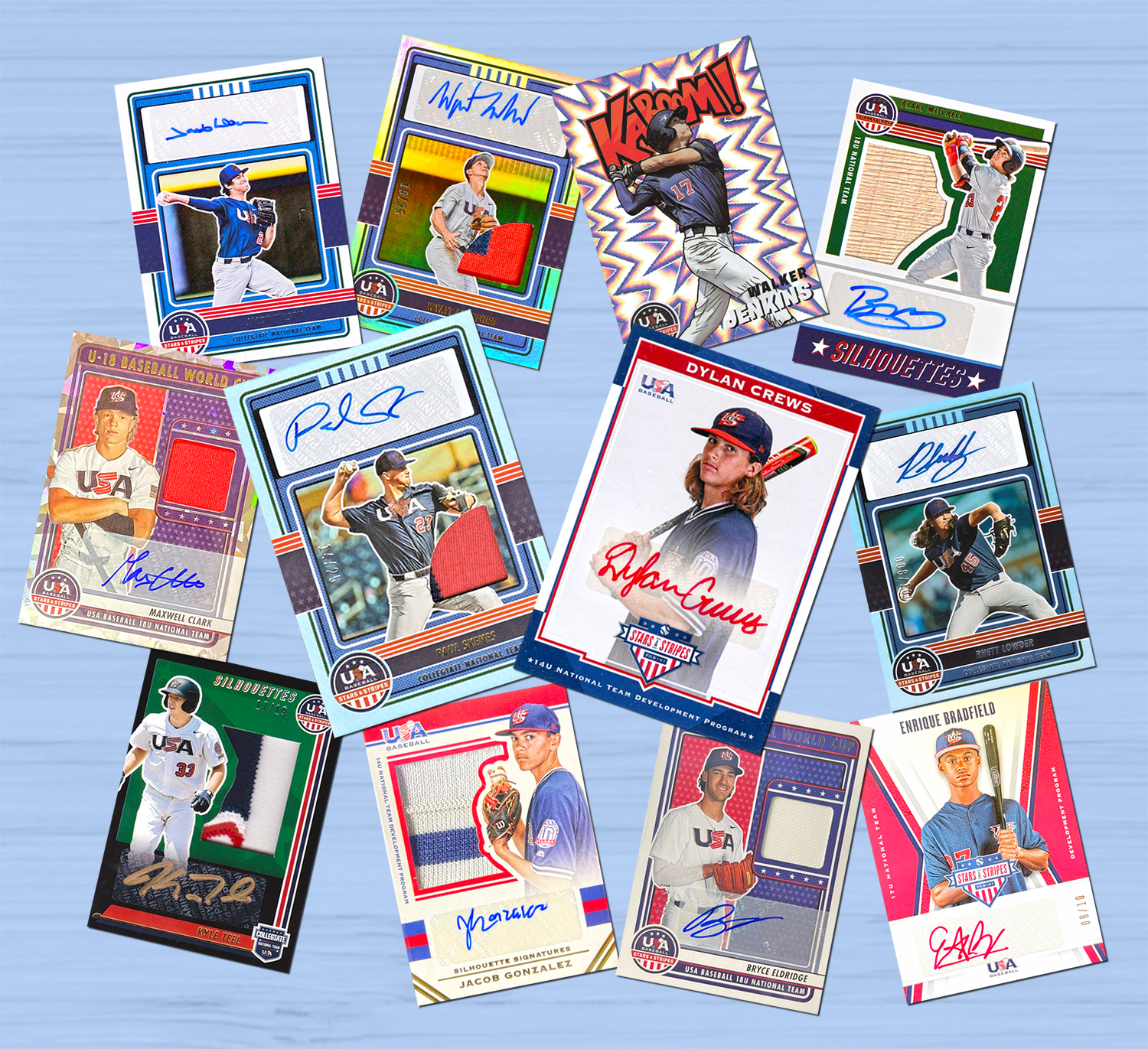 Stop us if you've heard this one before: Panini America's potential-packed USA Baseball products enjoyed yet another banner performance during last night's Day One of the 2023 MLB Draft. It merely continued an impressive Draft streak for an exclusive partnership that continues to pay dividends for everybody involved — but especially for collectors.
Indeed, for fans of the talent-rich USA Baseball program and baseball prospecting in general, Day One was rife with revelations — and perhaps a few collecting surprises. In all, 19 of the 37 players selected last night have appeared on Panini America USA Baseball trading cards, including the first eight picks headlined by Paul Skenes (No. 1) and Dylan Crews (No. 2).
But 12 of last night's selections have appeared only on Panini America USA Baseball cards — meaning that's the only place you're going to find them. Period. Those players are Walker Jenkins (No. 5), Jacob Wilson (No. 6), Rhett Lowder (No. 7), Blake Mitchell (No. 8), Kyle Teel (No. 14), Bryce Eldridge (No. 16), Colt Emerson (No. 22), Ralphy Velaquez (No. 23), Hurston Waldrep (No. 24), Aidan Miller (No. 27), Kendall George (No. 36) and Kevin McGonigle (No. 37).
Below is a list of the Round One picks who have previously appeared in Panini America's popular Stars & Stripes USA Baseball release:
The 2023 MLB Draft continues today with rounds three through 10 and concludes on Tuesday with rounds 11 through 20. We can't wait to see just how the Panini America-USA Baseball exclusive partnership continues to deliver.
| | | |
| --- | --- | --- |
| Name | Pick | Most Recent Stars & Stripes Year |
| Paul Skenes | 1 | 2023 |
| Dylan Crews | 2 | 2023 |
| Max Clark | 3 | 2023 |
| Wyatt Langford | 4 | 2023 |
| Walker Jenkins | 5 | 2023 |
| Jacob Wilson | 6 | 2023 |
| Rhett Lowder | 7 | 2023 |
| Blake Mitchell | 8 | 2023 |
| Kyle Teel | 14 | 2023 |
| Jacob Gonzalez | 15 | 2017 |
| Bryce Eldridge | 16 | 2023 |
| Enrique Bradfield Jr. | 17 | 2019 |
| Brayden Taylor | 19 | 2023 |
| Colt Emerson | 22 | 2023 |
| Ralphy Velasquez | 23 | 2020 |
| Hurston Waldrep | 24 | 2023 |
| Aidan Miller | 27 | 2023 |
| Kendall George | 36 | 2023 |
| Kevin McGonigle | 37 | 2023 |