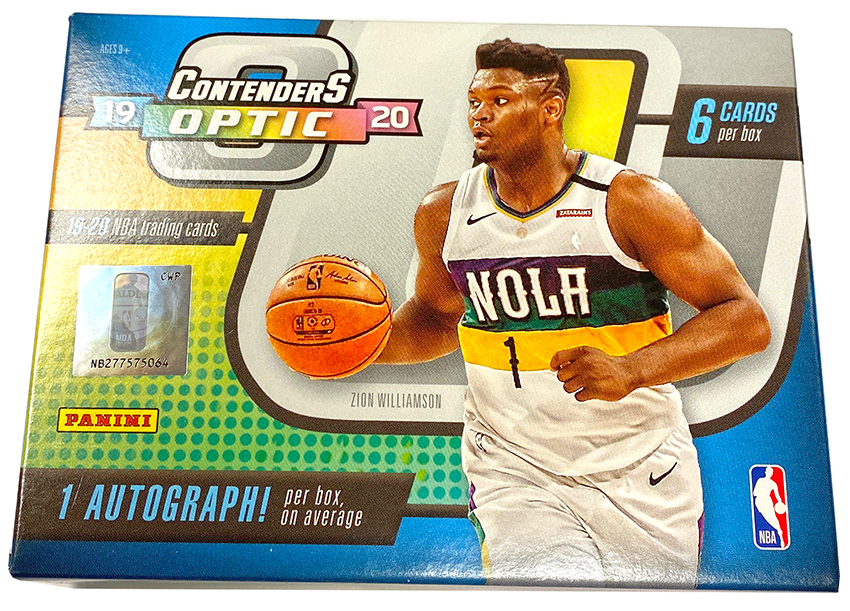 OK, so it's not every day that you can use a term like "devastatingly gorgeous" to describe a set of basketball cards and get away with it. But Panini America's wildly popular Contenders Optic Basketball is not an every-day type of product. It is, in two words, "devastatingly gorgeous." That's what we called it in an Instagram post earlier today. And that's what we're calling it here.
As you'll see in the splendid imagery that follows, 2019-20 Contenders Optic Basketball just looks . . . special. Now as always, it's the colorful, dashing result of what happens when the landmark Contenders brand melds with Optichrome technology to create something altogether new. And for this historic 2019-20 edition, well, it's certainly dressed to thrill. On average, each hobby box (six cards per box, 20 boxes per case) will deliver one autograph and four inserts or parallels.
The highlights of the product are many and include . . .
Rookie Season Tickets in a variety of parallels including the popular Gold Vinyl 1/1 and Gold Prizm (numbered to 10) versions featuring on-card autographs.
1982 Tribute Autographs feature a retro look and on-card autographs of some of the top names in the game. Look for Gold Vinyl 1/1s and Gold Prizms numbered to just 10.
Uniformity returns on Optichrome technology along with the all-new Historic Slams, Historic Picks and All-Star Aspirations inserts.
The spectacular Superstars die-cuts return as one of the product's most popular inserts.
Enjoy the Quality Control Gallery that follows and stay tuned for additional coverage.
2019-20 Contenders Optic Basketball releases in hobby shops across North America tomorrow.