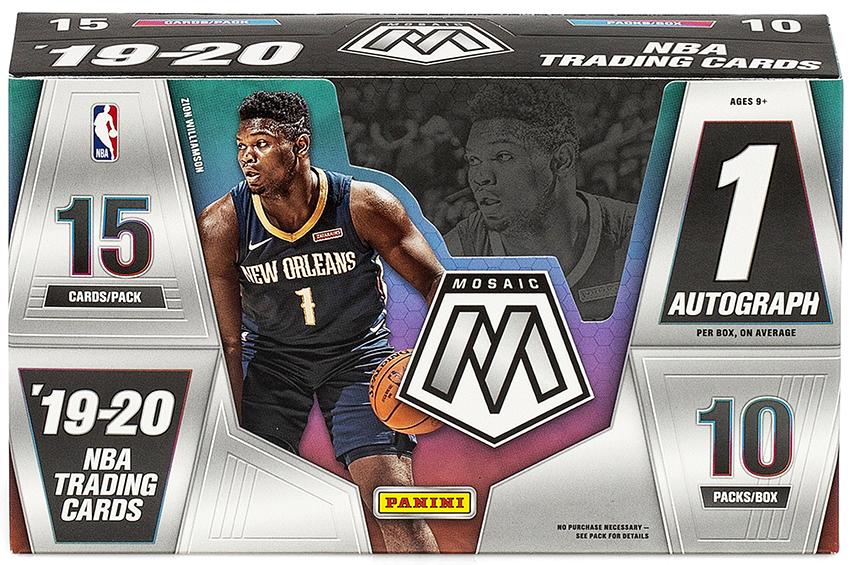 It's been the hottest product of the last several weeks in the retail sector. Heck, it may be the hottest product of the year so far across the entire category. But finally, Panini America's Prizm-powered 2019-20 Mosaic Basketball is ready to make its hobby arrival — and the market is ready. The 1st Off The Line edition sold out quickly last week and the Hobby, Choice and Fast Break editions start arriving in hobby shops across North America and beyond on Wednesday.
By just about any definition, Mosaic Basketball in any form has been a juggernaut of a product. But it's rare for a product to have this much hype based strictly on an extended and torrid retail run. But as you'll see in the extensive Quality Control Gallery that follows, the product is equipped to thrill with a captivating combination of aesthetics, colorful parallels, a top-notch checklist and a stacked autograph roster.
Panini America's Chris Barr was on location during last week's Mosaic packout and was nice enough to fill his camera roll with a stunning array of images from the FOTL, hobby, Choice and Fast Break versions. On average, each hobby box of 2019-20 Mosaic Basketball (15 cards per pack, 10 packs per box, 12 boxes per case) will deliver one autograph, five Silver Prizms and 15 Mosaic Prizms.
Enjoy the imagery that follows and stay tuned to The Knight's Lance for additional coverage.
2019-20 Mosaic Basketball will be available at the official online store of Panini America beginning Wednesday at 10 a.m. CST.