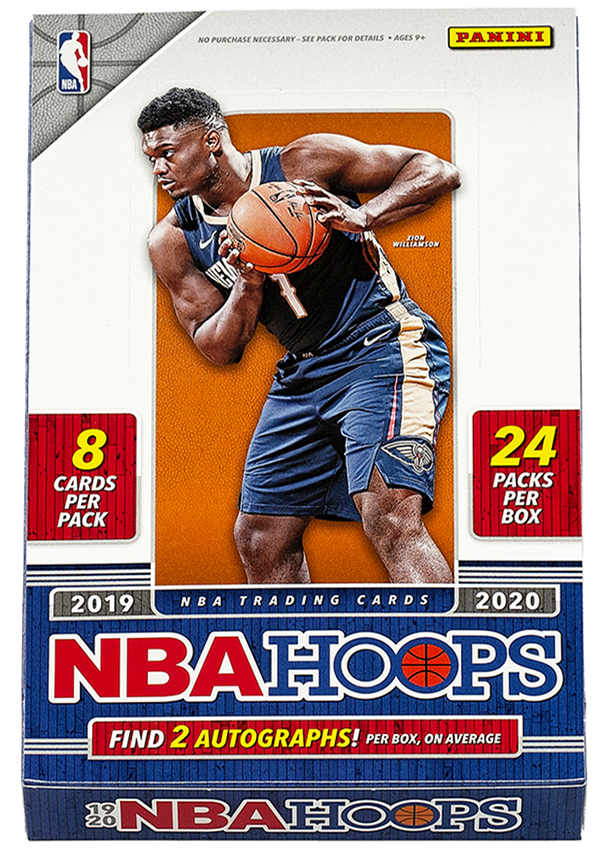 Cue the horns. Prep the confetti. Inflate the balloons. There's a celebration coming. On Wednesday, finally, the highly anticipated 2019-20 NBA collecting season begins with the release of Panini America's landmark NBA Hoops Basketball, an annual season-starting staple that has likely never been more anticipated than it is this season.
Boasting the first NBA Rookie Cards and autograph cards featuring the celebrated 2019 NBA Draft Class, 2019-20 NBA Hoops Basketball promises to be an instant classic upon arrival. On average, each hobby box of 2019-20 NBA Hoops Basketball (eight cards per pack, 24 packs per box, 20 boxes per case) will deliver two autographs and 24 inserts or parallels.
Find unique hobby-exclusive insert designs that showcase NBA stars, old and new, with tons of variety. Chase High Voltage, NBA City, Legends of the Ball and more. Collectors can also relive the climb to the NBA mountaintop in Road to the Finals, which showcases every game of the 2019 playoffs with varying rarity. Look for the SSP Champions cards with a team photo of the 2019 NBA Champion Toronto Raptors.
In the must-see Quality Control Gallery that follows, we showcase a little bit of everything that the spectacular 2019-20 NBA Hoops Basketball has to offer. Enjoy the preview and stay tuned to The Knight's Lance for additional coverage.