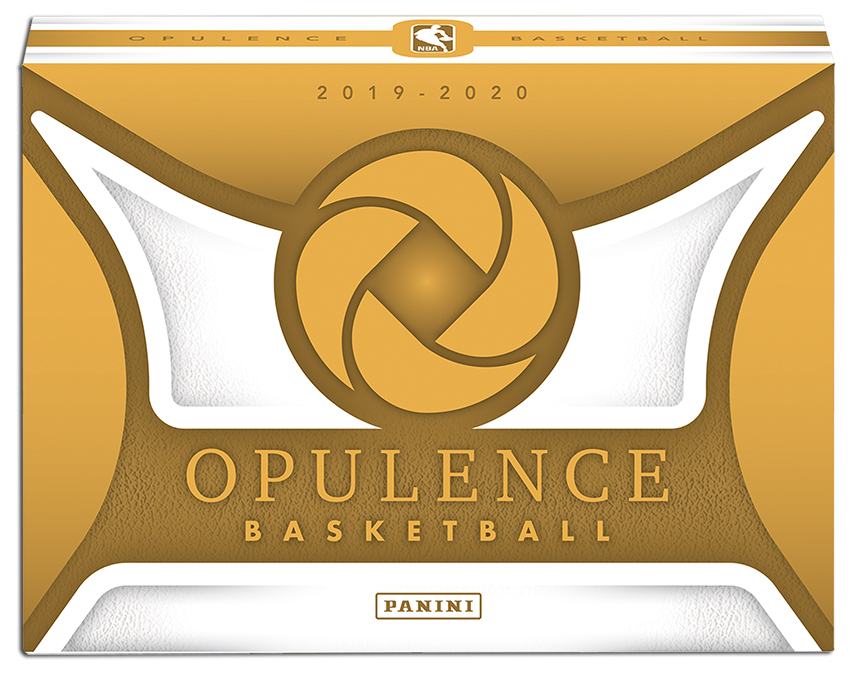 Panini America's decadent Opulence Basketball franchise is about to release it's third annual iteration later this week and it's obvious with one glance that the same five-word descriptor that accompanied the product's inaugural product solicitation material for the 2017-18 debut remains true today: "A luxury basketball trading card set." As you'll see in the Quality Control Gallery that follows, that much remains unchanged.
2019-20 Opulence Basketball arrives in hobby shops and on group-break sites across North America on Friday equipped with requisite doses of collecting luxury that has come to define the product in two short seasons. On average, each hobby box (seven cards per box, two boxes per case) will deliver six autograph or memorabilia cards (including one booklet).
Highlights of the product are many and include . . .
Look for Rookie Patch Autographs this year in booklet form. Find parallel versions featuring different levels of prime swatches from the jersey.
Chase history in the NBA Finals Booklet set. Look for prime swatches from jerseys worn by the Toronto Raptors while winning their first-ever NBA Championship. Find a variety of parallels featuring different levels of swatches.
Find a revamped booklet lineup this year Collect the all-new Game of Inches and All-Star Game booklet cards.
Find the super-rare Rookie Octo Signature Booklet featuring autographs from the most collectible stars of the 2019-20 NBA Rookie Class.
Enjoy the extended sneak peek that follows and stay tuned for additional coverage.
2019-20 Opulence Basketball will be available at the official online store of Panini America beginning Friday at 10 a.m. CST.