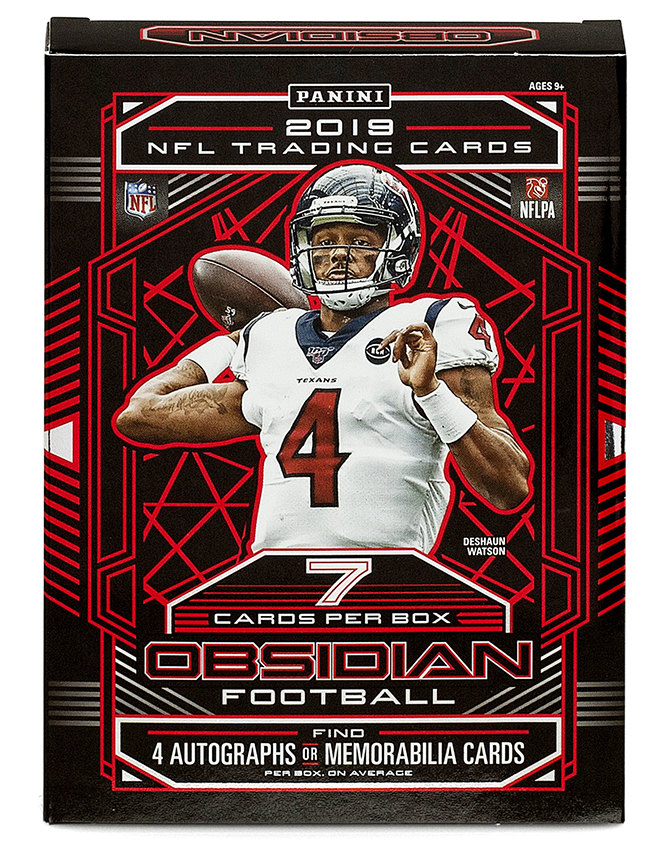 Just when you thought Panini America officials couldn't possibly find another way to wow collectors with the company's perpetually popular Optichrome printing technology, they went and introduced Obsidian Football last year, bringing considerably darker aesthetics to the party. That product was an instant hit and now, there are Obsidian elements in basketball, baseball and soccer.
We say all of that to say this: Tomorrow, 2019 Obsidian Football arrives in hobby shops and on group-break sites across North America intent on building upon last season's momentous debut. On average, each hobby box (seven cards per box, 12 boxes per case) will deliver four autograph or memorabilia cards, two parallels or inserts and one base card.
New for 2019 are the spectacular Contra case-hit parallels numbered to only seven. The product's spectacular die-cut memorabilia cards return with the Vitreous, Supernova, Pitch Black and Tunnel Vision inserts. And collectors will find autographs from veteran stars and retired greats in the Matrix Material Autos, Lightning Strike and Aurora Autos inserts.
In the revealing Quality Control Gallery below, we showcase a little bit of everything 2019 Obsidian Football has to offer. Enjoy the sneak peek and stay tuned for additional coverage. Stick around after the gallery for the complete product checklist.
2019 Obsidian Football will be available on the official online store of Panini America beginning tomorrow at 10 a.m.