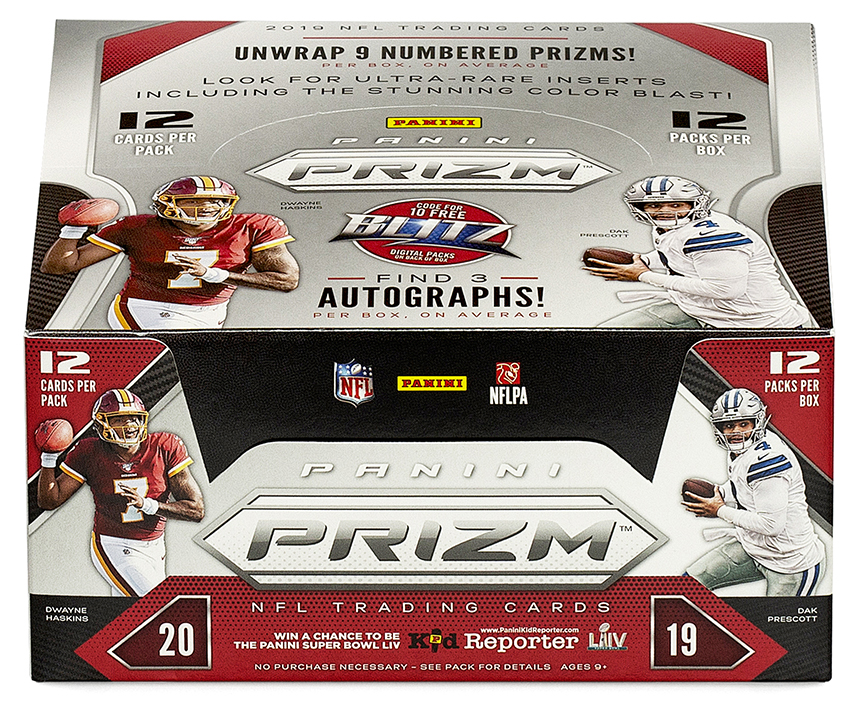 Let's begin with this simple fact: Some new-release days are bigger than others. That's just the way it is, especially when you're talking about a product as universally popular as Panini America's Prizm Football franchise. So when 2019 Prizm Football arrives in hobby shops and on group-break sites across North America on Friday, well, it's going to be a big day.
There is an undeniable feeding frenzy that greets the launch of any new Prizm release. It's as much about "chasing the Rainbow" as it is about acquiring the "Silvers" of your favorite players or the key rookie and veteran autographs. That is certain to be the case once again this week. In the gallery that follows, we take a deep dive into this year's release with a must-see Quality Control Gallery.
On average, each hobby box of 2019 Prizm Football (12 cards per pack, 12 packs per box, 12 boxes per case) will deliver three autographs, nine numbered Prizms, one Silver Prizm, 24 Rookie Cards and four inserts.
New for 2019 are one-per-case SSPs in the Color Blast, Class Acts, Illuminations, Breakthrough and Aurora inserts as well as Flashback Autographs and Franchise Legend Signatures.
Hobby-exclusive Prizms for 2019 include Hyper, Orange, Blue Wave, Red Wave, Blue Ice, Green Scope, Purple Power, Camo, Gold, Gold Vinyl and Black Finite. Oh, and just because they look so cool, we've also showcased a few of the Gold Lazer Prizms that are exclusive to retail Blasters.
Enjoy the gallery that follows and stay tuned for additional coverage.