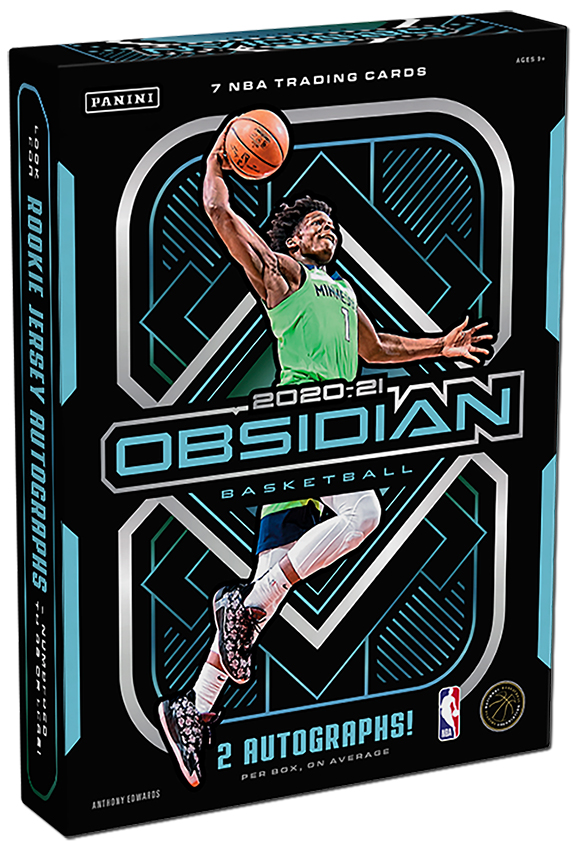 A jam-packed, new-release Wednesday for Panini America includes the previously previewed 2021 Chronicles Draft Picks Basketball, 2020-21 Obsidian Basketball and 2021 Spectra Baseball. In this particular Quality Control Gallery post, we're turning our sights to the spectacular Obsidian Basketball.
On average, each hobby box of 2020-21 Obsidian Basketball (seven cards per box, 12 boxes per case) delivers two autographs and two inserts or parallels. The highlights of the product are many and include . . .
Rookie Jersey Autographs and Rookie Ink feature autographs from top rookies in the 2020-21 NBA Draft class. Find these in parallels such as Electric Etch Purple, Orange, Green, Yellow, Red and the one-of-a-kind White Mojo.
Also, find autographs of the top superstars and retired players in the league in the new Aurora Autographs and Matrix Material Autos.
New die-cut inserts to Obsidian this year are Eclipse and Supernova, which feature the top superstars in the league today.
Enjoy the imagery that follows and stay tuned for additional coverage.
202-21 Obsidian Basketball is available now at the official online store of Panini America.