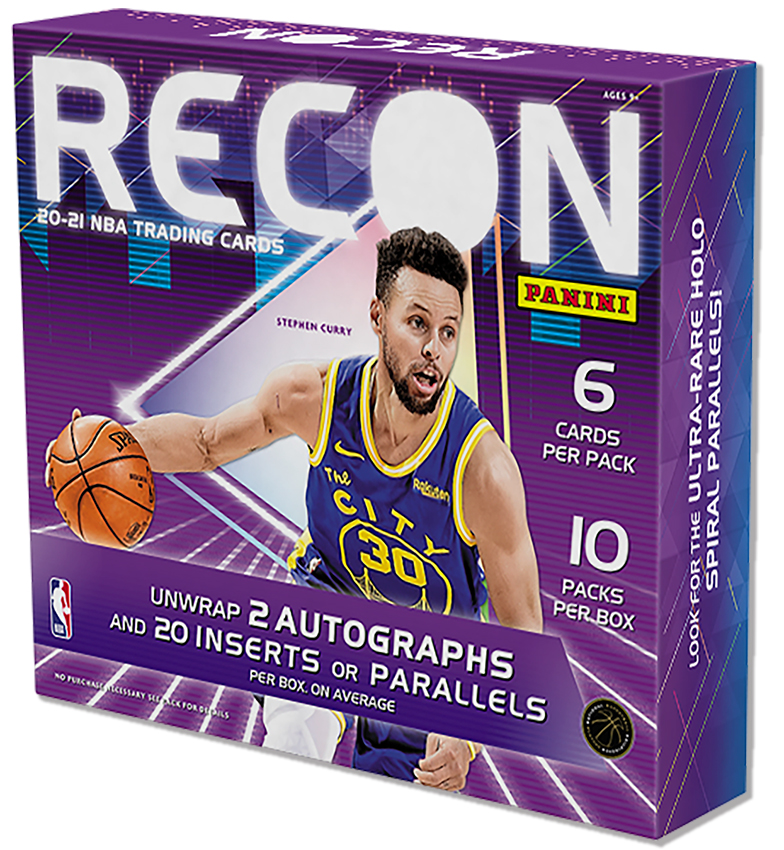 Panini America will make NBA trading card history again this week with the release of the inaugural Recon Basketball product in hobby shops across North America. Recon owes its origins to a successful insert run in the test lab that is the Chronicles brand.
On average, each hobby box of 2020-21 Recon Basketball (six cards per pack, 10 packs per box, 12 boxes per case) will deliver two autographs, 10 base parallels and 10 inserts or insert parallels. As you'll see in the revealing Quality Control Gallery below, Recon is gifted with some of the most attractive insert designs of the season. The highlights of the product are many and include . . .
Find 10 base parallels in each box from a checklist that includes Holo, Holo Spiral, Holo Pink, Holo Bronze, Hold Red (numbered to 199), Holo Blue (numbered to 99), Holo Purple (numbered to 49), Holo Gold (numbered to 10), Holo Green (numbered to five) and Holo Platinum 1/1s.
Look for autographs from top NBA rookies, veterans and legends.
A scintillating insert roster features the likes of Maneuvers, Rookie Review, Future Legends, Rock the Rim, Rookie Recon, Scouting Reports, Eyes on the Prize and Sky's the Limit.
Enjoy the imagery and stay tuned for additional coverage. 2020-21 Recon Basketball will be available at the official online store of Panini America beginning Wednesday at 10 a.m. CST.