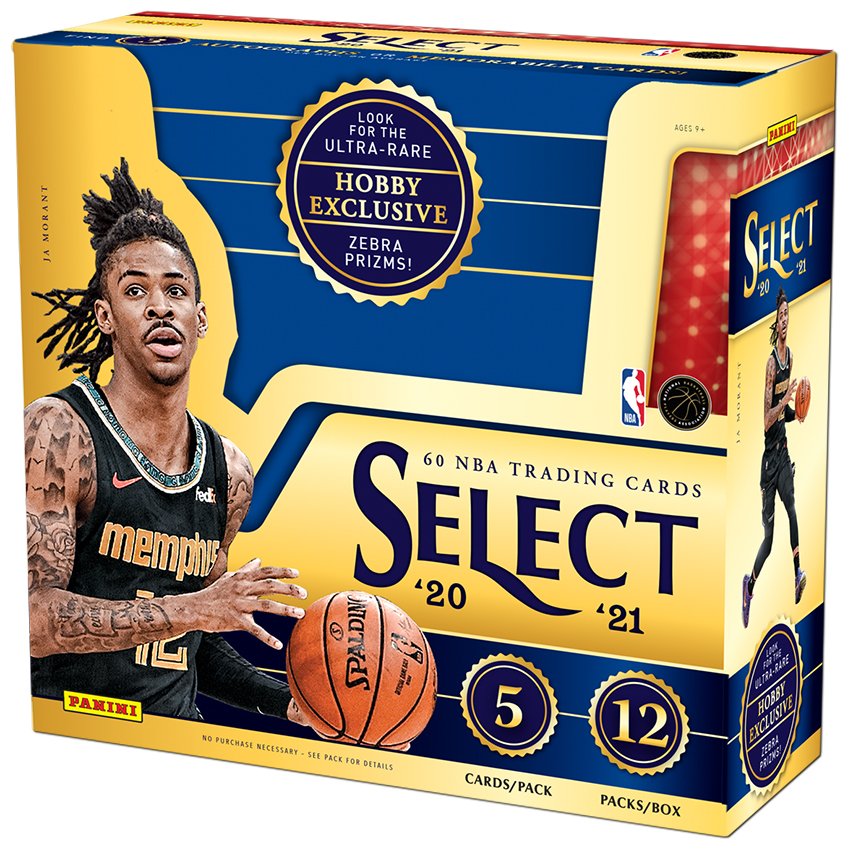 As far as Fridays go, tomorrow is shaping up to deliver one of the most high-voltage hobby days of the summer. It's not just going to be electric. It's going to be "Selectric." Mark it down. Book it. Bank on it. As if it wasn't enough for Panini America to release 2021 UFC Select in hobby shops across North America tomorrow, it's also dropping 2020-21 Select Basketball, too.
The scorching Select brand will do double-time tomorrow across the collecting universe and this year's basketball version is sure to pick up where last season's left off — with tons of color to chase, the rare and exclusive Zebra Prizms, quirky-cool die-cuts and a wealth of must-have autograph and memorabilia content.
On average, each hobby box of 2020-21 Select Basketball (five cards per pack, 12 packs per box, 12 boxes per case) will deliver three autograph or memorabilia cards, 12 Prizms, two Courtside base cards and 10 Premier base cards per hobby box, on average.
Among the many product highlights:
Collect all three tiers of the base set, along with various Prizm parallels for each level (Concourse, Premier Level and Courtside).
Find Rookie Jersey Autographs of top rookies from the 2020 NBA Draft
in the following formats: Base (numbered to 199), Purple (numbered to 99), Tie-Dye (numbered to 25), Gold (numbered to 10) and Black 1/1. Tie-Dye, Gold and Black versions all feature prime swatches of jerseys.
Look for a couple of new inserts including Unstoppable and En Fuego.
Collect parallels numbered to as low as one.
Chase the highly coveted Zebra parallel across all three tiers of the base set.
Look for the coveted Tiger Prizms and the all-new Elephant Prizms as retail exclusives.
Enjoy the Quality Control Gallery that follows and stay tuned for additional coverage.
2020-21 Select Basketball will be available at the official online store of Panini America beginning Friday at 10 a.m. CST.