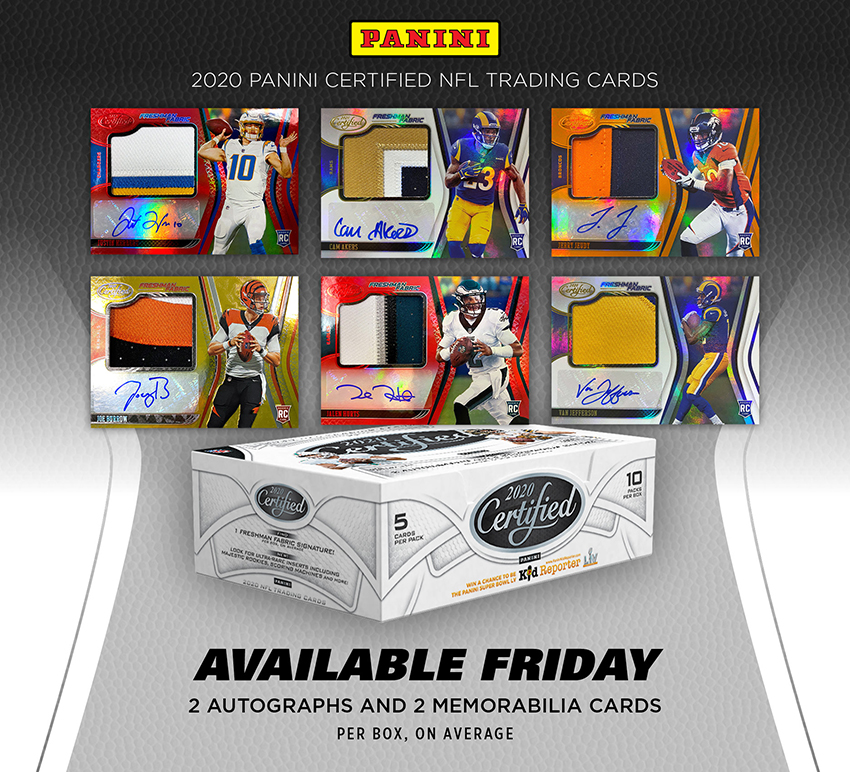 Panini America's vaunted Certified Football franchise is just about ready for its 2020 closeup — and that's a good thing. As you're about to see in the revealing Quality Control Gallery that follows, 2020 Certified Football is a certified stunner. The product arrives in hobby shops across North America on Friday delivering, on average, one Freshman Fabric Signatures, one additional autograph, two memorabilia cards and two Rookie Cards or parallels in each hobby box (five cards per pack, 12 boxes per inner case, two inner cases per master case).
Collectors also will find spectacular etched inserts such as Scoring Machines, Stat Smashers, Majestic Stars and Majestic Rookies falling roughly once per inner case. New for 2020 is the grungy, graffiti-styled 2020 insert. Additional highlights include the incorporation of game-worn jerseys in the Certified Gamers insert, the return of popular die-cut team names in the Fabric of the Game and Fabric of the Game Signatures inserts and upgraded card stock for base and rookie Mirror parallels.
Enjoy the revealing sneak peek that follows and stay tuned to The Knight's Lance for additional coverage.
2020 Certified Football will be available at the official online store of Panini America beginning Friday at 10 a.m. CST.