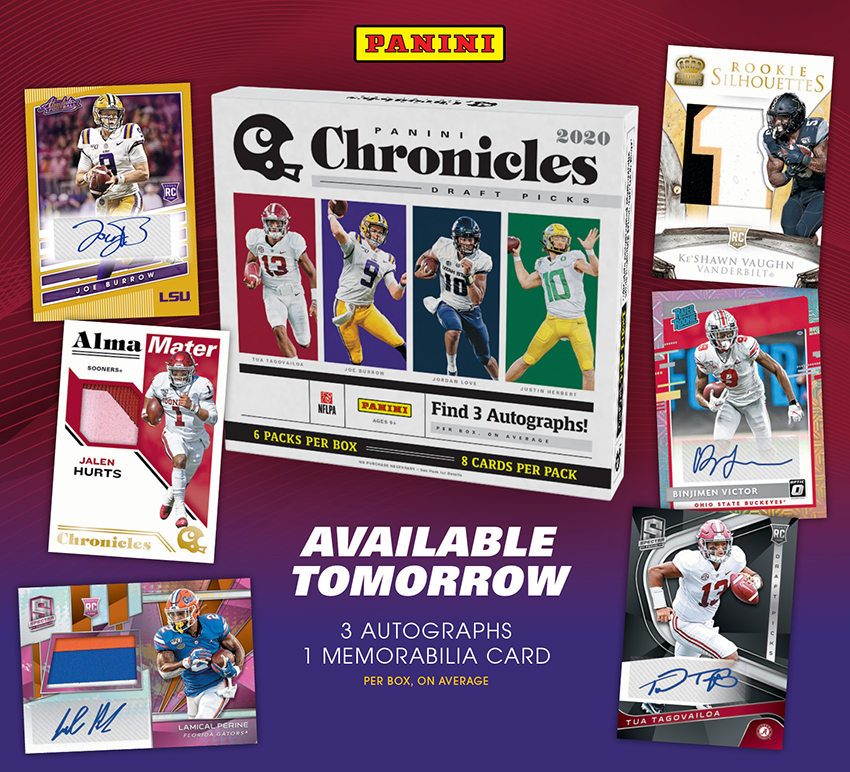 Facts being what they are, know this: There has never been a football draft picks product quite like the one from Panini America that releases tomorrow. Indeed, 2020 Chronicles Draft Picks Football is a different kind of product — a multifaceted monster featuring key Rookie Cards and designs from some of the company's most popular brands across all sports and of all time. Spectra, Donruss, Crown Royale, Absolute, XR, Select, Elite, Optic, Phoenix and more are all included in this vibrant showcase of the top picks from the 2020 NFL Draft.
On average, each hobby box of 2020 Chronicles Draft Picks Football (eight cards per pack, six cards per box) will deliver three autographs, one memorabilia card and two parallels. Fans and collectors will find autographs from the top members of the 2020 rookie class across 21 different Panini programs and on-card autographs from such brands as Spectra, Select and Donruss Optic.
Also featured in this product? The popular and rare case-chase insert, Downtown, arrives in the collegiate arena for the first time. We offer a revealing Quality Control Gallery below. Enjoy the sneak peek and stay tuned for additional coverage.
2020 Chronicles Draft Picks Football releases tomorrow and will be available at the official online store of Panini America beginning at 10 a.m. CST.