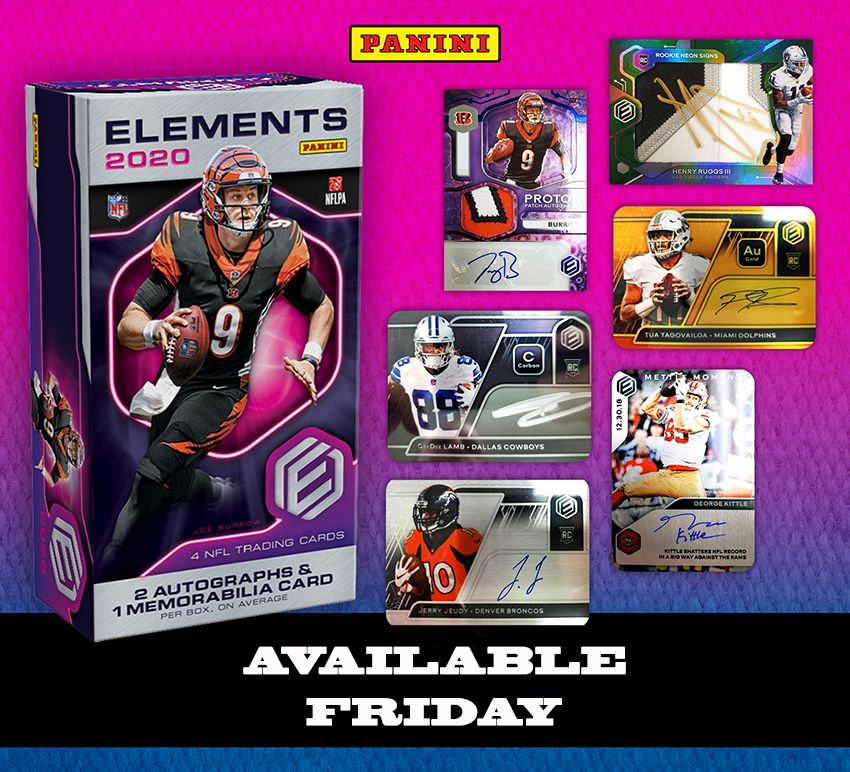 Elements Football, Panini America's colorful, heavy-metal tribute to some of the greatest NFL stars of the past, present and future, arrives for the 2020 season on Friday delivering its unique blend of metal autographs, way-cool Acetate-over-memorabilia autographs and so much more.
Each hobby box of 2020 Elements Football (four cards per box, 12 boxes per case) will deliver, on average, one metal on-card autograph (featuring short-printed ink-color variations), one metal base or Rookie Card, one Acetate Autograph or Patch Autograph and one memorabilia card.
The Metal Base and Rookie Cards as well as the Metal Autographs utilize Periodic-Table-inspired numbering. Look for the super-rare Proton Patch Autographs and Rookie Neon Material Signs to fall roughly once per case, on average.
We offer a revealing Quality Control Gallery for your viewing pleasure below. Enjoy the sneak peek and stay tuned for additional coverage.
2020 Elements Football will be available at the official online store of Panini America beginning Friday at 10 a.m. CST.