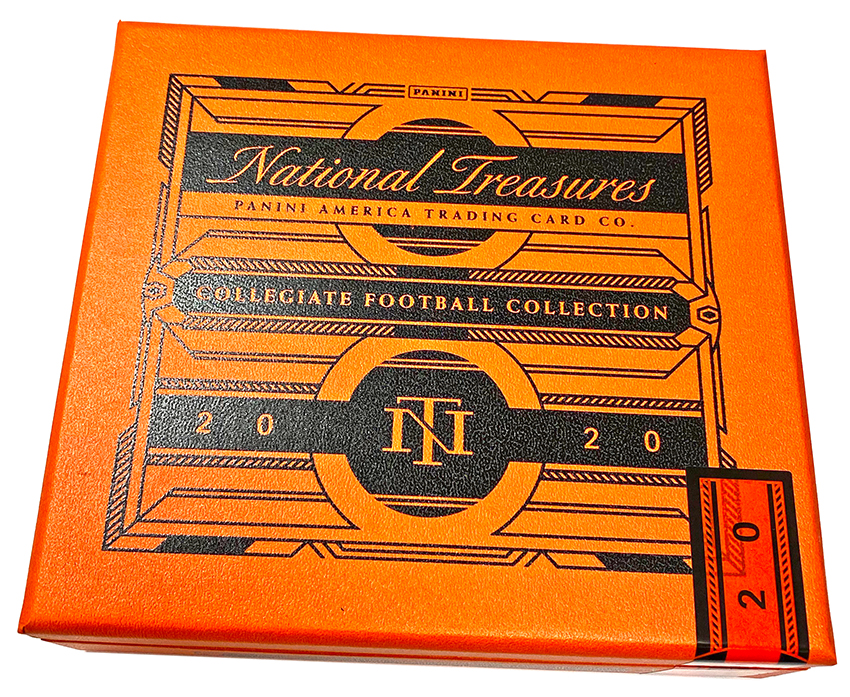 Tomorrow, one of the most anticipated college football trading card products on the planet — Panini America's National Treasures Collegiate Football — arrives for the 2020 season to deliver a decadent dive into the collegiate exploits of some of the top rookies and superstars in the NFL. It's steeped in the kind of stunning autograph and memorabilia content that long ago entrenched the National Treasures brand across all sports as a bona fide favorite, and boasts the benefit of a star-studded new rookie crop featuring the likes of Joe Burrow, Tua Tagovailoa, Jerry Jeudy, Jonathan Taylor and so many more.
On average, each hobby box of 2020 National Treasures Collegiate Football (eight cards per box, four boxes per case) will deliver six autograph or memorabilia cards, one base or parallel card and one additional card per hobby box, on average. In the riveting Quality Control Gallery that follows, we explore some of the beauties that surfaced during the recent packout process. Enjoy the early look and stay tuned for additional coverage.
2020 National Treasures Football will be available at the official online store of Panini America beginning tomorrow at 10 a.m. CST.