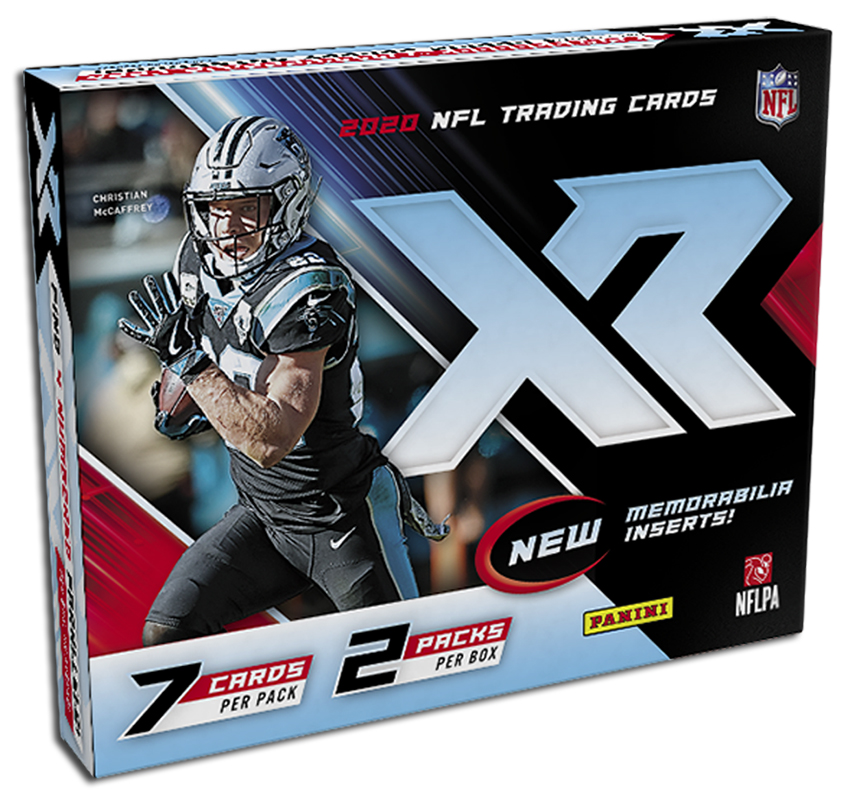 Panini America officials tomorrow will continue fanning the flames of the scorching-hot football card market with the release of the highly anticipated 2020 XR Football, an aesthetically intoxicating blend of unique design principles, autographs and memorabilia. While the XR name and its origins may continue to be a mystery to many, the striking nature of this product remains clear to anyone who sees it.
On average, each hobby box of 2020 XR Football (seven cards per pack, two packs per box, 15 boxes per case) will deliver two autographs (one Rookie Jersey Autograph and one Rookie/Vet/Retired auto), one memorabilia card, one insert, four parallels and four base cards.
The highlights of this year's edition are many and include . . .
One Patch Autograph 1/1 per case, on average. 
Some of the most unique 1/1 patch autographs of the 2020 season. Look for autographs that feature NFL Shields, Nike Swooshes, Team Logos, Draft Hats, Shoes, Gloves and Footballs. 
Search for 1/1 NFL Shields of some of the top players in the NFL.
Look for new memorabilia Inserts like X-Ray Swatches, Summit Swatches and Vortex Materials.
Enjoy the Quality Control Gallery that follows and stay tuned to The Knight's Lance for additional coverage. 2020 XR Football arrives in hobby shops across North America tomorrow and will be available at the official online store of Panini America beginning tomorrow at 10 a.m. CST.