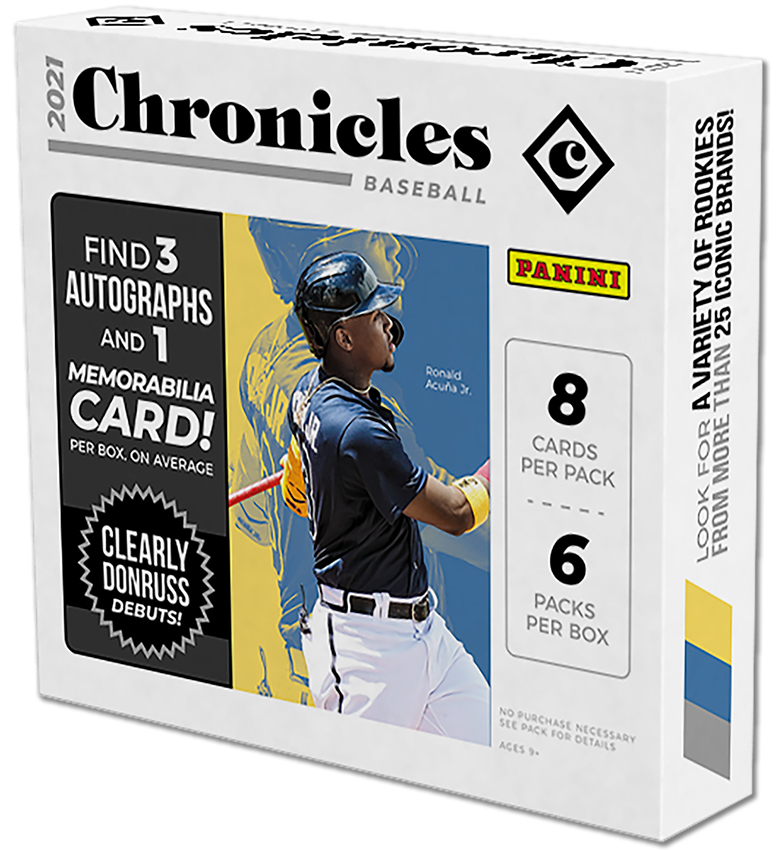 We said it in an Instagram post yesterday. It's worth repeating here: Panini America's new 2021 Chronicles Baseball hits to all fields — and it does so with pop. Simply, there's not a more diverse baseball trading card product on the market.
It's got flash, pizzazz, colors, bling and so much more — and that's just in the first pack. Indeed, the Chronicles Baseball franchise has come a long way in a few short years and the 2021 edition promises to take the brand even further. On average, each hobby box (eight cards per pack, six packs per box, 16 boxes per case) will deliver three autographs, one memorabilia card, six Obsidian base or parallels and six Acetate base or parallels.
The highlights of the product are many and include . . .
2021 Chronicles Baseball features today's brightest stars and young hotshots in sets from more than 20 different Panini America programs.
We're introducing a fourth substrate to Chronicles this year so be on the lookout for clear acetate cards in Magnitude, Clear Vision, Clearly Donruss and Clearly Donruss Rated Rookies.
Look for on-card autographs from this year's loaded rookie class in sets like America's Pastime and paired with memorabilia in Origins Rookie Jumbo Material Autographs.
Enjoy the Quality Control Gallery that follows and stay tuned for additional coverage.
2021 Chronicles Baseball will be available at the official online store of Panini America beginning Friday at 10 a.m. CST.