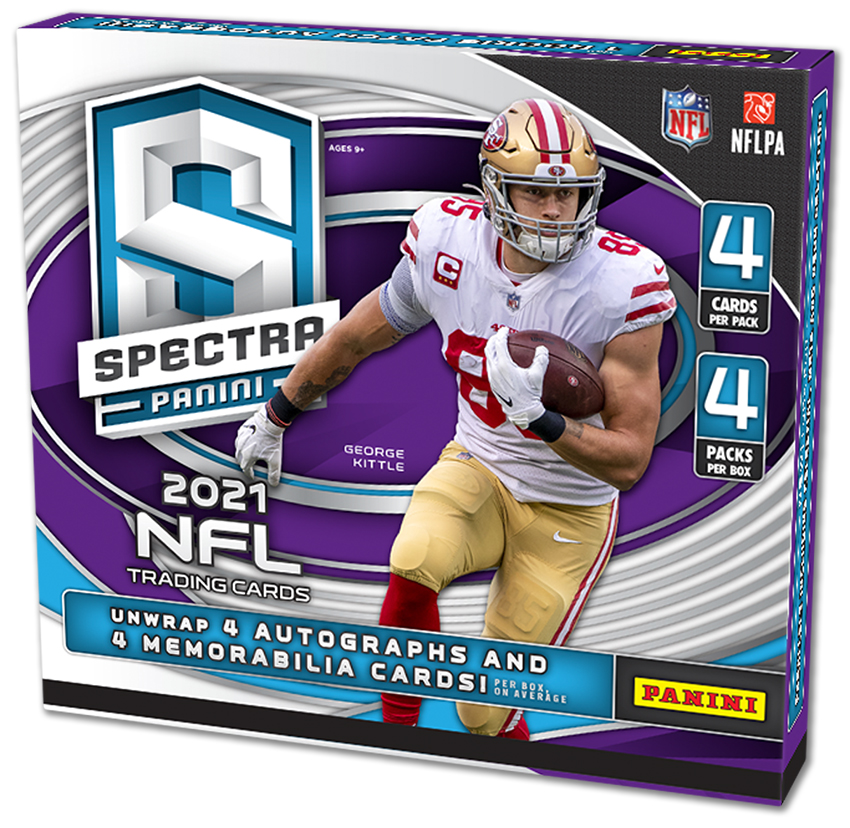 Panini America's fabulous, flashy, fire-breathing Spectra Football arrives for the 2021 NFL season tomorrow and once again is brimming with the kind of Instagram-ready hits that have come to make the product famous in hobby circles over the years. On average, each hobby box of 2021 Spectra Football (four cards per pack, four packs per box, eight boxes per case) will deliver one Rookie Patch Autograph, three additional autographs, four memorabilia cards, seven base, parallel or variation cards and one insert.
As you'll see in the Quality Control Gallery that follows, 2021 Spectra Football once again delivers Optichrome-enhanced goodness like only it can, with a bevy of colorful, low-numbered chases, thick card stock and hits aplenty. The highlights of the product are many and include . . .
New for 2021, look for Celestial, Meta and Neon Splatter parallels across the program.
New inserts in 2021 include RetroSpect, Mezmerizing, Neon Nights
and Retro Spectacle.
Look for on-card autographs in Champion Signatures, Illustrious Legends, Sky High Signatures, Vested Veterans Autographs and RetroSpect.
Enjoy the imagery and stay tuned for additional coverage. 2021 Spectra Football will be available at the official online store of Panini America beginning Wednesday at 12 p.m. CST.