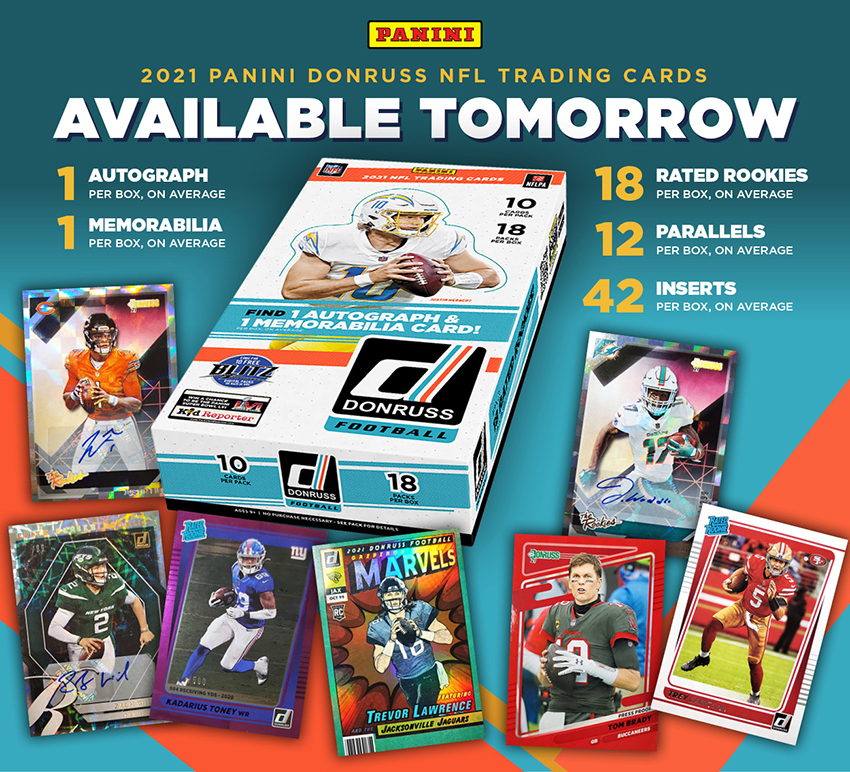 Panini America's flagship Donruss Football arrives for the 2021 season in hobby shops across North America tomorrow, fittingly just one day before the 2021 NFL season kicks off when the defending-champion Tampa Bay Buccaneers host the Dallas Cowboys in the Thursday-night lid-lifter.
As you'll see in the extensive Quality Control Gallery that follows, 2021 Donruss Football is the quintessential product to help kick off a new season, for it delivers a little bit of everything: The hottest rookies, the flashiest superstar veterans, myriad tributes to what happened last season, looking ahead to the future, and start-studded autograph and memorabilia checklists.
On average, each hobby box (10 cards per pack, 18 packs per box, 18 boxes per case) will deliver one autograph, one memorabilia card, 18 Rated Rookies, 12 parallels and 42 inserts. Additional highlights of the product include . . .
A 400-card set that includes 250 Base, 50 Base Photo Variations and 100 Rated Rookies.
Chase the iconic Rated Rookies from the top up-and-coming stars of the
NFL including Trevor Lawrence, Zach Wilson, Trey Lance, Justin Fields and many more.
Donruss Football is loaded with tons of stunning inserts, autographs and memorabilia cards including Road to the Super Bowl, The Champ is Here, Fans of the Game, Power Formulas and more.
Hunt for hobby-exclusive, short-printed inserts in Marvels, Rated Rookies Premium and Night Moves.
Look for hobby-only memorabilia cards (that parallel to rare autograph versions) in the Jersey Kings, Leather Kings, Rookie Phenom Jersey Autographs, All-Pro Kings and more.
Enjoy the gallery that follows and stick around afterward for the complete product checklist. 2021 Donruss Football will be available at the official online store of Panini America beginning Wednesday at 10 a.m. CST.