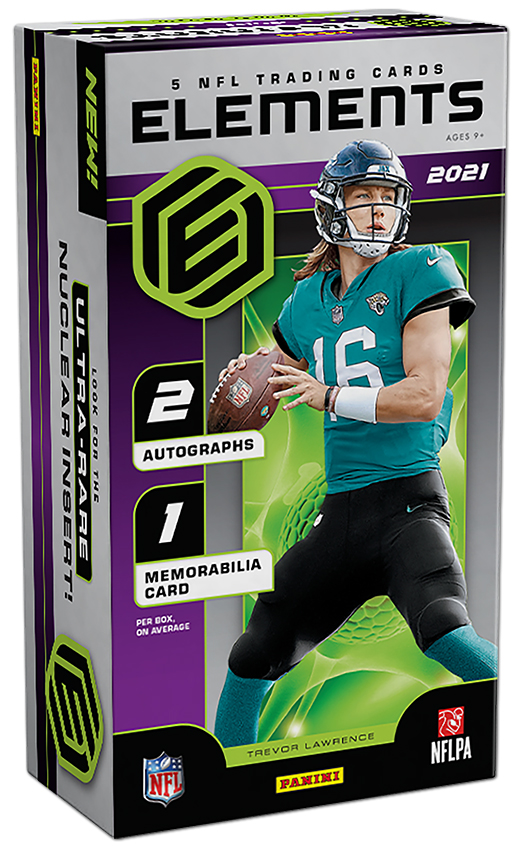 Friday is shaping up to be a next-level kind of day when it comes to wrapper-ripping new-release wax. Panini America is slated to drop not one, not two but three new products on Friday: 2021 Elements Football, 2020-21 Spectra Basketball and 2021 Immaculate Baseball. Over the course of the next few days here on The Knight's Lance, we're going to offer a series of scintillating Quality Control Gallery previews for each product, beginning with Elements Football.
Elements Football is unlike most any other product on the market with its heavier-than-most (literally) metal autographs and metal chase cards. On average, each hobby box (five cards per box, 12 boxes per case) will deliver one on-card Metal Autograph, one additional autograph, one memorabilia card, one base or rookie metal card and one base or rookie metal parallel card. Additional highlights of the product include . . .
One of the most unique products of the year, Elements Football combines metal cards, patch autographs and on-card autographs.
Look for one on-card metal autograph per box. Chase on-card autographs
from all the top 2021 NFL rookies, including Trevor Lawrence, Trey Lance, DeVonta Smith and more.
Find one memorabilia card per box on average from a lineup that includes Supercharged, Electric and Team Chemistry.
New for 2021, chase the Super Short Print Nuclear insert. This rare insert will be printed on metal and features only the top players the NFL has to offer.
Hunt for on-card autographs from veterans and retired NFL stars in Mettle Moments, Heavy Metal and Steel Signatures.
Enjoy the imagery that follows and stick around after the gallery for the complete 2021 Elements Football checklist.
2021 Elements Football will be available at the official online store of Panini America beginning Friday at 2 p.m. CST.