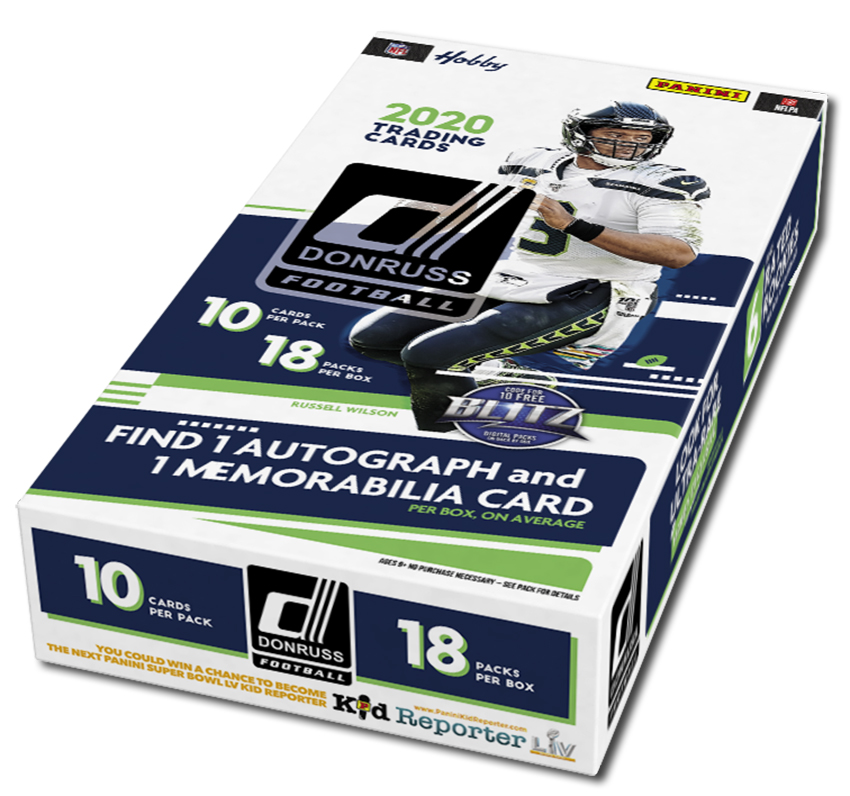 Cue the pomp. Cue the circumstance. Cue the horns and confetti; the fog machines, the fireworks and the flashing lights. We have an honest-to-goodness NFL Kickoff Weekend fast approaching. In fact, the 2020 regular season triumphantly begins next Thursday when Patrick Mahomes II and the defending-champion Kansas City Chiefs host the Houston Texans. It promises to be one of the most-watched opening weekends of all time — and we have the perfect partner to enhance your football-viewing experience: The flagship 2020 Donruss Football release.
Set to arrive in hobby shops across North America on Wednesday, 2020 Donruss Football delivers — as Donruss Football always delivers — the quintessential season-opening collecting experience full of the season's most in-demand rookies, colorful tributes to last season's biggest successes, timeless tributes to the game's proud history and autograph and memorabilia content covering all of it.
As you'll see in the extensive Quality Control Gallery that follows, 2020 Donruss Football has a little bit of everything and is bolstered this year by new inserts such as Road to the Super Bowl, Super Bowl MVP, Champions, Champ is Here, Retro 1990 (retail only), Retro 2000, Night Moves and Marvels. The popular Downtown insert, Marvels, Team Supreme and Night Moves combine to fall just once per hobby case, on average.
2020 Donruss Football also features SKU-exclusive Rated Rookie autograph content:
Rated Rookies Autographs Orange (Blaster)
Rated Rookies Autographs Blue (Fat Pack)
Rated Rookies Autographs Green (Hanger)
Rated Rookies Autographs Purple (Gravity Feed)
Rated Rookies Autographs Red (Blister Packs)
Rated Rookies Autographs Bronze (Mega Box)
Rated Rookies Autographs Canvas (Hobby)
On average, each hobby box of 2020 Donruss Football (10 cards per pack, 18 packs per box, 18 boxes per case) will deliver one autograph, one memorabilia card, 12 Rookie Cards, six Rated Rookies and 12 parallels.
Enjoy the gallery and stay tuned for additional coverage.
2020 Donruss Football will be available at the official online store of Panini America beginning Wednesday at 10 a.m. CST.