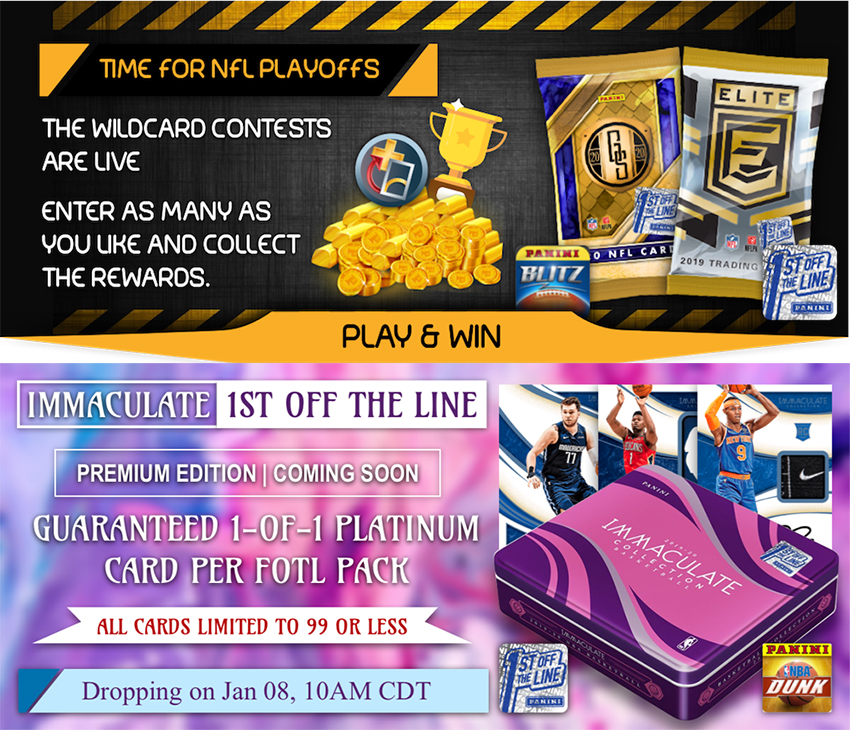 The NFL regular season may be over, but the contest fun continues in the Panini NFL Blitz Digital Trading Card App. Blitz Super Wild Card Weekend contests are now live, so make sure to scour your collection and open enough packs to build your best team.With so many unknowns this season, this is sure to be a wild weekend indeed.
This week's contests are awarding huge prizes including digital boxes, digital packs and big coin prizes.
2019-20 Immaculate Basketball FOTL Digital Drops Today
The Panini NBA Dunk Digital Trading Card App brings the hottest Panini America NBA brands directly to your phone and, today, the super-premium, fan favorite Immaculate Basketball drops with a limited FOTL digital release. There are regular 1st Off The Line digital packs and a new digital box configuration featuring five packs at big savings. 
Each FOTL Pack includes a Platinum 1/1 digital variation. The full set will release later in the week, but make sure to hop into Dunk today before all the FOTL is gone.