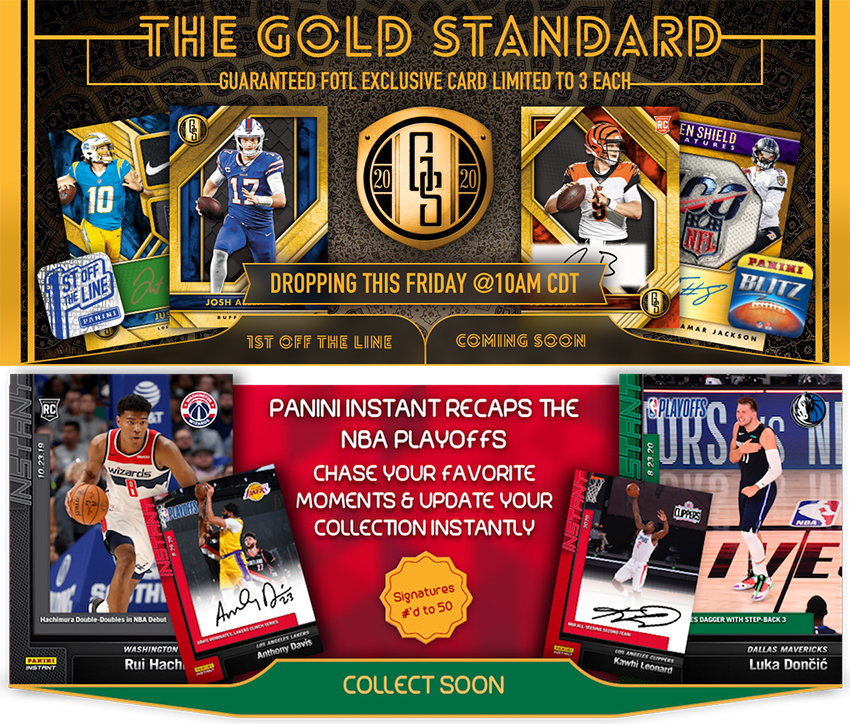 Panini Instant has been bringing the latest NBA action straight to your card collections for years by featuring significant moments, great plays and outstanding performances from throughout the season.
For NBA Dunk Digital fans, every week we will release new cards featuring outstanding performances and moments from throughout the NBA season. The digital cards will be available in a regular version and a special Digital Signature Variation (unless noted). We have also added new Instant Variations with higher Contest Scoring Bonuses. All Panini Instant cards will be available for one week only or until sold out.
Gold Standard FOTL & Win a Box of 2020 Mosaic Football with Blitz Contests
Gold Standard Football has come back to the NFL Blitz Digital Trading Card app. Collectors can find a wide variety of rookies, inserts, signatures and memorabilia cards within the Gold Standard Football set. The 1st Off The Line Gold Standard  Football packs will be available in limited quantities before the official Gold Standard release starting at 10 a.m. CST on 10/9/2020. Each 1st Off The Line Gold Standard pack includes a bonus 1st Off the Line Exclusive Variation limited to three each.
The Gold Standard set includes 99 veterans as well as 100 Rookie Short Prints. You can also chase inserts from more than 20 different signature and memorabilia insert sets.
Each week of the 2020 season has been crazier than the last. Postponements, injuries and unbelievable performances have made the 2020 Blitz contests just as crazy and fun.
This week we're giving away a box of 2020 Mosaic Football so make sure you keep an eye on the updated schedule, and that you have enough 2020-eligible cards to slot in a few contest team variations for any possible scenario.