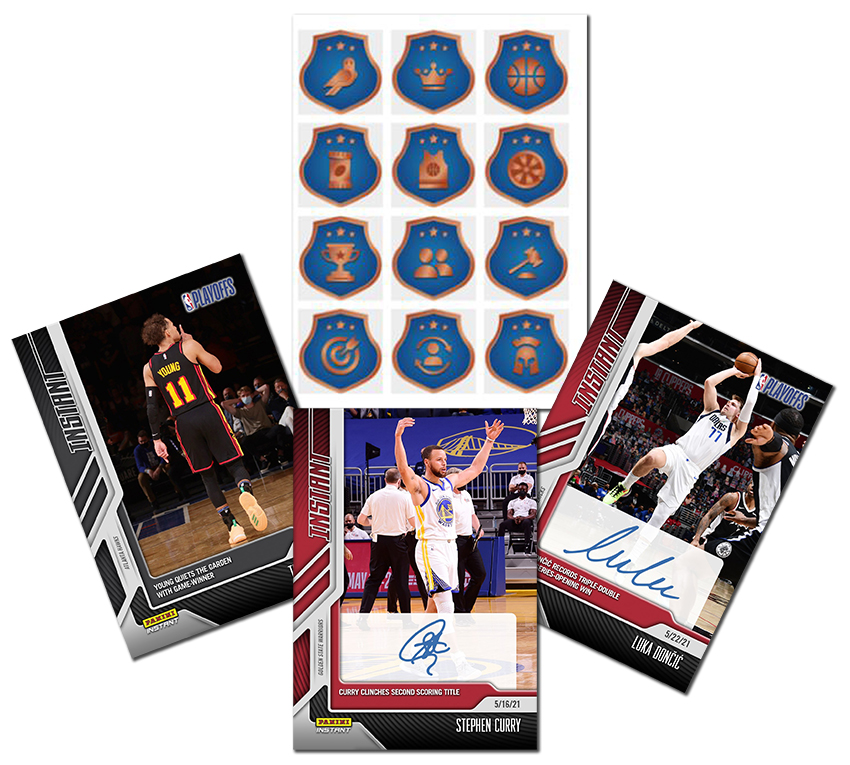 For a limited time, users of Panini America's NBA Dunk Digital Trading Card App have the rare opportunity to collect the biggest moments from the end of the 2020-21 NBA regular season as well as some of the instantly iconic moments from the first round of the NBA Playoffs with new Panini Instant digital cards. New cards are released daily but are available in the app for just one week — so make sure to complete your sets now.
Adding to the Instant intrigue? Panini Instant cards now include new massive contest bonuses: Base Instant cards include a 3X contest scoring bonus, Green Instants (limited to 500 or less) include a 6X contest scoring bonus, Black Instants (limited to 50 or less) include a 9X contest scoring bonus and Instant Signatures (limited to 25 or less) include a 12X contest scoring bonus.
New Feature Alert!
New badges have come to NBA Dunk and the Achievements have been reset and refreshed with many new options. Explore the new achievements section in your profile and start accomplishing them one at a time.
The new badges present new opportunities to earn coins with an add-on chance to now show them off to friends with the all-new Share option. To level the playing field for all users, all badges have been reset. It's a fresh journey for all users going forward.
Note: For the earlier unlocked badges, users have already received coin rewards as per their progress. Those users can continue activities to earn the new badges. Good Luck!
Free Boxes in NFL Blitz
Missing the NFL season? So are we! To help get you through the football lull and to brighten your sports weekend, make sure to log in to the NFL Blitz Digital Trading Card App daily all weekend long to open a free customer appreciation box. One new one per day will be added to your account.