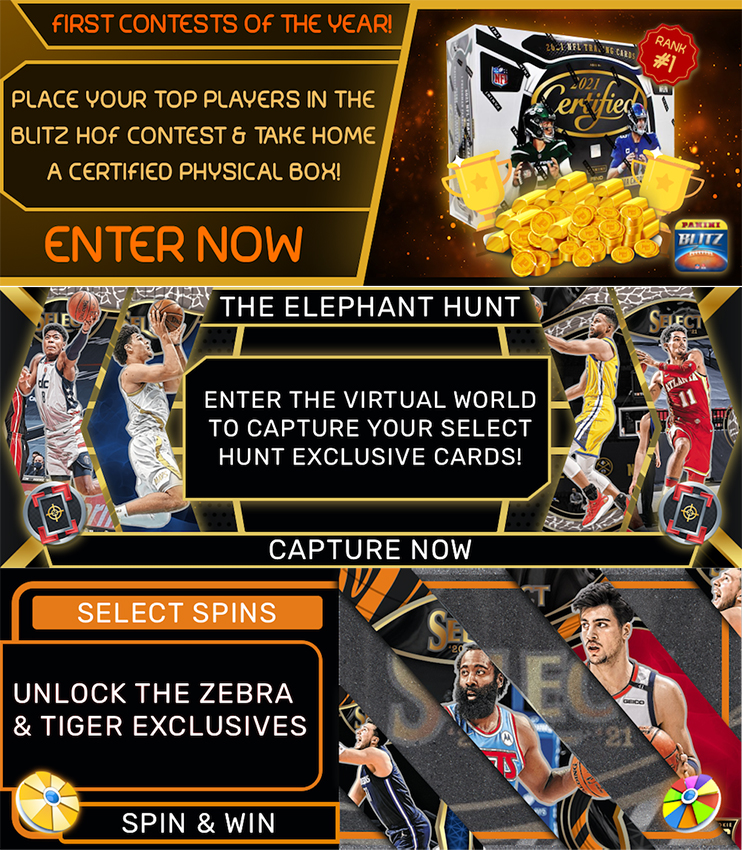 Congratulations! We've made it through the long football-less winter (well, really, summer, but you get what the point) and, as the stadium lights heat up and the fresh lines get painted on the field, we are excited to bring back contests in the Panini America NFL Blitz Digital Trading Card App.
Just like last year, we have a wide variety of contests for users to play in this season. Enter as many contests as you like and collect the rewards. Be sure your lineups are set before the start of the first game each week to ensure your team is included.
As has become tradition, we're starting off the season with strong Digital and Physical prizing, especially in the premium contests, where we are giving away a box of 2021 Certified Football, Premium FOTL Digital Packs and big coin prizes.
Exclusive NBA Cards Not in Digital Packs
Want to collect all of the exclusive NBA Dunk Digital Trading Card App variations from the 2020-21 Select Basketball drop? Well, you won't find them in packs. In order to collect the Elephant variation, you'll have to fire up "Card Hunter" in the Dunk app and explore the world around you in Augmented Reality. Stock up on hardcovers and sleeves to finish the set. Tiger and Zebra variations are available only through "Spinning the Wheel." Good Luck this weekend.