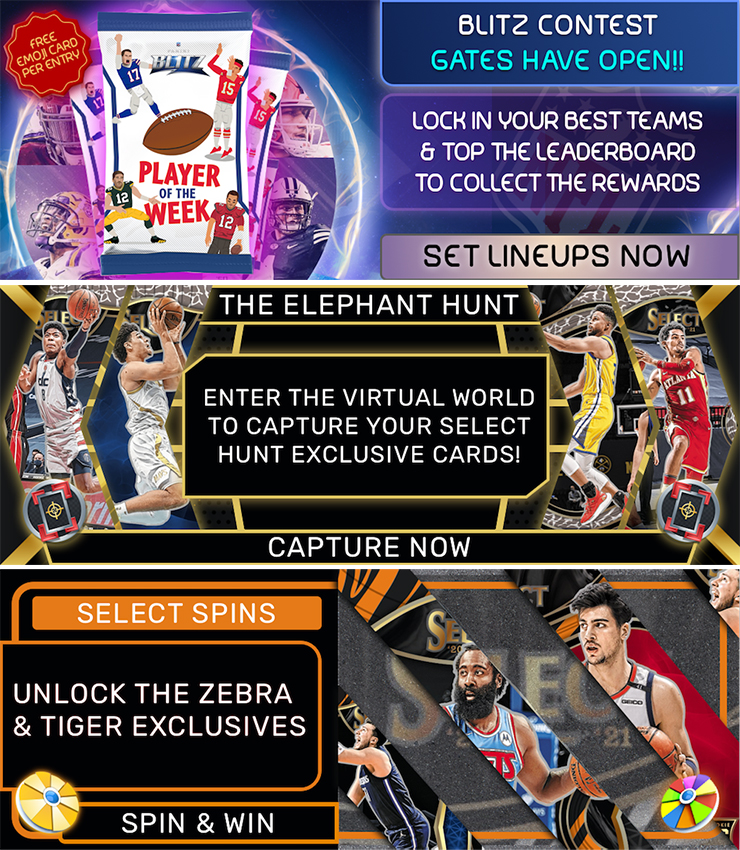 It's Week 2 Contest Time in the NFL Blitz Digital Trading Card App and we're excited to throw in a brand new element! All season long, we will be picking a Player of the Week to honor with a custom-designed Color Blast Emoji card. These cards will not be available in packs week to week and the only way to collect the set is by joining a Blitz contest weekly.
Just like last year, we have a wide variety of contests to play. Enter as many as you like and collect the rewards. Be sure your lineups are set before the start of the first game to ensure your team is included.
NBA Dunk Offers Exclusive Cards Not in Packs
Want to collect all the exclusive variations from the NBA Dunk Digital Trading Card App Select Basketball drop? Well, you won't find them in packs. In order to collect the Elephant variation, you'll have to fire up "Card Hunter" in Dunk and explore the world around you in Augmented Reality. Stock up on hardcovers and sleeves to finish the set. To land the Tiger and Zebra variations, you'll have to try your luck at "Spin Wheel."
Good Luck this weekend.