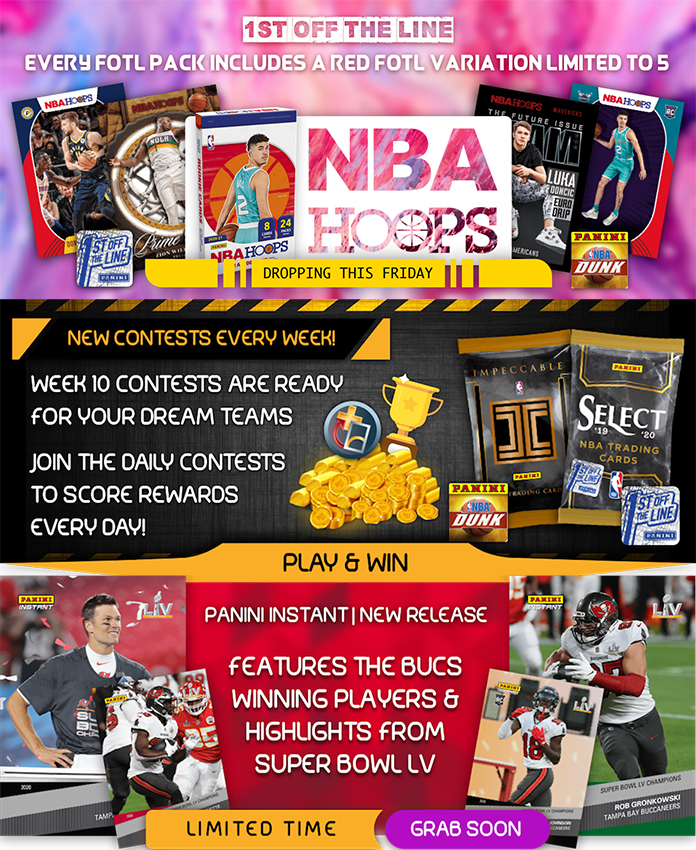 The much-anticipated 2020-21 NBA Hoops Basketball arrives in the NBA Dunk Digital Trading Card App next week. You can get your hands on the digital product early with the NBA Hoops 1st Off The Line packs live now in the app and in limited supply. Each FOTL pack includes a guaranteed exclusive Red Variation limited to just five. The only way to get these Red Exclusives is in the 1st Off The Line packs.
The 2020-21 NBA Hoops Basketball set consists of base cards along with 50 rookies and more than 25 different insert sets to collect. Be sure to look for exclusive Card Hunter and Pack Battle sets as well.
Set Your Contest Lineups!
Check your 2021 cards and make sure you can field some killer lineups for this week's Dunk contests. This week we have some awesome digital prizes on the line. Head to the Dunk contest section and enter as many lineups as you want. We have a wide variety of contests and prizes, from beginner all the way up to our Hall of Fame contest.
Revisit Super Bowl LV in the NFL Blitz App with Panini Instant
Run it back, and reexperience Super Bowl LV and Tom Brady's incredible seventh ring in the NFL Blitz Digital Trading Card App. Panini Instant packs are only around for a limited time, so rip some Panini Instant cards featuring the Tampa Bay Buccaneers and highlights from Super Bowl LV today.