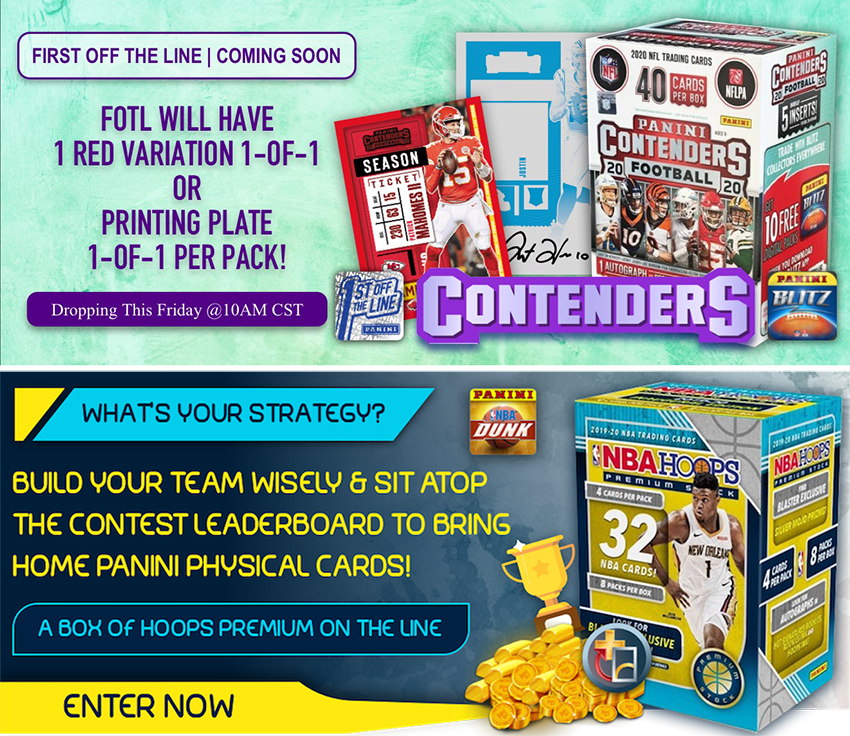 The red-hot 2020 Contenders Football FOTL makes its NFL Blitz Digital Trading Card App debut today. It drops at 10 a.m. CST and the digital packs likely won't last long. Each pack includes a Red variation 1/1 or Printing Plate 1/1 variation. We will again have FOTL digital boxes with four packs at a big savings.
Make sure your Blitz push notifications are turned on so you are first in line for all FOTL drops in the future.
Win a Physical Box in Dunk!
The 2020-21 NBA season is underway and we have some exciting things coming to the Dunk Digital Trading Card App this season. This week, users can won a physical box of 2019-20 NBA Hoops Premium Stock Basketball.
We will conduct even more Dunk contests for 2021 with a variety of different prizes all season. To get you started with your 2021 contest teams, we have a brand new 2020-21 NBA Dunk base set for you to collect. Head to the Dunk store and start your collection today. There are 150 cards in the set.
The 2020-21 Dunk set is available in 4 variations: Base, Bronze, Silver and Gold, and each has a special Contest Bonus multiplier.
Hit the apps for additional information and content.