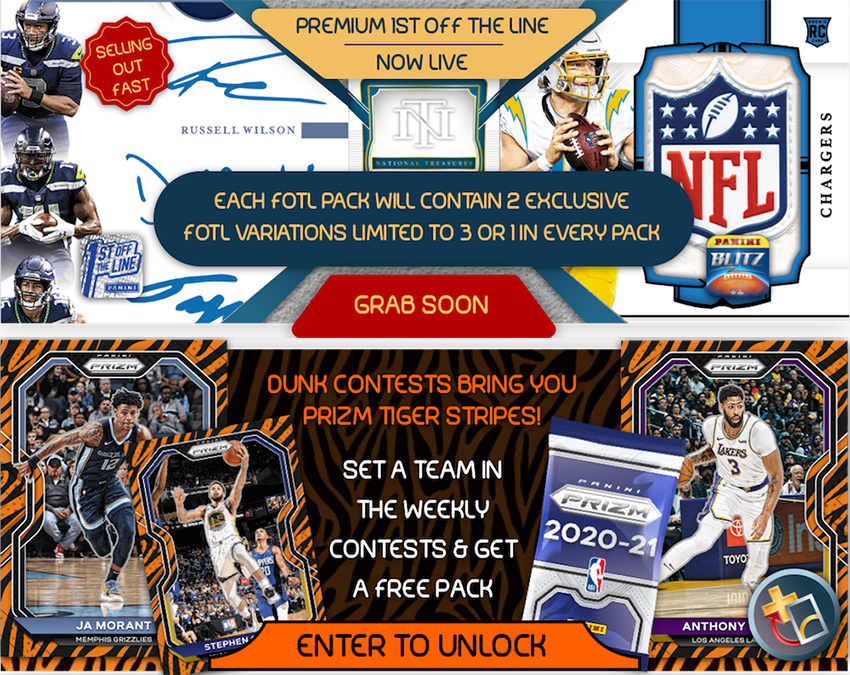 If you want to get your hands on a 2020 National Treasures Football FOTL digital pack in Panini America's NFL Blitz Digital Trading Card App you might want to jump in right now because they're almost gone.
Every card in 2020 National Treasures Football is limited to 99 or less. Some of the most unique digital memorabilia and signature cards in the entire Blitz app can be found within 2020 National Treasures Football set. 1st Off the Line Packs will contain two exclusive FOTL Variations limited to three or one in every pack.
Join Contests in NBA Dunk and Earn Packs
Set up your teams in the NBA Dunk Digital Trading Card App contests and unlock cards from the contest-exclusive Prizm Basketball Tiger set. Collect all 300 players. You will be given a pack for each of your contest teams, as per the contest category. There are no limitations on Coin and Premium Contest entries. The more lineups you create, the more cards you can earn.
There are three ways to earn Tiger Stripe Prizm exclusives:
FREE Weekly Contest: Join a Free Weekly Contest and get one guaranteed Prizm Tiger Stripe Insert (Limit 1 per user)
COIN ENTRY: Join a Coin Entry contest and get two guaranteed Prizm Tiger Stripe inserts per pack for each entry.
PREMIUM ENTRY: Join a Premium Pay contest and get five guaranteed Prizm Tiger Stripe inserts per pack for each entry.