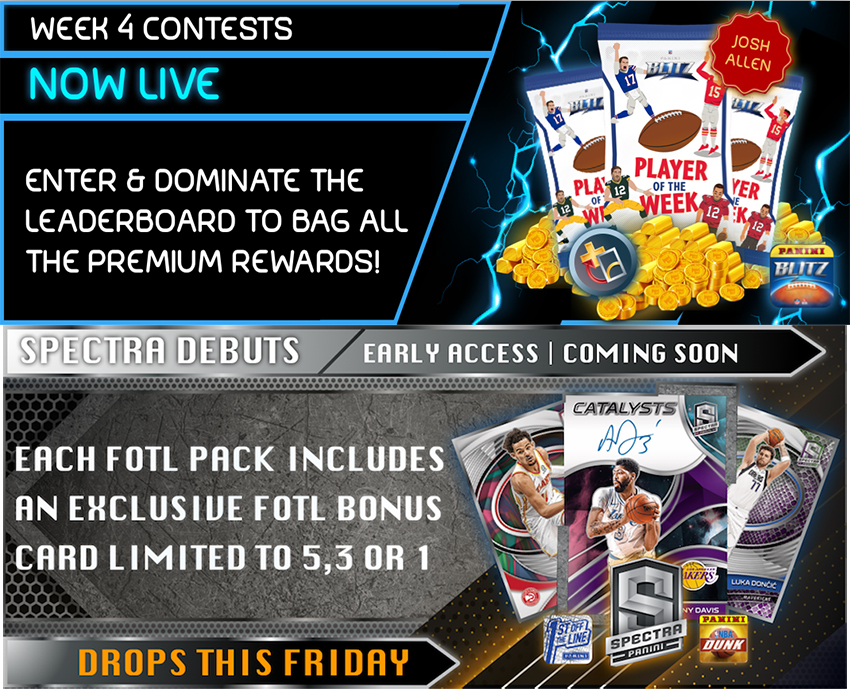 It's starting to become clear who the leaders of the NFL will be this season, and Week 4 is where we double down. While all eyes are focused on the showdown in Foxborough between Tom Brady's Buccaneers and his former team, your focus on finding those elusive sleepers in the weekly NFL Blitz Digital Trading Card App contests will be rewarded this week as you compete for huge digital prizing along with our free emoji card featuring Bills QB Josh Allen for every entry this week.
Just like last year, we have a wide variety of contests for users to play in. Enter as many as you like and collect the rewards. Be sure your lineups are set before the start of the first game to ensure your team is included.
2020-21 Spectra Basketball Makes Its Triumphant Return to Dunk
Be one of the first collectors to get 2020-21 Spectra Basketball with 1st Off The Line Packs digital packs through the NBA Blitz Digital Trading Card App. Packs will be available in limited quantities before the official Spectra release in the coming days. Each 1st Off The Line Spectra digital pack includes an FOTL Variation limited to either five, three or one.
The official Spectra release will follow in a few days. Here are some of the cards you can find in the Spectra collection, which includes 200 cards from the Spectra Base, Base Variation and Spectracular Debut sets in the following variations:
Base – Limited to 199
Base Variations – Limited to 149
Spectracular Debut – Limited to 149
Celestial – Limited to 75
Interstellar – Limited to 49
Astral – Limited to 25
Meta – Limited to 15
Gold – Limited to 10
Gold Fish – Card Hunter Exclusive
Marble – Limited to 5 – FOTL Exclusive
Dragonscale – Limited to 3 – FOTL Exclusive
Nebula – Limited to 1 – FOTL Exclusive