It's the most wonderful time of the year.
It's the hap-happiest season of all.
When temperatures dip, and eggnog is sipped, and the gift you want more than anything else is right at your fingertip.
Of course, we're talking about fantasy football championship week.
That special time of the year when you and your stitched-together squad of draft picks, waiver additions and trade accruals come together to usher in not only a crowning week of seasonal success but also an entire offseason of basking in the oh-so-warm afterglow of title-winning revelry.
And because we aren't too far removed from another wonderful time of the year – that turkey-filled, pie-stuffed, gravy-slathered eat-a-thon where we appreciate everything – let's give thanks to those red-hot sensations who have helped to carry us from one major holiday to the next with barely a blemish on our fantasy records.
No disrespect to the likes of Andrew Luck, Matt Forte, Demaryius Thomas or Rob Gronkowski, but this list doesn't include them. Because, hey, those guys are supposed to get the job done, right?
This shout-out goes to the guys we didn't see coming. The ones who snuck up, tapped us on the shoulder and said, "Excuse me, do you mind if I play?" And then stepped in and piled up preposterous point totals with no consideration for "ADP," "expert projections" or "ownership percentage."
These under-the-radar overachievers repaid our fantasy faith with a punched playoff ticket and a trip to the championship. And now we will repay them with a few lines of online love.
Quarterbacks
Drafted as backups, these quarterbacks were soon slinging away as top-tier starters.

Ben Roethlisberger single-handedly won Weeks 8 and 9 when he tossed six – yes, six – touchdown passes each week while totaling 862 yards. With the fantasy pressure mounting, "Big Ben" came up big down the stretch, topping 350 yards in Weeks 13-15 with five combined scores.
A dual-threat signal-caller, Russell Wilson showed off his legs with three 100-yard rushing games during the fantasy regular season – including a ridiculous 313-yard passing, 106-yard rushing, three-touchdown effort in Week 7 – before accounting for three touchdowns (two passing, one rushing) in the first week of the majority of postseasons (Week 14).
A multi-touchdown machine, Philip Rivers punctuated his phenomenal campaign and helped fantasy teams capture a playoff spot with his sixth three-TD effort of the season in Week 13.
After airing it out for 306 yards and five touchdowns in Week 6, Joe Flacco continued to deliver in the clutch for his appreciative owners with six total scores (four passing, two rushing) in Weeks 13 and 14.
Running Backs
Clamoring for carries in crowded backfields at the start of the season, these talented tailbacks took over headlining roles for their real teams while powering their fantasy squads to paydirt.

Peaking at the right time, Justin Forsett spearheaded plenty of playoff pushes with a combined 400 yards and four touchdowns in three games from Weeks 10-13. Making the ground game more than just an afterthought in New Orleans, Mark Ingram exploded for four 100-yard efforts and three TDs in Weeks 8-13. Bursting onto the scene with 150-yard games in Weeks 9 and 11, Jeremy Hill was a savior in the semifinals (Week 15) with 148 yards and two scores. The latest in a long line of Broncos backs to come out of nowhere, C.J. Anderson closed out the fantasy regular season with more than 150 yards in Weeks 12 and 13 before scoring three touchdowns in Week 14, the first week of the fantasy playoffs.
On a "Sure, we knew he was gonna be good, but this good?" side note . . .
Le'Veon Bell was a borderline RB1 at the time of the draft, but after ringing up a mind-boggling 711 yards from scrimmage and five touchdowns during a scorching three-game stretch from Weeks 11-14, the Steelers' bell cow was the borderline best player in fantasy.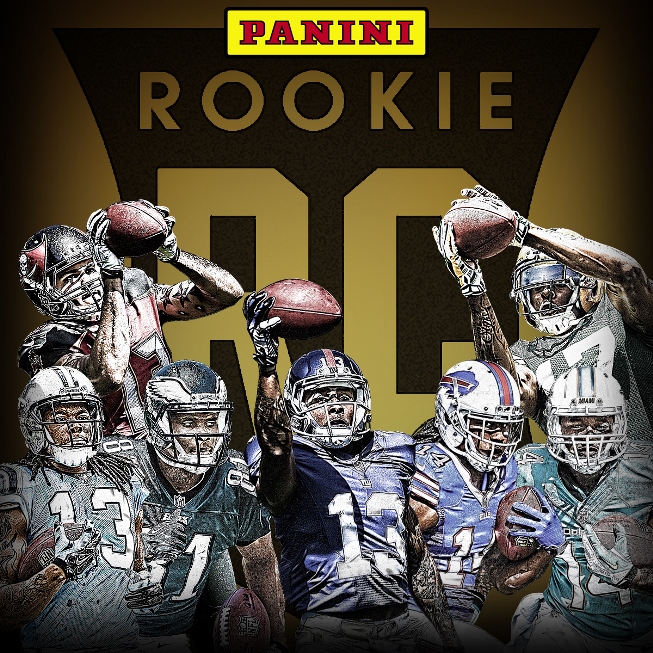 Rookie Wide Receivers
For the wideouts, we'll divide them into two groups: Rookies and non-rookies. Fantasy-wise, rookie receivers are almost always a bust. It's rare that you see one, let alone a handful, making a major impact in the fantasy championship race. But this season was different, and it made for one heck of an exciting year.
Proving themselves early and staying relevant late, Mike Evans (11 TDs), Kelvin Benjamin (nine TDs), Jordan Matthews (seven TDs), Martavis Bryant (seven TDs), Sammy Watkins (five TDs) and Jarvis Landry (five TDs) have all been huge contributors in contending lineups. When it came to catapulting teams into the Week 16 title contest, however, the crown jewel of this glittering collection of newbie pass catchers was, no doubt, Odell Beckham Jr., who went supernova in Weeks 12-15 with a combined 40 catches, 509 yards and six touchdowns.
Veteran Wide Receivers
Making the most of their talent and opportunity, these receivers were drafted in the WR3 range but turned on the jets to fly by the competition and provide WR1 value to their lucky (aka smart, savvy, shrewd) owners.
Entering Week 16, Emmanuel Sanders has produced seven 100-yard games and seven TDs, T.Y. Hilton has cracked triple digits six times with seven TDs, Golden Tate has topped the century mark five times with four TDs, and Jeremy Maclin has turned the 100-yard trick four times with 10 TDs.
And don't forget about Steve Smith Sr., and DeAndre Hopkins, who have returned WR2 dividends on their WR4 investment with four 100-yard games and six TDs apiece.
Tight Ends
More than just in-line blockers or once-in-a-blue-moon safety valves, these tight ends showed that they are actually wide receivers in disguise, flying all over the field and snagging every throw in sight.
Following a heavily targeted fantasy regular season, Martellus Bennett gave his teams a postseason boost with 12 catches for 84 yards and a touchdown in Week 14. Garnering starting status with a 10-142-1 line in Week 2, Delanie Walker helped owners secure playoff status with a five-catch, 155-yard masterpiece in Week 12. The best tight end duo in the league, the Colts' Dwayne Allen and Coby Fleener, dominated in the red zone with eight and six touchdowns, respectively, through Week 15. After working his way into TE1 territory, Travis Kelce paid off in the playoffs with a combined 12-169-1 in Weeks 14 and 15.
And last, but not least…
The Kicker
Cody Parkey was an unknown commodity at the start of the season, but the rookie kicker has since established himself among the cream of the kicking crop thanks to a powerful right gam that can boom 50-yarders like they are extra points. He combined for nine field goals and seven PATs in Weeks 12 and 13 to help kick his fantasy clubs right into the postseason.

I could heap praise on other placekickers who have, so to speak, outkicked their coverage, but, hey, they are just kickers after all and one in the spotlight will do just fine.
So set your lineup, light up the fireplace, knock back a mug of good cheer and root on your team this week. And if all goes well – as no doubt it will if your squad is stacked with these unanticipated stars – you, too, can spring off your couch, channel your inner Andy Williams and join us in singing the praises of fantasy football championship week. For it is, indeed, the most wonderful time of the year.
Barnaby Hall is a Staff Writer for Panini America. Follow him on Twitter.