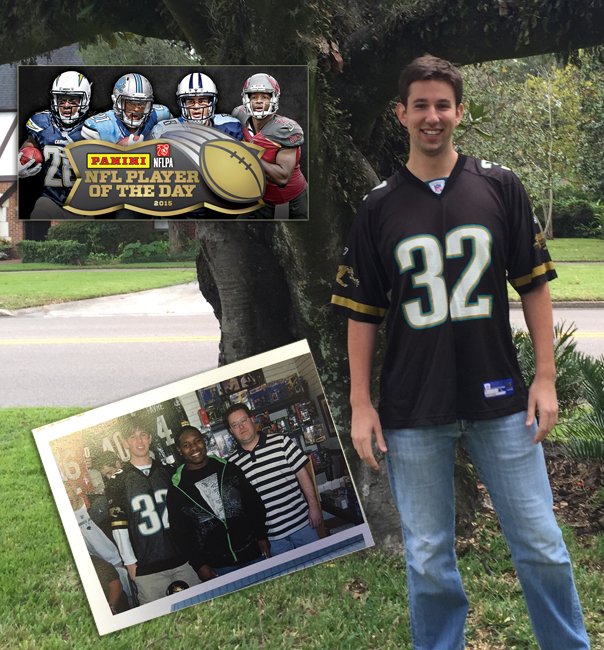 Editor's Note: Panini America NFL Player of the Day correspondent Doug Drotman caught up with former grand prize winner AJ Andruszkiewicz recently to see how his life has changed since winning the 2006 event. Here is Doug's account. The 2015 winner will be announced in the coming weeks.
AJ Andruszkiewicz walks into his favorite hobby shop, Dan's Sports Cards in Jacksonville, Florida. He puts his money on the counter and gets a pack of trading cards. Right before he rips open the pack, he gets that feeling.  His hands start shaking and his heart starts pounding with the anticipation of what's hidden inside the foil pack.
Although he's opened thousands of packs, sorted through a million cards, and sold thousands more, the joy of collecting never gets old for this 27-year-old Jacksonville police officer. But for all of the big hits and hot pulls he's experienced over the past 15 years, nothing compares to his experience on February 12, 2007, when AJ and a dozen of his friends spent the day with Jacksonville Jaguars rookie running back Maurice Jones-Drew as a result of AJ being the grand prize winner in the Panini NFL Player of the Day hobby shop national sweepstakes.
"It was almost 10 years ago and I still tell people about that day," admits AJ.  "I'll say, 'When I was 17 my friends and I spent the day with Maurice Jones-Drew; he came over to my house, we played Madden and he signed a bunch of autographs.' The reaction is always the same. They all say, 'No way, tell me more.' "
Even though AJ was one of the most rabid collectors to ever be selected as the Panini NFL Player of the Day grand prize winner, he admits that day made him an even bigger collector and fueled his fire.
"The card store was my favorite place to be as a teenager," admits AJ.  "It was always packed with collectors and we'd see the same people every day, hanging out opening packs, trading cards and talking sports. But that day was definitely my favorite day as a collector."
Since Jones-Drew was just a rookie and new to Jacksonville, the chance for the 22 year-old NFL player to hang out with a dozen Jacksonville high school students was pretty natural.
Like many teenagers, AJ's collecting slowed down a bit while he was at college; but after graduating, he began buying and selling cards online and at local card shows as a full-time job. After a few years, he decided to pursue a career as a police officer. AJ has been a member of the Jacksonville police force for the past year.
"I loved having my own card business but realized I needed a more stable career at this point in my life," says AJ. "But after I put in my 20 years on the force, I'd love to open my own card store or even work for a sports auction house procuring memorabilia. I know I would enjoy that and think I'd be pretty good at it."
His collection is eclectic.  He continues to buy and sell cards to finance his hobby and has expanded his collection beyond cards and into game-used memorabilia. His two favorite products of the past year were Panini America's 2014-15 Flawless Basketball and 2014 National Treasures Football. And his favorite piece of memorabilia is the 1933 Goudey Babe Ruth Rookie Card he bought last year.
"I decided a few years ago that there were three pieces of memorabilia that I wanted," AJ says. "The first was a 1933 Babe Ruth Goudey Rookie Card. Now that I have it, my next goal is to get a Babe Ruth autographed baseball and a Babe Ruth game-used bat. Cards have always been my connection to sports, but these items are true links to history."