Duren surprised with news last week at special event with friends and family at MM7 Sports Cards in Moore, Okla.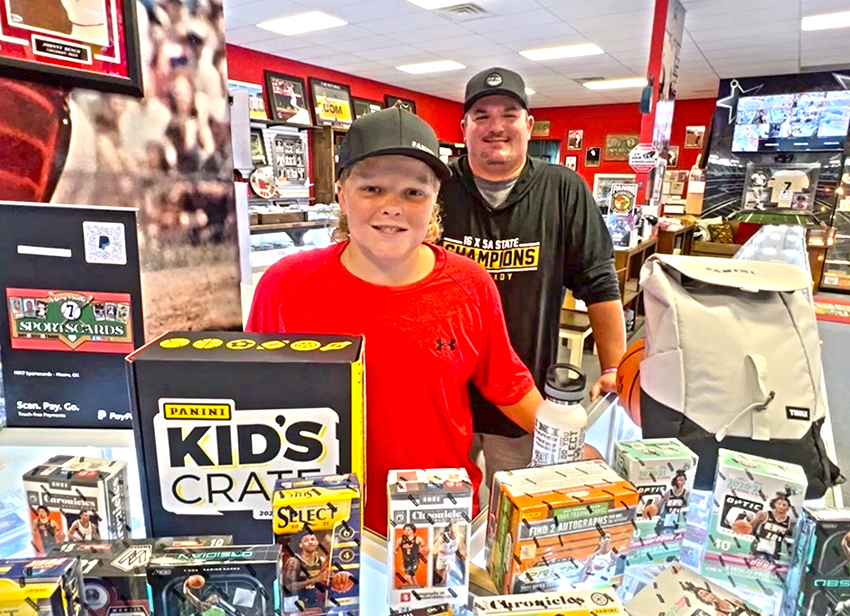 Almost 100,000 card collectors at more than 600 hobby shops nationwide participated in the 2021 Panini NBA Player of the Day promotion this season — and although thousands of prizes were awarded to collectors, only 12-year-old Ty Duren of Choctaw, Okla., parlayed his lucky pack of Panini America NBA trading cards into the grand prize.
To break the news, Panini America officials conspired with MM7 Sports Cards owner Josh Holland and Ty's parents, Roman and Christi, to bring Ty to the shop under the guise of him winning a runner-up prize in the NBA POD sweepstakes. Upon arriving at the shop, Holland presented Ty with an autograph card. But rather than a runner-up prize, Ty was shocked to receive a Panini NBA Player of the Day Zion Williamson 1/1 autograph card. Holland then informed Ty that he was, in fact, the 2021 Panini NBA Player of the Day National Sweepstakes Grand Prize Winner. He was then presented with a "swag bag" from Panini America as well as several boxes of product and autographed items.
Ty also learned that later this month, he will receive the rest of his grand prize including a Zoom call for him and his friends with an NBA player, a $250 shopping spree at MM7 Sports Cards and additional cards from Panini America. Additionally, the player will sign autographs for Ty's friends and family on the call as well as for MM7 Sports Cards' best customers.
Ty began collecting cards when he was 9 — the same age his father began collecting. The hobby is special to them for many reasons. Not only does it help them connect with their favorite players and teams, but it also has helped Ty and his father get through the difficult days following the tragic loss of Ty's 19-year-old brother in a car accident in 2019. 
Ty's favorite NBA teams are the Bucks and Thunder, and his most prized collectibles are his Larry Bird autographed jersey and his key Rookie Cards of Bird, Derrick Rose, Luka Doncic and Zion Williamson.
"We are excited to award Ty with the NBA Player of the Day grand prize to enhance his enjoyment of the hobby," said Jason Howarth, Panini America Vice President of Marketing. "Millions of people collect cards for a variety of different reasons, but the fact that their love of collecting cards together helps the Duren family get through difficult times makes this truly special. 
"We hope Ty and his father continue to enjoy the hobby together and get great joy from this memorable experience." 
Past NBA Player of the Day Grand Prize winners have had one-on-one experiences with such superstars as Karl-Anthony Towns, Shaquille O'Neal, Aaron Holiday, Matisse Thybulle and RJ Barrett.
The centerpiece of the promotion is a poster featuring Panini America card images of players from each NBA team. Each day, a different player on the poster is designated as the "Panini NBA Player of the Day." Every time a collector purchases a pack of officially licensed Panini NBA trading cards and pulls the player of the day, they win a prize. 
Each week, stores conduct a drawing from the daily winners to award a weekly prize. Then, at the end of the month-long promotion, each store awards a grand prize to its store winner who is entered into the national sweepstakes. Each participating shop received a free merchandise kit with all of the materials needed to run the promotion, including promotional posters, shopping bags, exclusive Panini NBA POD promo packs, top-loaders and One-Touches from Ultra Pro and an exclusive Panini NBA POD autograph card slabbed and numbered in a BGS protective case.
Stay tuned for complete coverage of Duren's grand-prize event and visit the official Panini POD website to learn more.