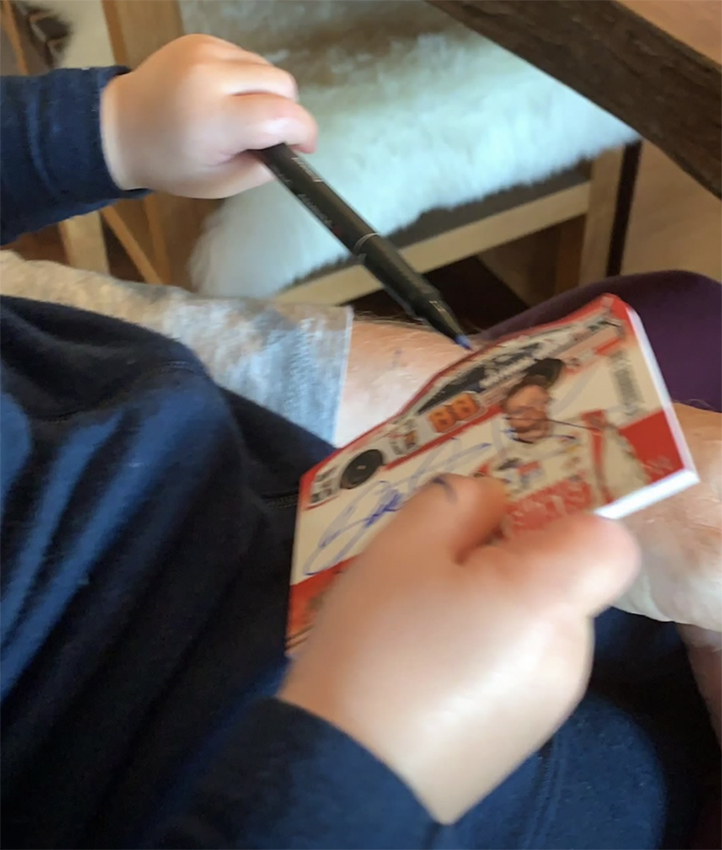 Panini America's highly anticipated 2019 Prime NASCAR Racing releases nationwide tomorrow and for racing fans and collectors, it's a product that captivates with an unparalleled content mix featuring race-used and race-worn material and some of the sweetest autographed trading cards you'll see all year.
But by far, the sweetest autographs in the set were signed by someone who can't legally drive for another 15 years or so. In fact, they aren't autographs at all. They're scribbles from Isla Rose Earnhardt, the adorable 16-month-old daughter of Dale Jr. and Amy. Turns out little Isla was riding shotgun in Daddy's lap during his Prime signing session and couldn't resist getting in on the action. She grabbed a pen, she grabbed a few cards and she added her own indelible ink. The results: Priceless.
When Isla's quick scribble session ended, she had left her unmistakable mark on a total of three cards, inadvertently but spectacularly creating the first Dale Jr./Isla dual-autographed cards in existence. And there was no way Panini America officials were leaving those out of the product.
So if you're opening 2019 Prime NASCAR Racing in the coming weeks and come across a card that looks . . . well . . . like it was marked up by a toddler, well, it was. And that's sure to be one of the best cards in your entire collection.
Dale Jr. was kind enough to document some of the impromptu signing session for his social media channels and shared the accompanying image (top) and video (below) with us.