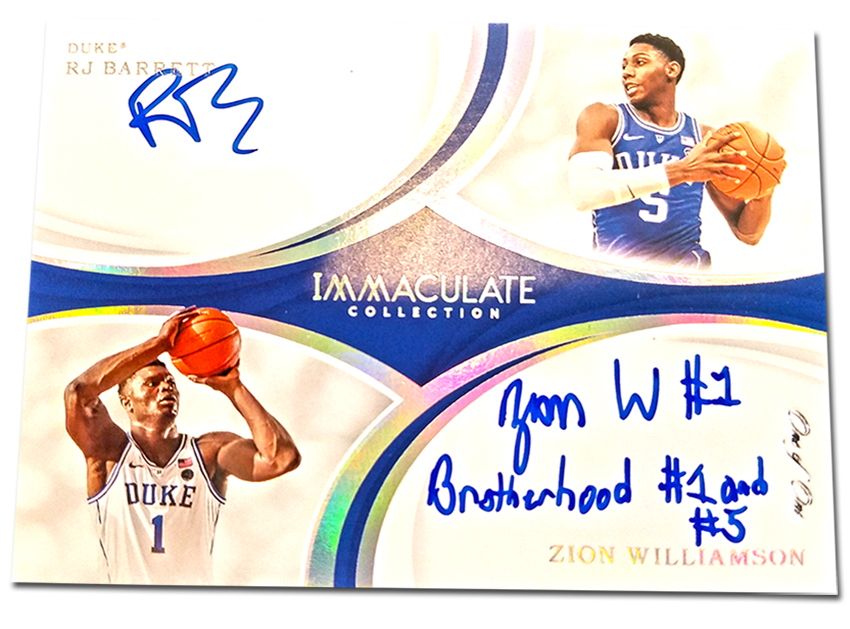 The basketball collecting marketplace is in store for a seismic-sized jolt of excitement later this week when Panini America releases the highly anticipated 2019 Immaculate Collegiate Basketball exclusively on iCollectPanini.com. Set to go live Friday at 10 a.m. CST, 2019 Immaculate Collegiate Basketball features the first higher-end, hard-signed cards from members of the celebrated 2019 NBA Draft class including Zion Williamson, Ja Morant, RJ Barrett and many more.
On average, each hobby box (six cards per box, five boxes per case) will deliver five autograph or memorabilia cards and one base card or parallel. By combining premium patches, autographs from college basketball legends and the undeniable power of the 2019 rookies, this year's Immaculate Collegiate Basketball just might be the most successful edition of all time.
Additional highlights of the product are many and include . . .
Jaw-dropping Rookie Patch Autographs from this year's top prospects featuring autographs paired with prime memorabilia including Team Logo Shields, Conference and Championship Logos. 
Signatures from current superstars and legendary players in the Immaculate Ink and Immaculate Signature Patches inserts.
An exclusive 20-card base set limited to just 80 copies and featuring Gold (numbered to 10), Green (numbered to five) and Platinum 1/1 parallels.
Find compelling pairings such as Ja Morant/Trae Young and Zion Williamson/DeAndre Ayton and many more in Immaculate Ink Combos.
Premium Patches Rookie Autographs takes an on-card autograph and pairs it with an oversized swatch of memorabilia.
Find our largest swatches of player memorabilia in Immaculate Jumbos featuring Conference and Championship patches.
Team Slogan Signature Die-Cuts showcases slogans unique to each school and pairs them with a swatch of material and on-card autographs.
Find on-card autos from a pair of top draft picks from the same university in Immaculate Dual Autographs.
The Immaculate Quads Autographs card featuring the top four picks in the 2019 NBA Draft is sure to be one of the most sought-after cards in the entire product.
Enjoy the must-see preview gallery that follows and be ready at 10 a.m. CST Friday when 2019 Immaculate Collegiate Basketball launches exclusively on iCollectPanini.com.