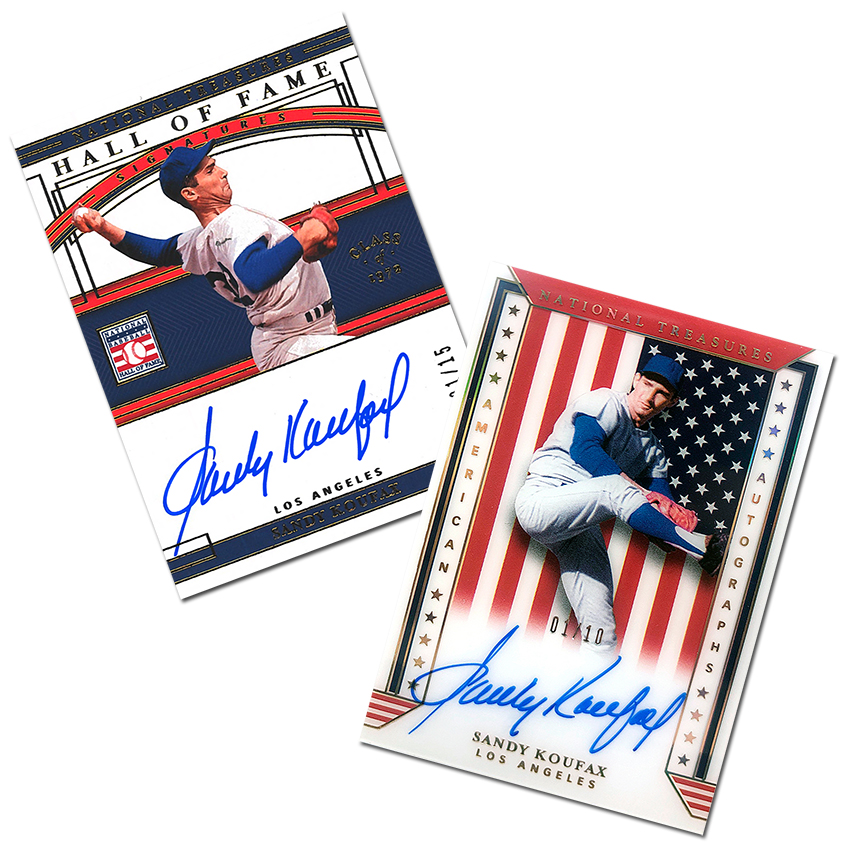 Simply put, Brooklyn/Los Angeles Dodgers icon Sandy Koufax is one of the greatest pitchers in the history of professional baseball and the Herculean feats fashioned with his legendary left arm are, in a word, astonishing: 165 career wins, 2,396 strikeouts, a career 2.76 ERA, three Cy Youngs, four World Series rings, two World Series MVP nods, three Triple Crowns, four no-hitters . . . we could go on but you get the point. There is, however, one thing the seven-time All-Star and 1972 Hall of Fame inductee has never done using his left arm: Sign trading cards for Panini America.
But with the release of 2020 National Treasures Baseball on November 4, Koufax finally will add that to his impressive list of career accomplishments as well. For the first time ever, Panini America recently partnered with Koufax for an autograph deal — and earlier today, the first fruits of that relationship arrived safely and soundly back at Panini America HQ before being rushed to the company's production facility in time for packout.
In addition to his first Panini America autographs, Koufax also will be featured on an extremely limited number (and we mean "extremely limited number") of game-worn memorabilia cards in 2020 National Treasures Baseball.
"We're extremely excited to be able to introduce Sandy Koufax autographs and memorabilia cards to Panini America products; we welcome Sandy with open arms and we know his mere presence in our products will be a huge driver for a lot of fans and collectors," said Tim Trout, Panini America Baseball Brand Manager. "It's not every day you can say that a player addition can really move the needle for high-end products — but Sandy Koufax is not most players. He's one of the greatest to ever do it — and his first Panini America cards reflect that."
We think you'll agree that the cards are perfectly suited for a National Treasures debut. Koufax also will have a limited number of certified autographs in 2020 Flawless Baseball as well. We'll have more on additional Koufax plans soon enough. But for now, let's all enjoy the first glimpse of these NT gems.