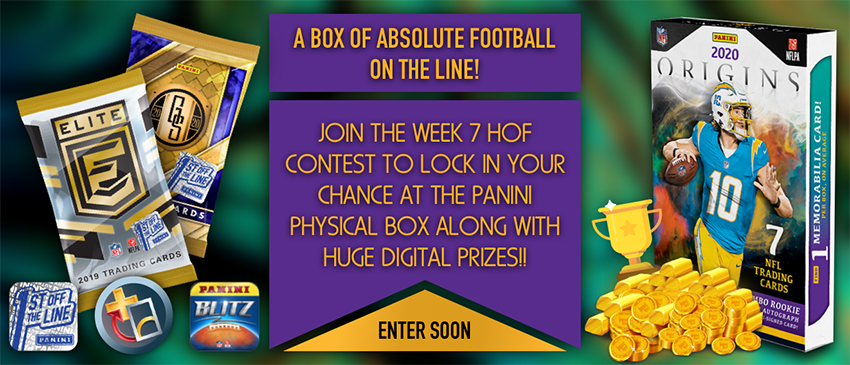 Thankfully, Thursday Night Football was back last night so here's hoping you combed through your NFL Blitz Digital Trading Card App sets and were able to craft a winning lineup. Now as always, make sure you have enough 2020-eligible cards to slot in a few contest team variations for any possible scenario, as the 2020 season continues to be a wacky one.
2020 brings a wide variety of contests for you to play. Enter as many as you like and collect the rewards. Be sure your lineups are set before the start of the first game to ensure your team is included.
This week's HOF contest in NFL Blitz is awarding huge digital prizes such as FOTL Digital boxes, packs and big coin prizes, as well as physical cards. Here's a quick breakdown of Week 7 contests on NFL Blitz: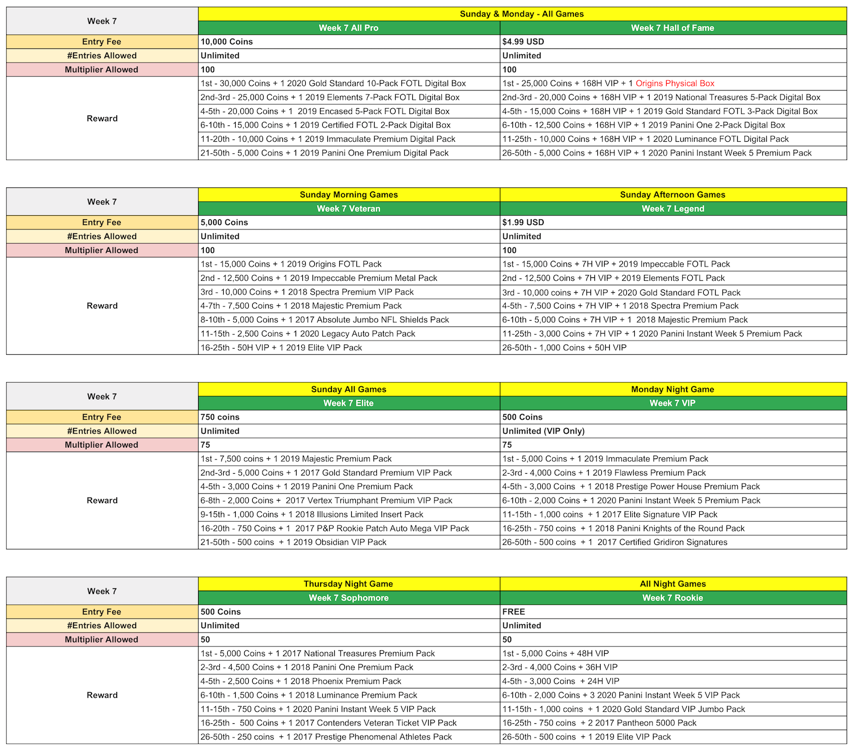 Pro Tips: Keep these rules in mind as you create your winning teams . . .
Multiplier Cap: To bring more strategy to the contests, we have implemented multiplier limits. The sum of your bonus multipliers cannot exceed the limit. For example, if the multiplier limit is 50, then the sum of all of your Contest Multiplier cards (i.e. 2x, 5x, 10x) cannot exceed 50.
Limits: Premium contests will have higher limits while Free Contests will be lower to give everyone a chance. Be sure to keep an eye on the multiplier indicator to ensure you are under the "cap."
Captains: After you have set your team, you can now choose a Team Captain. Captains will get an additional 2x Bonus for their scoring. Choose carefully because you can only choose one.
Multiple Entries: For any non-Free contest, users can now enter as many lineups as they would like. Free contests are single-entry only.
Tie-Breakers: In case more than one user ends up getting the same contest points, the average power ranking of the cards in their contest lineup will be used to break the tie.
The Latest Panini Instant Installment has Arrived
New Panini Instant cards for the 2020 NFL Season have arrived on Blitz. Panini Instant brings the latest NFL action straight to your card collections. Panini Instant inserts feature significant moments, great plays and outstanding performances from throughout the season. Digital cards will be available in a regular version and a special Signature Variation (unless noted). We have also added new Instant variations with higher Contest Scoring Bonuses. All Panini Instant cards will be available for only one week or until sold out.
Make Sure Your NBA Dunk Notifications are On
We're giving you just a week to catch you basketball breath as big drops, big sales and big brands are coming to the NBA Dunk Digital Trading Card App in the very near future. Make sure you turn notifications "ON" so you don't miss out on any of the limited opportunities coming soon.