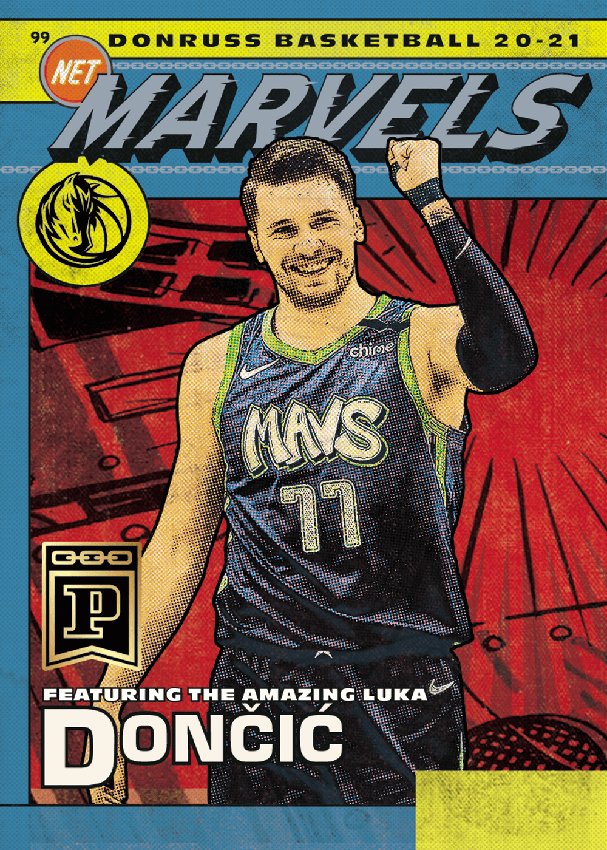 This morning's drop of the 2020-21 Prizm Basketball NFT Blockchain Net Marvels insert packs marks the first of many scheduled insert-pack drops. It also marks the company's first NFT Blockchain Challenge, where collectors can win a special Net Marvels Challenge card of Luka Doncic for completing the specified challenge.
In order to complete a Challenge and be eligible for the reward, users must have collected at least one of each of the required 10 cards listed below before the completion of the Challenge. After completion of the Challenge, Panini America will take a snapshot of all collector accounts to verify what the reward will be minted to. Each collector that holds at least one copy of each of the required Challenge cards will be sent the reward card upon completion of minting.
Please note that each account can only be eligible for a maximum of one reward per Challenge.
Challenge List
BC 2020-21 Donruss Net Marvels #1 – Trae Young
BC 2020-21 Donruss Net Marvels #2 – Zach LaVine
BC 2020-21 Donruss Net Marvels #3 – Pascal Siakam
BC 2020-21 Donruss Net Marvels #4 – Russell Westbrook
BC 2020-21 Donruss Net Marvels #5 – Ben Simmons
BC 2020-21 Donruss Net Marvels #8 – Rui Hachimura
BC 2020-21 Donruss Net Marvels #9 – RJ Barrett
BC 2020-21 Donruss Net Marvels #10 – Paul George
BC 2020-21 Donruss Net Marvels #13 – Joel Embiid
BC 2020-21 Donruss Net Marvels #14 – Giannis Antetokounmpo